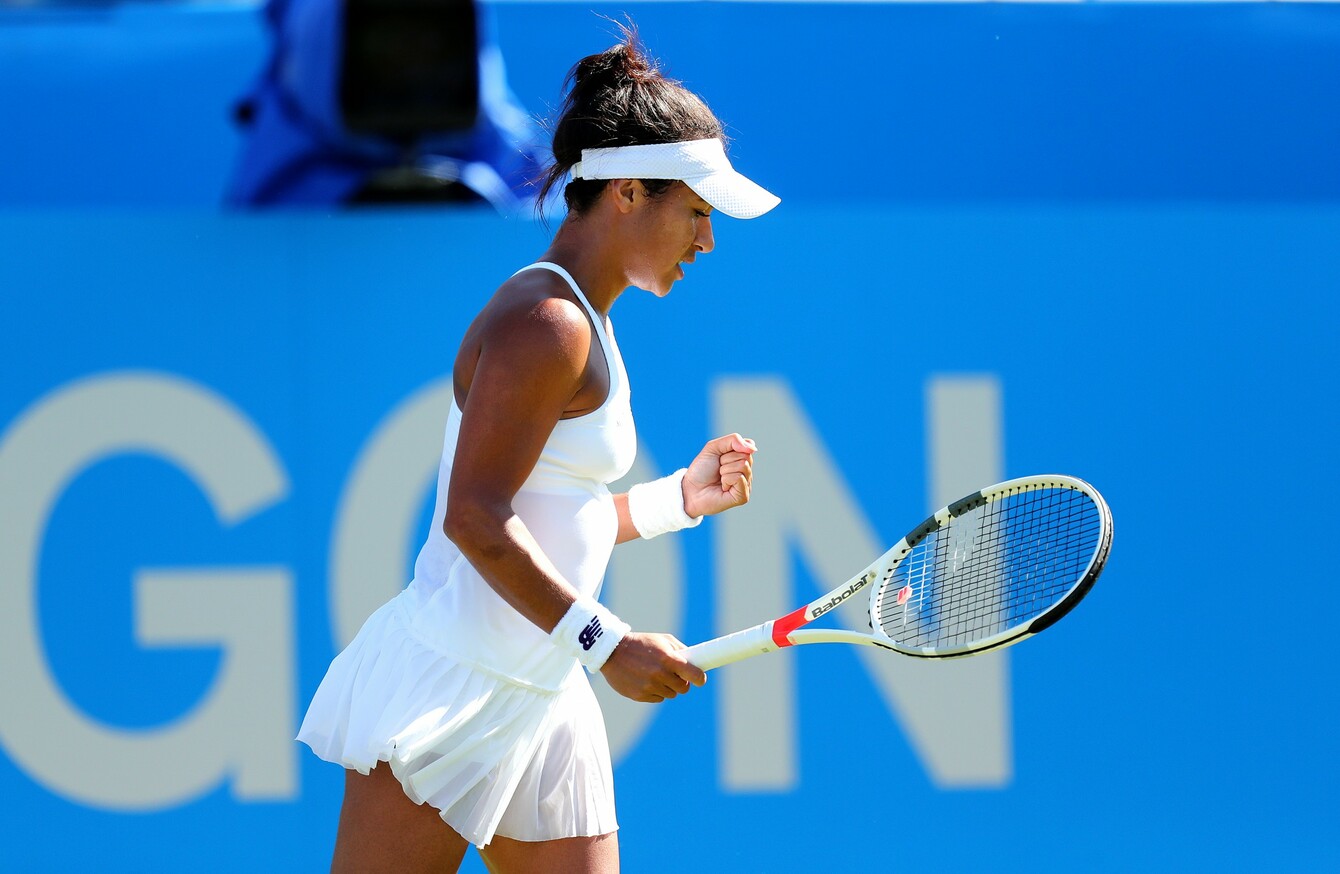 Image: Gareth Fuller
Image: Gareth Fuller
BRITISH NUMBER ONE Heather Watson has hit back at online trolls who criticised her for her weight and appearance, and suggested that women should 'feel more comfortable in their own skin'.
The 25-year-old won the Wimbledon mixed doubles alongside Henri Kontinen last year, but received torrents of personal abuse on Twitter after bowing out in the opening round of the 2016 singles, having failed to finish off German Annika Beck with three match points.
Speaking to Radio Times before this year's Wimbledon tournament, the qualifiers for which began yesterday, Watson – who following her defeat to Beck last year described checking Twitter as "self-punishment" – hit back at her online critics, scoffing at the notion that female tennis players should be expected to look 'cute'.
"We tennis girls are all fit and healthy but we're on the court with no make-up," she said.
We aren't celebrities who have people on hand to do make-up all the time. Sometimes I wish I could look cute on court but we're hustling and fighting for every point. That's the job we have. It just shows that we're strong and that sport isn't just for boys. And sport definitely isn't about looking perfect.
"I love wearing sports clothes, having my hair tied up in a bun, not wearing make-up. I do love putting on makeup but you don't have to wear it every single day and you don't have to change your body to look like pictures you see on the internet. I think more girls should feel comfortable in their own skin."
Watson also revealed that she trains for six hours a day but doesn't adhere to a strict diet, admitting she doesn't shy away from ordering dessert if she's still hungry. She does, however, try to steer clear of alcohol.
"I have no rules, I love my food and I eat a lot," she said.
Watson yesterday secured her best victory in two years on Eastbourne's centre court, besting world No 9 Dominika Cibulkova 7-5, 6-4. On this occasion she recovered from having lost three match points.
Elsewhere, Watson's former coach Judy Murray suggested that female tennis players shouldn't shy away from discussing other interests outside of their craft in order to better market themselves to potential fans.
Also in conversation with Radio Times, Murray said: "Female tennis players need to be encouraged to raise their profiles in other avenues than on the sports pages of newspapers.
"If you have an engaging personality or you can show that you are interested in the Kardashians, or fashion, things that other girls like, then you are far more likely to engage with a female audience. Girls are much more image-conscious at a younger age. It's almost like they grow up too soon."
The mother of two-time Wimbledon champion Andy concluded that female players "have to understand the business of being a professional athlete," and advised that "if your marketability is going to be significantly increased by engaging yourself and being seen more by fans – and more potential sponsors – then that is what you need to do."
The42 is on Instagram! Tap the button below on your phone to follow us!
John McEnroe says Serena Williams would rank 700th in the world on the men's tour