THE JURY AT the inquests into the deaths of 96 Liverpool supporters at an FA Cup semi-final at Hillsborough on 15 April 1989 has ruled today that they were unlawfully killed.
The jury also found that the behaviour of the fans did not cause or contribute to the disaster.
The coroner, John Goldring, yesterday instructed the jury of six women and three men that he would accept a majority decision of 8-1 or 7-2 on the key issue of unlawful killing after the forewoman declared last week that they had reached a unanimous decision on the other 13 questions relating to how the 96 died.
The jury came to their conclusions having deliberated on issues in relation to police planning before the game, stadium safety and the emergency services' response to the unfolding disaster but the key question for family members was always whether or not the 96 fans were unlawfully killed.
The jury found the following: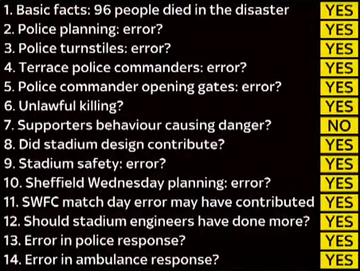 Source: SkyNews/YouTube
New inquests were ordered after three judges in the UK High Court quashed the verdict of the first Hillsborough inquest — heard between November 1990 and March 1991 — back in December 2012
After sitting since 1 April 2014, the jury was finally sent out on 6 April this year to make it the longest running jury case in British legal history.
The victims of the Hillsborough disaster were aged between 10 and 67 and included 37 teenagers and 26 parents the inquests were told in personal statements by the grieving families.
Many of those whose relatives died have regularly attended the new inquests in the courtroom in an office block in Warrington — including some who have attended nearly every day — with today's verdict put back to after 11am to allow them time to travel to the venue.