ACCORDING TO A popular old anecdote within journalistic circles in Italy, the Corriere dello Sera's basketball correspondent, Zelio Cucchi, once went to his editor during the 1970s to complain about the lack of coverage his sport was receiving.
Before he had even finished stating his case for more column inches, football journalist Guido Lajolo interjected: "Shut up! One 'Roccotelli cross' is worth more than the entire basketball championship."
The veracity of the tale might be open to debate but it does at least serve to underline just how big an impact a still little-known winger had on the history of calcio. Giovanni Roccotelli is credited by many within Italy of inventing the 'l'incrociata', 'the crossed-kick' or, as it is more commonly known, the 'rabona' – the sublime piece of skill with which Tottenham's Erik Lamela scored in a Europa League clash against Asteras Tripoli last month.
The former Cagliari winger was first caught on camera performing the 'crossed-kick' in a Serie B game with SPAL on 26 September, 1976. Some 16 months later, while playing for Ascoli, Roccotelli actually provided an assist for team-mate Ambu with a 'rabona'. He netted for the first time with the move in a game against Brescia later in the same season and struck again, this time from a free kick, while lining up for Nocerina in a cup clash with Juve Stabia in the mid-80s.
For Italians, Roccotelli unsurprisingly became synonymous with the 'crossed-kick' – hence the enduring nickname, 'Padre della Rabona' (father of the Rabona). It is a moniker that the man himself is adamant he deserves, claiming that he invented the move as a child.
"One day on the street, I had an inexplicable intuition," the Bari native explained in an interview with Il Messaggero. "I had the ball on my left side, so I slipped my right foot behind by left knee and kicked. Amazement! I thought to myself, 'Oooh, what have you done!' Going forward, we found a name for it, the 'rabona', but for us it came to be known as 'l'incrociata'."
Roccotelli today runs his own football school in Quartu Sant'Elena, a city located four miles from Cagliari. Outside the school there is a mural which depicts him executing his famous skill while in the colours of the Rossoblu.
Roccotelli maintains that even Brazil legend Pele recognised him as the founding father of the 'rabona'. "A long time ago, Pele came to Italy and ended up talking about the cross-kick. I swear, at one point he said: "I know that there's a good Italian player who does rabonas. A guy with a moustache. They've told me about him." Who else was he referring to but me? And you cannot imagine the satisfaction!"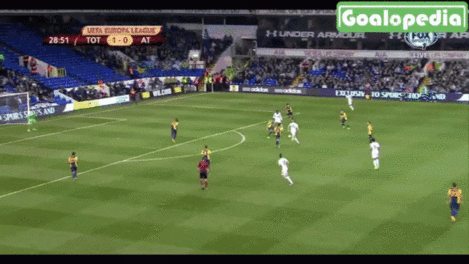 However, for the majority of South Americans, and indeed the wider footballing world, the inventor of the 'rabona' is Ricardo Infante. On 19 September, 1948, Estudiantes were leading Rosario Central 2-0 when a clearance dropped to their prolific centre forward some 35 yards from goal. Realising that the goalkeeper was off his line but not having sufficient time to shift the ball onto his preferred right foot, Infante improvised – to sensational effect. By wrapping his right foot around his left knee, the Argentine sent the ball flying goalwards.
"It went in the top corner, although I never thought it would end up there," a still incredulous Infante recalled in 1998, on the 50th anniversary of his ridiculously innovative strike. "That goal didn't get the recognition it deserved. At the time we didn't have television and media coverage of every game."
SEE SPORT
DIFFERENTLY
Get closer to the stories that matter with exclusive analysis, insight and debate in The42 Membership.
Become a Member
Which, of course, would explain why news of its genius failed to reach Italy. However, Infante's innovation did not go unrecorded. Indeed, it was immortalised by an image taken by a photojournalist from El Argentino which shows the ball flying into the net, as well as a cartoon depicting the scorer's incredible display of dexterity that appeared in El Grafico the following day.
The latter publication is also responsible for coming up with the name 'rabona'. In Spanish, the word is an informal expression for truancy, which essentially means 'to skip school'. Interpreting Infante's goal as an impetuous act of child-like cheekiness, El Grafico persuauded Infante to dress up in a school uniform to publicise his ingenuity. It was an original name for an original piece of skill and, thus, the term 'rabona' quickly became part of the footballing lexicon in South America.
Infante still does not get the widespread recognition he deserves for his innovation. But his influence was undeniable. Diego Maradona made it a staple of his remarkable repertoire of skills, successfully using the 'rabona' to create goals at both club and international level. Another Argentine who played in Italy, Claudio Borghi, arguably became its finest exponent during his 1980s heyday, although he humbly admitted that he only perfected it "because I didn't know how to kick with my left! I didn't have any other option but to use the rabona!"
Source: HeilRJ/YouTube
Former Italy No.10 Roberto Baggio lit up Serie A by using the 'crossed-kick' during the 1990s, while Lamela, Angel Di Maria and Ricardo Quaresma have become modern-day masters of the 'rabona'. Essentially, the 'rabona' no longer belongs to Infante.
An exhilarating expression of impetuousness, ingenuity and innovation, the rabona's return to the spotlight during the current climate of cheating, corruption and foul play serves as a timely and welcome reminder of why football is known as 'The Beautiful Game' … and why basketball remains relegated to the back pages of Italy's sports papers.
- Mark Doyle, Goal.com