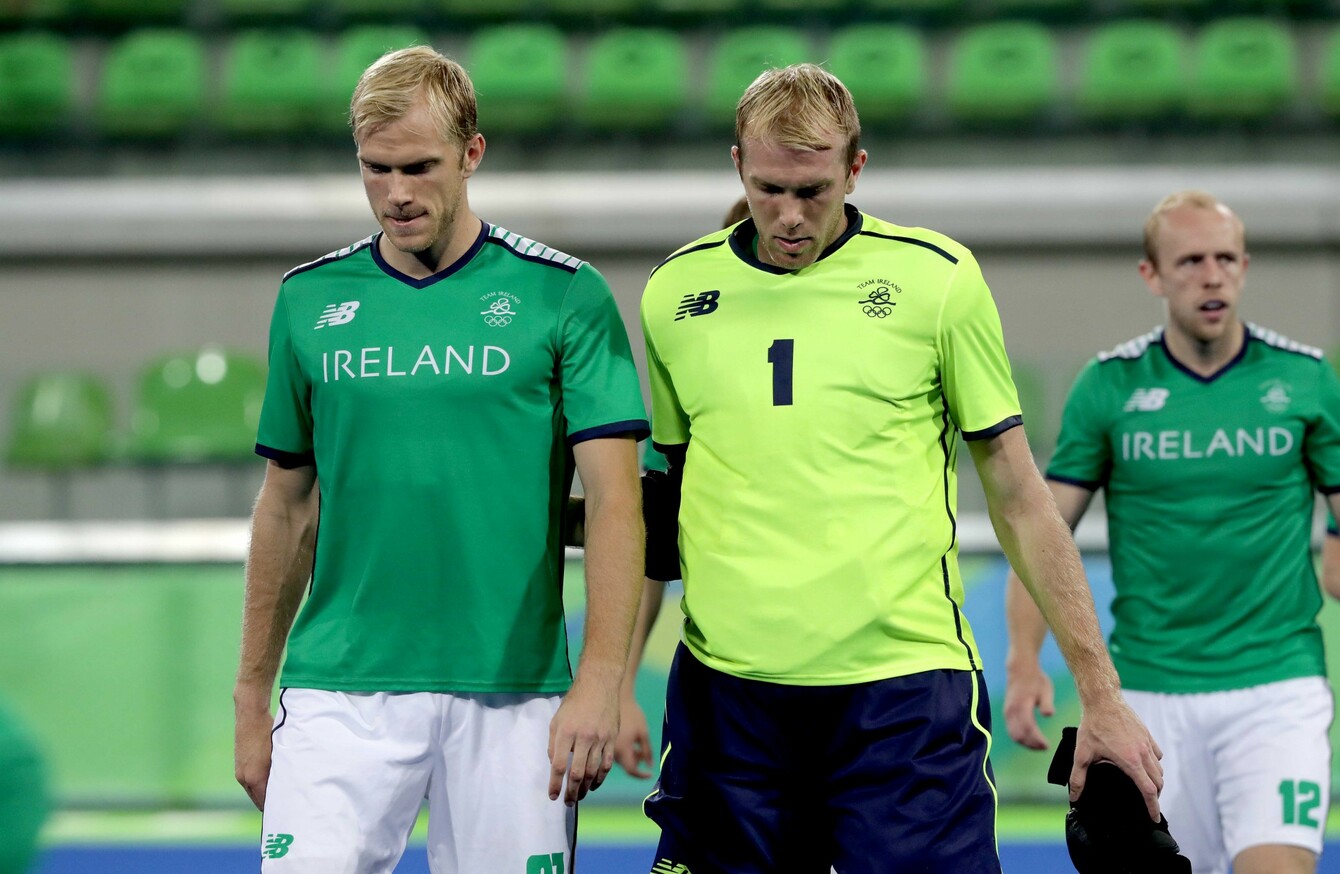 Conor and David Harte
Image: Morgan Treacy/INPHO
Conor and David Harte
Image: Morgan Treacy/INPHO
–Sinéad O'Carroll reports from Rio de Janeiro 

"STAY CALM AND stick to the game plan."
Those were the words of coach Craig Fulton to his 16-man Irish squad at the Olympic Games last night after going two-nil down to the Netherlands in their second Group B game.
It's a message he reiterated three goals later at the full-time whistle.
"It's a rollercoaster," he tells The42 about the five-game group run his team has in Rio.
"If you can keep your lows not too low… You will get your opportunity, you just have to be patient.
We're pushing hard. We're not trying to go out there and concede five, I'll tell you that. We have a lot of pride in our group. Sometimes you come up short.
Ireland's run-in hasn't been an easy one so far – and it's not about to get any less difficult. Next up on Tuesday are second ranked Germany, while Canada and Argentina await on Thursday and Friday.
They will need at least two wins from three to secure a historic place in the quarter finals.
Last Saturday, the Green Machine went down to the wire with fifth-seeded India, losing by the minimum on a scoreline of 3-2.
Yesterday was a significantly different story. The class of a strong Dutch side, coming with experience, heritage and the current World Player of the Year proved too much for the debutantes.
But there were positives for Team Ireland.
An obviously gutted Eugene Magee – who was unlucky to flick the ball into his own net for a fifth Dutch goal – told The42 post match that it was good to see the team create so many goal opportunities against the best in the world.
"But we were just a bit unfortunate with those chances," the midfielder added.
"Obviously, they are one of the top sides in the world so we were going to be battling from the get-go. They took their chances very well. They caught us on the counter attack which is the disadvantage of coming out so hard. It's just the way it goes for a side like that.
We just have to learn from our mistakes before our game on Tuesday.
Frustrated by the scoreline and some of the plays that haven't gone their way, Fulton is planning to ask his team – and their supporters for the patience that is needed in tournament life.
"We knew that [difficult run in] 10 months ago – that this was going to happen," he told The42.
The night games always bring that kind of [special] atmosphere and the support has been amazing. Ireland's not close to [Rio]. There are a lot of people who made a big effort to get here and we want to do them proud. They're just going to have to be patient with us and keep going.
"That's in us," according to defender Ronan Gormley.
"We've shown in the past the reason we got here is that we can defend very, very resolutely. And that's what we'll need to do now the next three games."
The Irish side which got off to that shaky start – going two nil down within the first two quarters – was different to that which emerged after the second period break.
It didn't go unnoticed by the Netherlands's World Player of the Year Robert van der Horst.
"They gave us a pretty hard time in the third and fourth quarter," he said.
They're a good team. They came third in the European Championships so it's an upcoming country in hockey. They are a very good team and I hope they'll keep it together to make sure to get some points and qualify for the quarter final because they're able to be there.
First up on that gold-tinted path is Germany, the second seed in the competition, on Tuesday.
What are they
really like?
Rare insights on sport's biggest names from the writers who know them best. Listen to Behind the Lines podcast.
Become a Member
"They're fantastic the way they play the sport," explains Gormley, who earns his crust with a German club.
In typical style, they think through what they are doing. So you have to very tactically astute and aware to play against them.
The Crefelder HC man is quietly confident about the next five days of competition.
He says that the team are in the best shape of their lives and will be ready, all guns blazing, for Tuesday.
Stalwart Conor Harte is likely to be amongst them, despite being taken off via a medical cart today.
The 29-year-old had to get five to six stitches for a deep cut on his side, inflicted by a side stick as he blocked the ball mid-way through the match.
Fulton agreed that it didn't seem like a tournament-shortening career
Conor is sore. We tried to get him back on there. He's got about five or six stitches in his side – he got a deep cut from a back-stick shot that he tried to block and save. We'll… see where he's at over the next 24 hours.
"I think once we regroup after this, get the detail, the facts… We had a good game against [Germany] in Valencia. But that was a month ago and we're here now and we got to be able to produce now.
"As long as the group stays together – which they will – there's a lot of respect for each other there – they are mentally strong. It'll be a nice challenge for us on Tuesday.
"In the huddle at the end there, we were just talking about where we've come from, the experiences that we're gaining here and we just need to keep the spirit positive. And we're playing good hockey.
"We're paying for our mistakes – as you would at this level. And you want to play the best in the world and the Olympics is a good place to do it."
More from The42 in Rio: