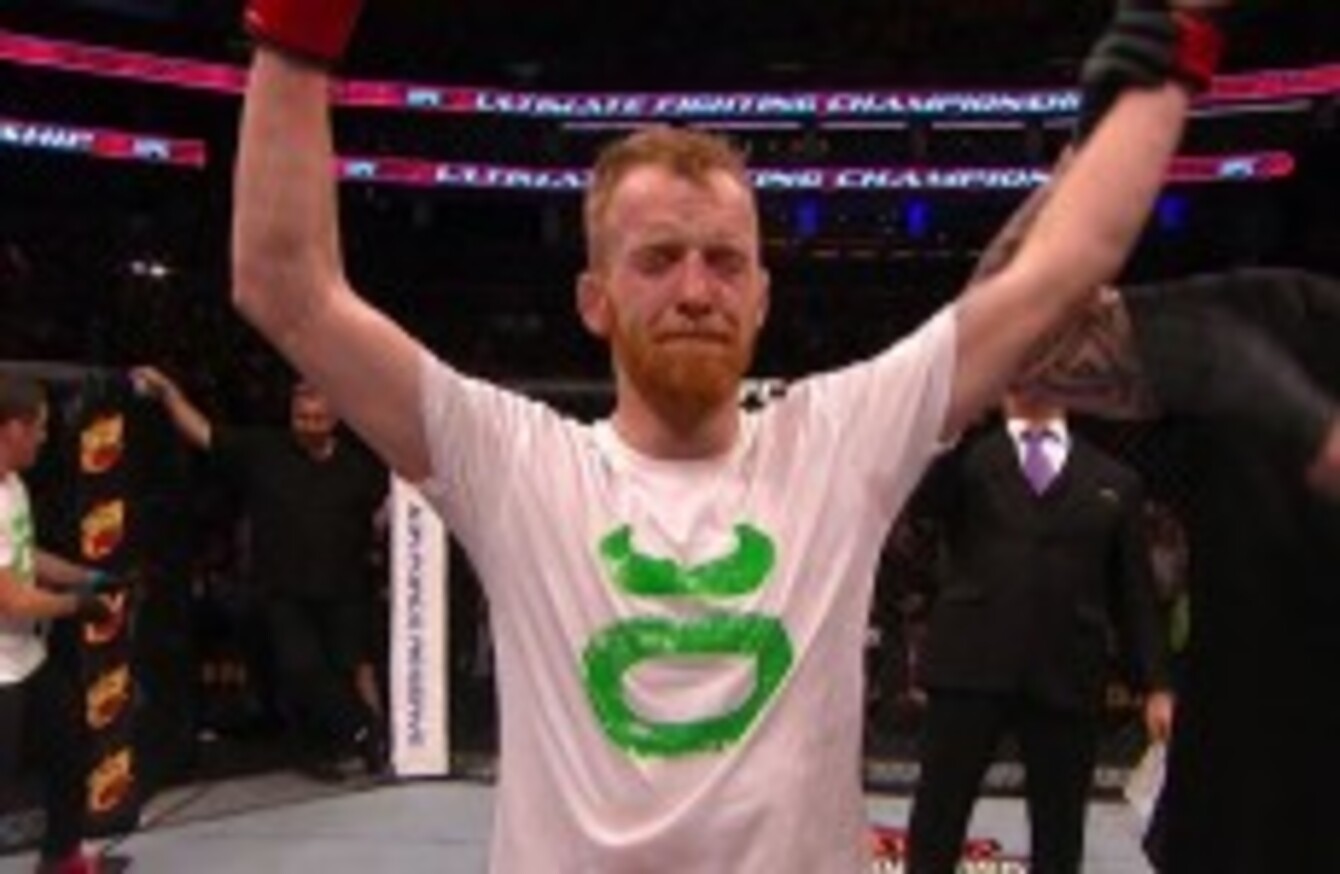 IT WAS A good start for the Irish at UFC Boston tonight as Paddy Holohan returned to winning ways with a straightforward victory against Shane Howell.
Holohan came close to submitting a tough American opponent on several occasions, but in the end the Tallaght native had to settle for unanimous decision (30-27, 30-27, 30-27) on the judges' scorecards.
After securing an early takedown, Holohan dominated the first round but would have been slightly disappointed not to have found the finish.
Howell spent most of the opening frame defending against Holohan's rear-naked choke attacks, but the American was resilient and managed to make it to the buzzer.
Holohan was very comfortable again in the second round, succeeding with another takedown and controlling the fight on the mat, as a tough but tired Howell held on.
And it was more of the same in the third and final round, with Holohan forcing the fight to the ground in search of a trademark submission stoppage. Howell's defence was admirable but there was never any question about the outcome.
The win, which was only the second of Holohan's career by decision, takes him to 11-1-1. The 26-year-old is now 2-1 in the UFC after bouncing back from his October loss to Chris Kelades.
Afterwards, Holohan paid tribute to John Kavanagh, his head coach at SBG: "I've been saying it since day one — John never asked me for one single penny to teach me what I do.
"I walked in there as a young council kid and I could have been going anywhere in my life. A lot of my friends that were really close to me have gone the wrong way in life, and I was just happy to flourish and flower into what I am now.
"I know that if it wasn't for John and if it wasn't for jiu-jitsu, I wouldn't be doing something special like this with my life. I'm very grateful."
With three UFC bouts now under his belt, Holohan added: "This invasion doesn't just start this year, this goes on forever. The Americans will not get sick of the Irish coming over here fighting, and the Irish will not get sick of fighting."
Earlier on the televised prelims, Johnny Case had a third-round TKO win over Frankie Perez, and Charles Rosa submitted Sean Soriano late in the third round of their bout.
Sean O'Connell defeated Matt Van Buren via third-round TKO on the Fight Pass prelims, and Joby Sanchez narrowly edged out Tateki Matsuda via split decision (29-28, 28-29, 30-27).