AUSTRALIAN RUGBY WRITERS were unanimous in their description of the All Blacks' dominant performance against the Wallabies in Eden Park on Saturday night — it was a "massacre".
The All Blacks recorded a half-century for only the second time against Australia, as they trounced the Wallabies by a record 51-20 and retained the Bledisloe Cup for the 12th straight year.
"Massacre. The Blacklash was without mercy last night when the Wallabies were hammered with such contempt that it may be another 28 years before they win in Auckland," wrote Jim Tucker in Sydney's Sunday Telegraph.
A constant theme in the reactions centred on the hunger shown by the rampaging All Blacks, which stood in stark contrast to the "lackadaisical" Wallabies effort.
"A mediocre team playing poorly is easier to stomach, but a squad that appears to have some potential, and then performs as lackadaisically as those representing Australia did in Auckland, is something of a gut-wrencher," said Andrew Slack in Queensland's The Courier Mail.
"There were too many moments to choose from in terms of determining the difference between the mindset of the All Blacks and the Wallabies, but perhaps it was the try on full-time that said it all.
"The All Blacks wanted more. The Wallabies looked as if they couldn't be bothered."
Fairfax Media praised the leadership of All Blacks captain Richie McCaw, who was sent to the sin bin early in the game but replied with two second-half tries.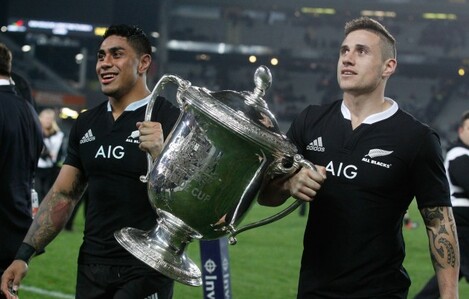 Source: Photosport/John Cowpland/INPHO
(All Blacks' Malakai Fekitoa and TJ Perenara celebrate with the Bledisloe Cup)
"It was a fitting response to weeks of questions over his form, fitness and tactics," The Sydney Morning Herald's Georgina Robinson wrote.
The superiority of the All Blacks made it more evident Australia had "blown their best chance" in the 12-12 draw in the first Rugby Championship encounter in Sydney last Saturday, Tucker added.
Despite the ruthless display by the world champions, there were some lessons the Wallabies could take away from their "horror show" in Auckland, said news.com.au's Sam Clench.
Australia were "really dangerous" when they were on the attack, with captain Michael Hooper "sprinting around defenders like a Honey Badger with rocket boots", he wrote.
"The potential of this team is obvious, but at the moment, it's also unfulfilled," Clench said.