IT'S PRETTY EASY to spot NFL fans on the way to work on Monday, Tuesday and Friday mornings between August and February.
They are the ones with the bags under their eyes, the mug of triple espresso in each hand and, possibly, two odd shoes.
I know, because I've been there.
However, come Monday, February 3, a lot of non-regular NFL fans will probably be joining us in watching Super Bowl XLVIII and won't have any idea how to survive a game that will only end when most people are more than half-way through a full night's sleep.
With that in mind, here are the top five tips I've picked up along the way and have helped me survive late night games and still mange to write a 1,000 word opinion piece before 11am the next day.
1. Watch with friends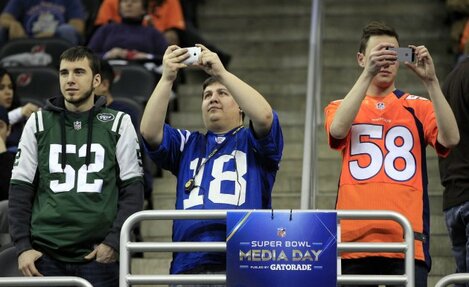 They don't have to be Jets or Colts fans mind.
Image: Jeff Roberson/AP/Press Association Images
Friends are great aren't they? They pick you up when you're down, cheer you on when you're doing well and constantly tweet you reminders of how rubbish the NFL team you support is. They're also great for watching the game with as you can chat away during the seemingly endless ad breaks.
2. Pick a team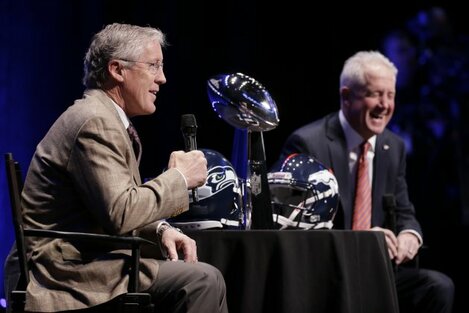 Pete Carroll and John Fox will go head-to-head this weekend.
Image: Charlie Riedel/AP/Press Association Images
Even if you don't have a team or, you do but their season has been over since October like us Raiders fans, it's still better to have someone to root for in the Super Bowl than watch dispassionately.
This year, you get to choose between the league's best offence and the best defence in the NFL. I know who I'll be cheering for, so should you.
3. Load up on carbs (or any type of junk food)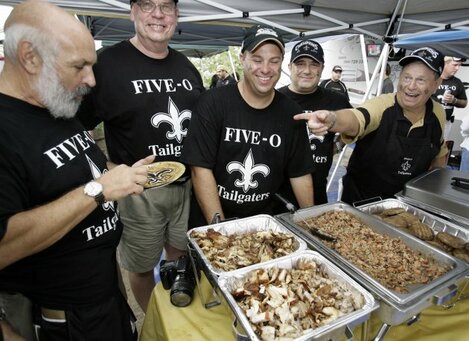 Food is good, though don't eat this much if you've to take public transport the next day.
Image: Alex Brandon/AP/Press Association Images
Energy drinks and coffee might seem like a great idea when your eyes start drooping at 2am, but remember you probably have to be in work at 9am so you want to be able to sleep once the final play is over.
With that in mind, make sure you have plenty of snacks to hand. And remember, this only happens once a year for some of you so they don't have to be healthy snacks.
4. Have a little bet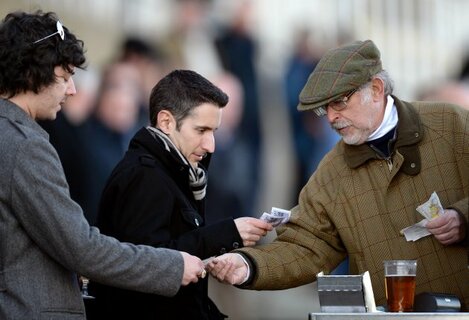 "I'll have a fiver on someone to make a Superb Owl joke please."
Image:  Andrew Matthews/EMPICS Sport
Even if you don't know the first thing about American football there are loads of little prop bets you can have such as how many times Peyton Manning will say 'Omaha!' or what type of hat Bruno Mars will wear during the half-time show.
You don't even have to bet big or with a bookie. However, if you are betting with mates don't make the stake a tattoo or something you'll regret and never bet more than you can afford.
5. Stay engaged with Super Bowl bingo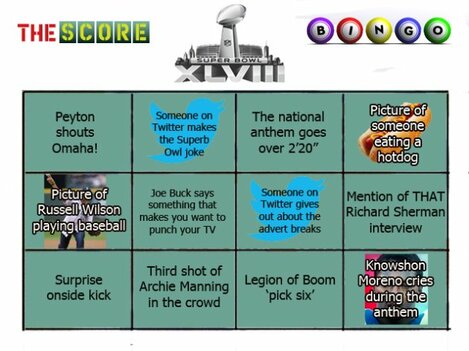 If you do have to watch the game on your own, this should keep you entertained. Failing that, get on Twitter and start talking to other fans. You'd be amazed at how much more enjoyable it can make a game, especially during the breaks. However, it is easy to lose focus on the Super Bowl itself this way, so maybe limit yourself to social media during ad breaks or after huge plays.
Any other advice for helping non-regular NFL watchers stay awake, including what sickies to pull? Let us know in the comments below.