BEING IN A highly-physical contact sport, there are times when you suffer a knock to the head and you just know you aren't quite right.
For Iain Henderson, that came early on in their 64-7 defeat to Munster at Thomond Park, the Ireland international taking what initially seemed to be a bang to the head, only to discover it went deeper.
The 26-year old had to be withdrawn in the 20th minute of the contest for a Head Injury Assessment, but the Ireland lock reveals he never even undertook the test to return to the field due to his symptoms.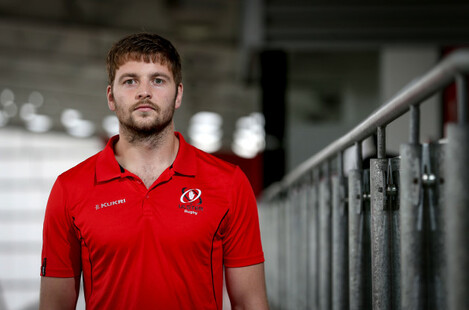 Source: Matt Mackey/INPHO
In an open and honest discussion, Henderson describes the worrying moment he realised he was concussed and explains exactly what he went through on the field.
"I went into a line-out and went to call it and I just couldn't remember any calls," Henderson explains.
Literally went into the huddle and I paused for 10 seconds, and I think it was Andy Warwick asked 'what do you want to call' and I was just looking at the ground.
"I couldn't even think of the simplest lineout call and I was just standing there, Big Al O'Connor said 'I think we'll do this one' and I went into the line-out and still couldn't think of it.
"The next break in play I said to Big Al 'you're going to need to call these line-outs because I can't remember any of them', and he said 'there's no point in you going on if you're like this'.
"The physio came on to me and after the initial knock I didn't feel too bad, and then the doctor said it can be three or four minutes for the symptoms to manifest. So then I took a knee and said to the doc at that lineout I couldn't remember stuff.
Source: Heineken Rugby Weekly on The42/SoundCloud
"That's one of the (factors) that would completely rule you out (of the rest of the game), so they said we're not doing HIA, let's leave it there and went back in.
"It was just bizarre, I was lost for words. I was standing there, and I remember everyone was looking at the ground and a bit of panic set in because I couldn't think of what to call, so I was like: 'just call something simple'. And I didn't even know any simple calls."
So what exactly does a player go through when they are concussed? Because HIA examinations take place behind closed doors, they can carry a perception of mystery. 
Source: Ryan Byrne/INPHO
Henderson, who has progressed through the return to play process in the minimum allowable six-day window, explains:
"There's three HIA tests. One is done immediately after the incident, or if you have certain symptoms it's not done. I (didn't do) HIA1 — the Head Injury Assessment you do when you come off the pitch for 10 minutes — so they decided on the pitch that I would not be continuing.
"Those HIA tests are balance tests, they give you a list of 10 words and then in 10 or 15 minutes you need to remember those 10 words, read numbers backwards and all sorts.
I didn't do that one. I did HIA 2 which is post game and is exactly the same thing to see if your symptoms have alleviated or completely disappeared, and then HIA 3 is following one full 24-hour rest period after the game, again to measure where your symptoms are, whether it be – and these are all symptoms of concussion – emotion, sadness, balance problems, dizziness, headaches, everything you would associate with a head injury.
"Following that you go into light exercise, which is: sit on a spin bike for 20 minutes, then you report back after that on whether your symptoms are getting any better or worse or indifferent.
"Following that, the next day you go for a 2k run, and after the run you come back and get assessed on whether or not whatever symptom you had before, is it bothering you more or less, all that carry on.
"Then you return to decision-making in training without contact, then you return to contact, and that takes six days."
For the lucky ones.
While this is Henderson's first concussion, something that perhaps is a stroke of good fortune in itself given his abrasive style of play, the former Belfast Royal Academy student isn't taking anything for granted.
The likes of team-mates Luke Marshall and Alan O'Connor have both suffered from repeated cases of head injuries, and Henderson is aware that trying to rush back from them can cause even more problems.
"This is my first concussion, yeah. (Ulster's Medical Director, Michael) Webb was actually quite surprised by that, most of the boys have had something, definitely the guys who have been round for six or seven years have had one or two before but that's my first one," Henderson says.
"I was well looked after, and I felt completely fine after the game and I kind of felt like saying to them: 'do I have to go through all the HIA protocols?' Because I felt fine and I've been fine through all of them.
"But you just need to look to Big Al or Lukey Marshall who have had some problems with their head before. They'll tell you that, yes they may have felt fine, but then once you start doing more stuff that's when it'll hit you."
Source: Bryan Keane/INPHO
Concussion is rightly a hot topic in modern rugby – and sport in general, with the NFL further down the road of consequence. Laws have been introduced in both sports to try and minimise the risk to players in a preventative and reactive sense.
However, while at the same time insisting it's good that more light is being shed on concussion-related injuries, Henderson does not believe there has been a rise in the number of concussions, rather the discovery of them.
"Personally I'm not 100% convinced there are more concussions now, I think there are potentially the same number of concussions, it's just they're being picked up a lot more regularly which is a good thing," he states.
"I can't remember the exact stats but I've been told them by the docs, the chance of re-injury after your first concussion goes up dramatically, and that is either another concussion or another injury, whether it be head, neck, balance, all sorts of stuff, the chance of injury just goes way, way up.
"Whether or not there's a slight doubt, there's been a change in the laws this year that you have to stay off for the whole time before you can come back in, and players wanted to come on as quickly as possible, whereas now you're in there for the whole time, which is good because it is going to prevent more injuries in the game.
"Nobody wants more injuries, especially the injured player or injured team-mates. You just need to talk to Lukey Marshall or Big Al, those boys who have had serious concussions – back-to-back concussions."
Tonight, Henderson is back in the line-up for Ulster against Connacht (kick-off 19.35, eir Sport) having passed all of his HIA tests and he's ready to get right back into action in another inter-pro before the opening European matches.
You wouldn't blame him if he was worried about that risk of potential re-injury.  But the forward insists once the game starts there'll be no problems.
"I would say no (it won't affect me)," Henderson says.
"There are times when I've thought about things with other injuries and I've wondered if it'll annoy me during the game, and I get to the game and I completely forget about it. Hopefully that's what happens (this time)."
Ulster
15. Peter Nelson
14. Angus Kernohan
13. Angus Curtis
12. Stuart McCloskey
11. Jacob Stockdale
10. Billy Burns
9. John Cooney
1. Andrew Warwick
2. Rory Best
3. Tom O'Toole
4. Alan O'Connor
5. Iain Henderson
6. Matthew Rea
7. Nick Timoney
8. Marcell Coetzee
Replacements:
16 Adam McBurney
17 Eric O'Sullivan
18 Ross Kane
19 Kieran Treadwell
20 Sean Reidy
21 Dave Shanahan
22 Johnny McPhillips
23 James Hume
Connacht:
15. Tiernan O'Halloran
14. Niyi Adeolokun
13. Tom Farrell
12. Bundee Aki
11. Matt Healy
10. Jack Carty
9. Kieran Marmion
1. Denis Buckley
2. Tom McCartney
3. Finlay Bealham
4. Ultan Dillane
5. Quinn Roux
6. Sean O'Brien
7. Jarrad Butler (captain)
8. Paul Boyle.
Replacements:
16. Shane Delahunt
17. Peter McCabe
18. Conor Carey
19. James Cannon
20. Colby Fainga'a
21. Caolin Blade
22. Kyle Godwin
23. Cian Kelleher
The42 is on Instagram! Tap the button below on your phone to follow us!