Madigan or Jackson? Schmidt must decide.
Image: ©INPHO/Dan Sheridan
Madigan or Jackson? Schmidt must decide.
Image: ©INPHO/Dan Sheridan
PADDY JACKSON WAS composure personified in Ireland's victory against Samoa last weekend, as he has been all season for his province.
The Ulster playmaker saw off the challenge of Ian Madigan to secure that starting spot and entirely justified Joe Schmidt's decision. However, with Jonny Sexton now fit to take his place in the number 10 shirt, Jackson may face another selection battle.
There is an argument to be made that Ian Madigan is better suited to a bench role in Ireland's 23-man squad than his younger rival. The Leinster man possesses more attacking flair and a greater potential to change a game late in the second half. His versatility is another advantage.
Still, Jackson's assurance at out-half against Samoa makes it hard to even consider leaving him out. Speaking at Carton House this afternoon, Madigan told TheScore.ie that he was impressed with the Ulster man's performance last time out.
I thought Paddy had a very good game. I thought he controlled things very well. A lot of really positive things and guided the team around well. It was a pretty composed performance by him."
Madigan himself was restricted to just 11 minutes off the bench in the second half, but managed to get himself positively involved in the action on four occasions. The 24-year-old says it's hard to judge self-critique such a brief spell on the pitch.
"I wouldn't overly analyse a short 10-minute cameo like that. I'd maybe wait and analyse a group of three or four games where I'd come off the bench and see what I've done. The way the game fell for me in the 10 minutes was handy enough. I got the ball in space once or twice, I did fine."
It hasn't been the season many imagined for Madigan so far. ©INPHO/Dan Sheridan.
Ireland had a full squad session this morning, with the recovery of Tommy Bowe a welcome sight. The preparation is now geared towards taking on an Australian team that warmed up for this weekend with a 50-20 slaying of Italy on Saturday, after losing 20-13 in England the week before.
"They'd a very comprehensive victory against Italy and I thought they were very good for large parts of the game against England. The Rugby Championship didn't quite go to plan for them but I think they're definitely a team on an upward curve at the moment. We'd be very cautious going in against them at the weekend.
They've improved a lot, Ewen McKenzie's getting his imprint on the team. They play a really good brand of rugby, you can see that they want to keep the ball in play. They'll run the ball from deep, they're an exciting team to watch."
Sounds like exactly the kind of game that would suit Madigan's creative skills, and that only adds to the argument that he would be a better pick on the Ireland bench. Dropping Jackson from the squad would be a truly harsh call following his best game for Ireland, but there is a sense that Madigan is just more suited to this particular game.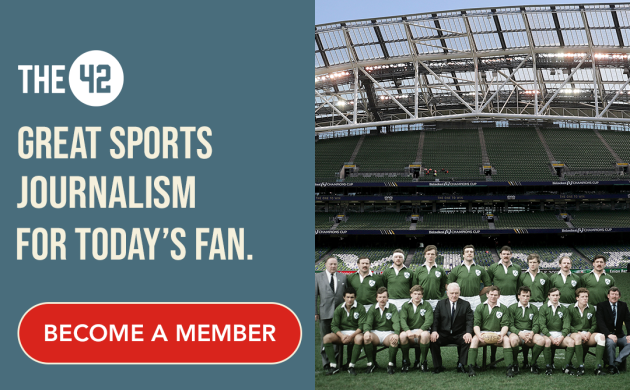 The fact that Schmidt is fully aware of the specific skills the Leinster man brings to the table is an added bonus which could prove to be decisively in his favour.
"I've worked with Joe for the last three years, and I know what he wants from his players and what he expects. I knew that with Joe coming in, he's a pretty special coach. There's certainly a feeling that something special's going to happen with the Irish team in the coming future. I'm just delighted to be part of it."
Like rugby? Follow TheScore.ie's dedicated Twitter account @rugby_ie >