NORTHERN IRELAND's RORY McIlroy says he's as close as ever with former manager Andrew 'Chubby' Chandler despite their recent parting of ways.
The US Open champion left Chandler's ISM stable last month in favour of a surprise move to Dublin-based outfit Horizon.
"It's a decision I didn't take lightly," McIlroy told the European Tour website on the eve of this week's WGC-HSBC Champions in Shanghai.
"I thought long and hard about it and had a lot of chats with my mum and dad. Sometimes to go forward in your career you just need to make decisions."
McIlroy declined to get into specifics about his change to Horizon, the same group that represents his friend Graeme McDowell, only that he wants a fresh outlook on achieving his goals.
Coming off a playoff win at the Shanghai Masters and its $2 million payoff, the Holywood native is favorite at the HSBC Champions that starts tomorrow.
It's a World Golf Championship that counts toward the European Tour money list and could go a long way toward helping McIlroy make up ground on Luke Donald.
He trails Donald by about $1.8 million, and the $7 million HSBC Champions pays out $1.2 million to the winner. Donald, who two weeks won the PGA Tour money title by winning at Disney, skipped this WGC event to await the birth of his second child.
"With him not being here this week … I feel like I've got a chance to cut into the lead a little bit," McIlroy said today after spending some five hours in a rainy pro-am.
"It would be fantastic to get another win, the second win in two weeks, and cut into that lead. But it's such a strong field here, and there's a lot of guys with a chance to win."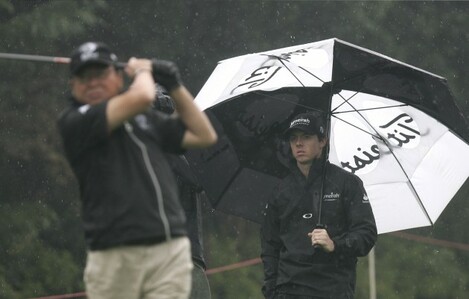 Rory McIlroy watches an amateur golfer teeing off on 1st hole during the Pro-Am event of the HSBC Champions golf tournament at Shanghai earlier. (AP Photo)
It's already been a memorable year for McIlroy in so many ways.
First came his Sunday meltdown at the Masters, where he lost a four-shot lead by shooting 80 in the final round. He bounced back in a big way with a wire-to-wire win in the US Open at Congressional, shattering the scoring record with an eight-shot win.
Off the course, he has a new girlfriend in tennis star Carolina Wozniacki, and a new manager after a stunning split two weeks ago with longtime agent Chubby Chandler.
That's a lot of drama, especially for a 22-year-old from Northern Ireland who has emerged as the biggest young star in the game. McIlroy is surprised by the amount of attention, although he is determined to not let it distract him from what he's trying to do.
"I think the most important thing for me at the minute is just to concentrate on my golf and make that the primary focus, which it always has been," he said. "I've got a good run coming up to the end of the season. All I'm trying to do is concentrate on finishing this year off really well and put me in a good position going into next year."
Wozniacki has joined him in Shanghai and followed him around in the pro-am today.
"I've been to a couple of her tennis tournaments," he said. "This is the first time that she's at a golf tournament, and if the weather keeps going like this, it might be the last one she's at, as well. No, it's good to have her here."
- additional reporting AP