BEFORE HE TEED off on his final round en-route to victory at the WGC Cadillac Championship.
Justin Rose told a television interviewer that he was going to just keep his head down for 14 or 15 holes or so.
Only then would he take a look at the leaderboard and see what he needed to do over the closing holes.
The strategy couldn't have worked out better for him – he managed to keep himself sheltered from one of the most topsy-turvey, distracting and at times bizarre final rounds we've witnessed for a while.
Bubba Watson was the protagonist early on with some incredibly wild play. He wasn't just a little wayward, he was finding the most wierd and less wonderful places from the tee on the early holes. The three-shot lead he took into the final round was quickly eroded and all of a sudden it was anyone's game.
Next to the front of the stage was Tiger Woods. Woods got off to a terrible start and after some early bogeys went from being in a position where he could have challenged for at least a top five to just making up the numbers.
Comical
It was a little out of character give his recent form, but all became clear when we saw him in golf cart heading towards his car. Another dreaded injury.
The medics came over with an ice pack and off he went in his large Mercedes. We all know that there's an exaggerated media hype aroud Woods, and in some cases that's understandable, but what ensued was comical.
We had Peter Oosterhuis on commentary duty for Sky Sports talking about Woods' excellent reversing skills as he maneouvred his car out of the car park. Then the overhead blimp camera proceeded to follow Woods' car down the motorway as he made meandered away from the golf course.

YouTube credit: hellodable
It was almost like one of those police TV shows where you expect a fleet of squad cars to appear behind the car and start trying to nudge it off the road. He was just going home folks. What did they really think was going to happen?
Back on the golf course, where all the stuff we actually wanted to see was happening, Rory McIlroy was on the charge. Now there's entertainment – a young guy at the height of his powers taking on the world and beating them.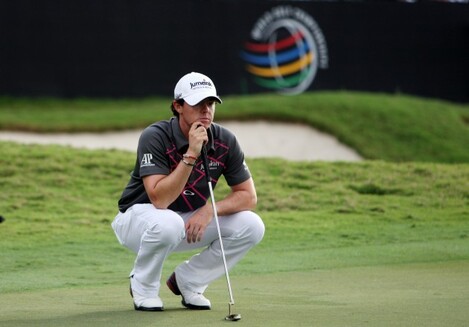 McIlroy waits his turn on the 18th green. /Lynne Sladky/AP/Press Association Images
When he holed his bunker shot for eagle at the 12th, it looked as if he may well have been on course to win again, but he was undone my a couple of bogeys over the closing holes, particularly the 18th where he drove into a bunch of palm trees and missed a medium-length putt for par.
All the while, Justin Rose was keeping his head down and going about his business as though oblivious to the goings on aroud him, making the odd birdie here and there without doing anything dramatic.
His main challenger at one point looked to be Keegan Bradley, but an uncharactersitc disaster on the green at the par-five 10th scuppered his chances. He was only six feet away for birdie, but hit it four feet past and then missed the one back. A cardinal sin.
When Rose eventually completed his round, albeit with a bogey at the last, he celebrated with his children and entered the scorer's hut. He had won.

Or at least he thought he had won until Bubba Watson, who managed to steady the ship over the back nine, hit a miracle shot into the 18th green from the palm trees to leave himself a 10-footer to force a playoff.
Rose was immediately back out on the range with his game face on to prepare for extra holes, but as Watson's putt slid past the hole, the groan of the crowd was enough for Rose to know that he had won his first WGC event and the circus had come to an end.
A well deserved victory for a man who has had a lot of ups and downs in his career but who is undoubedtly an extremely talented golfer. Woods may have dominated the headlines, but Rose won't mind keeping his head down and sacrifcing that circus for a win.