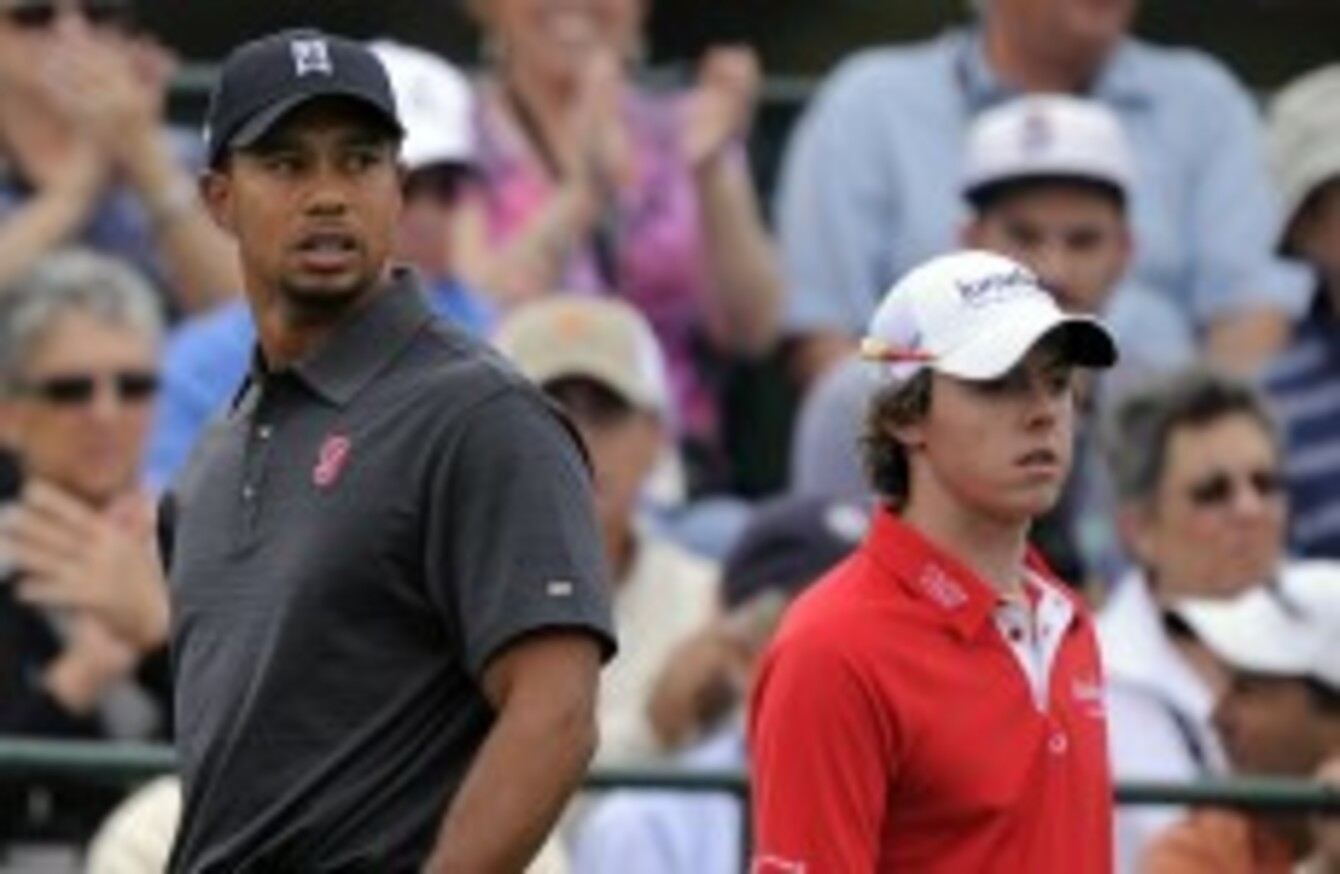 Tiger v Rory: who will own 2012?
Image: Mark J. Terrill/AP/Press Association Images
Tiger v Rory: who will own 2012?
Image: Mark J. Terrill/AP/Press Association Images
DID WE ALL enjoy the winter break? Didn't seem to last very long, did it? That's just the way professional golf is these days, I guess.
Absence makes the heart grow fonder though. It's difficult to look at the calendar for 2012 and not feel a sense of excitement and expectation for the season ahead.
And it's not long before we come upon some big tournaments. The Abu Dhabi Golf Championship begins on the 26th of this month and will feature Tiger Woods, Luke Donald, Rory McIlroy, Lee Westwood, Martin Kaymer — the list goes on. It's a very impressive line-up for a tournament that's taking place so early in the season and it really does whet the appetite.
If anything, the season needs such a gathering to get the ball rolling and develop some interest early on. It would be very easy to forget about golf over the winter and wait until the first few WGCs and even the Masters comes around, but the Abu Dhabi Golf Championship will get the crowd and the fans back into the groove with vigour and enthusiasm early on.
After that, we can begin to look further afield. It's only at this time of the year that we get to do that, because once we're up and running, the tournaments come so thick and fast that we only really get to take things from week to week.
Season's greetings
There are some burning questions hanging over the 2012 season for which the answers will gradually become clearer as we progress.
After last season's heroics and history making, can Luke Donald win a Major? There won't be a man on the planet that will want to end this debate more than Donald himself. He has done almost everything else asked of him, but it's just the esteem in which the Majors are held that Donald must win one for him to be considered a great player. Obviously he'll have plenty of opportunities far beyond 2012, but if he can bring his 2011 form into the new year, you'd have to think he will have more than one great chance at one of the big ones this year.
Rory McIlroy will be gunning to build on his US Open victory of 2011 and one of the biggest hurdles in that will be the Masters, the tournament in which he had one of the most crushing Sundays in a Major in recent memory. He'll want to exorcise the demons of that day.
It's a course that would appear to suit his game very well and having contended once, there's a good chance he'll remember how do to it again. When he does, something tells me he's not going to replicate that famous Sunday demise. Nobody would consider Rory McIlroy a bold choice to win the Masters – it's only a matter of time really.
Tiger Woods will be the elder statesman looking to teach the young pretenders a lesson. It will be very interesting to see what effect his win at the Chevron World Challenge late last year has had on him. Given what we know of Tiger, it probably will mean a renewed hunger and self-belief to keep winning, but it won't be long before we'll get to see the man in action.
I think at a bare minimum, it would be nice to see Tiger complete a full season in good health. But here's a thought; with 71 PGA Tour wins, Tiger is third on the all-time list. Sam Snead is top with 82, but Tiger is only 2 wins behind Jack Nicklaus who has 73, so that will almost certainly be something for him to aim for this season.
YouTube Credit: Just87Productions
The icing on the cake this year will be the Ryder Cup. As well as being something extra to look forward to, the Ryder Cups have been incredible entertainment over the last decade or so. The 2010 event in Celtic Manor threatened to be overshadowed by the poor weather conditions, but even then it made for unbelievable drama on the final day.
There's a huge amount in store for 2012 and let's hope it lives up to it's billing. 2011 is a big act to follow, but golf is one of those games that can unearth the most unlikely story lines. This year should be no different.