NEARLY HALF OF international rugby players have felt pressure to train or play when not fully fit, a survey conducted by the representative body of global players has revealed.
The study, carried out by International Rugby Players, looked at issues including club and country workload, head injury management, standards for emerging nations and player availability.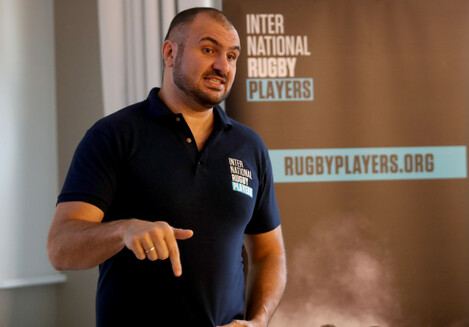 International Rugby Players CEO Omar Hassanein. Source: Dan Sheridan/INPHO
More than 350 players from every World Cup 2019 qualified team — as well as Germany, Kenya, Hong Kong and Romania — responded to the survey, which was carried out between October and November 2018.
Among the key findings published today was that 45% of players felt pressurised to play when not fully fit, while almost a quarter of players surveyed admitted they had been put under pressure by their club not to play for their country — of that, 40% had succumbed to this pressure.
Several players also remarked about contact sessions at training.
"Contact at training whether in club or international set up needs to be limited. There is enough contact week to week in games so I don't see why there is any in training. Players need to be protected from under pressure coaching staff," said one respondent.
On the topic of concussion, Head Injury Assessments (HIA) and the Return to Play protocols, the vast majority of players [85%] think medical staff are following the HIA to the letter of the law.
While 72% of players say they have never hidden a head knock in order to start the Return to Play protocol process, players raised concerns about the stand down period and whether decisions should be taken out of the players' hands in more competitions and tournaments.
International Rugby Players board member, Rob Nichol (NZ), said: "The fact that some players (28%) felt the need hide symptoms of a head knock so that they can start the return to play protocols, means authorities have to take the decisions out of the hands of players."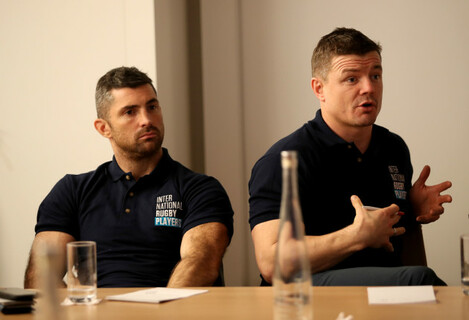 Rob Kearney and Brian O'Driscoll are part of the International Rugby Players Council. Source: Dan Sheridan/INPHO
In other findings, over half of those surveyed think Test Matches should not be played outside the current international windows and almost half think 21-25 is the optimum number of matches to play per season.
International Rugby Players CEO, Omar Hassanein, commented: "What's become evident is that player welfare can't be just talked about, it needs to be acted upon. As an example, too many players are highlighting player load as a real issue and talking about being overburdened in training or playing too many matches.
"This survey has highlighted many important areas of work and we will be progressing these with World Rugby and the other governing bodies in 2019 and beyond, including the ongoing work of the Player Load Working Group." 
Subscribe to our new podcast, Heineken Rugby Weekly on The42, here: