IT'S THE FIRST part of an Ireland v Australia sporting double-header. All eyes will be on Lansdowne Road later this afternoon but first, it's time for the one-off International Rules Test in Perth.
As always, we'd love to hear your thoughts on the action. Email niall@thescore.ie, tweet @TheScoreGAA, post a message to our Facebook wall, or leave a comment below.
You may need to manually refresh for embedded content to display correctly.
Good morning!
Let's cut to the chase: it's far too early on a Saturday to be trying to do anything but for sport, we're always willing to make a sacrifice.
The much-maligned International Rules series resumes this morning as Ireland take on Australia in a once-off Test in Perth.
Paul Earley's side won by a record margin against the Indigenous All-Stars last year and if the buzz from down under is to be believed, the Aussies are out to make amends this year.
To that end they've picked a squad full of players who have won All-Australian honours and they've also got the public behind them, with Patersons Stadium reportedly close to its 43,500 capacity.
Let's be honest though — most of those are probably Irish!
Kick-off is at 5.45pm Perth time; that's 9.45am in real money.
Still a lot of empty seats inside the ground but you can guarantee the place will be heaving in a half an hour.
Here's a reminder of the Ireland touring panel. Paul Earley can name 23 in his matchday squad.
Cork: Colm O'Neill, Aidan Walsh (vc)

Derry: Chrissy McKaigue

Donegal: Neil McGee, Michael Murphy (c)

Down: Kevin McKernan

Dublin: James McCarthy

Galway: Finian Hanley

Kerry: David Moran

Kildare: Pádraig O'Neill

Laois: Colm Begley, Ross Munnelly

Mayo: Colm Boyle, Pearse Hanley (Brisbane Lions), Lee Keegan, Kevin McLoughlin, Aidan O'Shea

Meath: Paddy O'Rourke

Monaghan: Darren Hughes, Conor McManus

Roscommon: Cathal Cregg

Tipperary: Ciaran McDonald

Tyrone: Seán Cavanagh, Mattie Donnelly, Niall Morgan
Zach Touhy — from Carlton via Portlaoise — knows where his priorities lie:
Here's the Australian squad. Anyone who watches the AFL highlights on TG4 will recognise a few familiar names — eight are current All-Australians:
Grant Birchall (Hawthorn), Travis Boak (Port Adelaide), Luke Breust (Hawthorn), Patrick Dangerfield (Adelaide), Duston Fletcher (Essendon), Brendan Goddard (Essendon), Robbie Gray (Port Adelaide), Brent Harvey (North Melbourne), Luke Hodge (Hawthorn), Kieren Jack (Sydney Swans), Steve Johnson (Geelong), Jarrad McVeigh (Sydney Swans), Sam Mitchell (Hawthorn), Leigh Montagna (St Kilda), Nic Naitanui (West Coast), Nick Riewoldt (St Kilda), Tom Rockliff (Brisbane Lions), Joel Selwood (c, Geelong), Brodie Smith (Adelaide), Nick Smith (Sydney Swans), Harry Taylor (Geelong), Jobe Watson (Essendon), Chad Wingard (Port Adelaide).
Celine Mangan and Jenna Moriarty enjoy the Saturday afternoon sun.
It's a balmy 10°C in Dublin this morning, FYI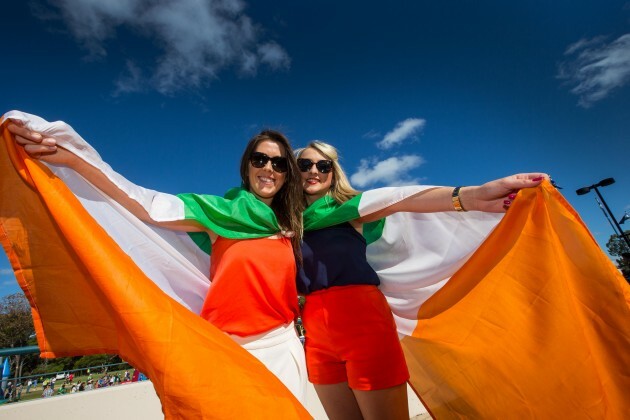 Cathal Noonan / INPHO Cathal Noonan / INPHO / INPHO
Here's the Ireland team, courtesy of TG4: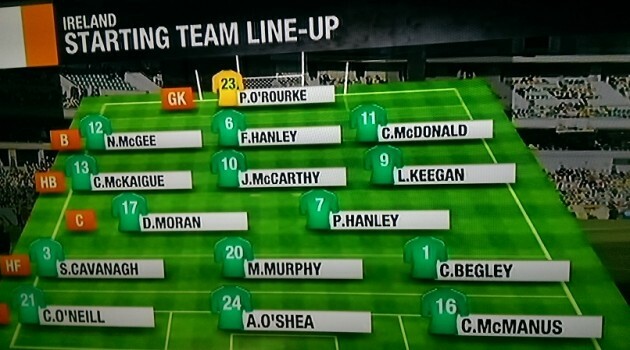 Here's a quick refresher on the "compromise" rule scoring in case you need a reminder.
It's six points for a goal, three for an "over" (over the GAA bar), and one for a behind (between the outer posts).
Simple, eh?
Here's how the Aussies line up, again via TG4: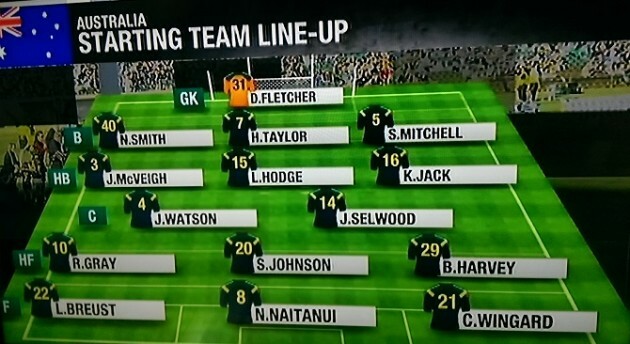 What better time to remind you that both sets of players are wearing White Ribbons today in support of the campaign to stop violence against women.
Nov 22nd 2014, 9:49 AM
1min
Australia 3-0 Ireland: Steve Johnson has a free in front of the posts and knocks it over to give the Aussies an early lead.
Nov 22nd 2014, 9:50 AM
3mins
David Moran takes the mark from Paddy O'Rourke's kick-out and finds Colm O'Neill. He has a chance to kick Ireland level but it's well right and wide. Not even a behind.
Nov 22nd 2014, 9:53 AM
5mins
Australia 6-0 Ireland: Selwood kicks another over. Really strong start by the hosts.
Nov 22nd 2014, 9:55 AM
7mins
Australia 9-0 Ireland: Lovely bit of quick movement by the Australian forwards and Ireland keeper Paddy O'Rourke does really well to save from Harvey and put it over the bar.
Nov 22nd 2014, 9:56 AM
8mins
Australia 9-1 Ireland: Colm O'Neill gets Ireland off the mark with a behind but it's been all Australia so far.
Nov 22nd 2014, 9:58 AM
10mins
Australia 12-1 Ireland: Big let-off for Ireland as Wingard's chance comes back off the post and into the hands of a grateful Paddy O'Rourke. Australia regain possession and Johnson hits the over.
Nov 22nd 2014, 9:58 AM
11mins
Australia 15-1 Ireland: A big, big over from Steve Johnson. He has three overs (nine points) already and the Aussies are flying.
Nov 22nd 2014, 10:00 AM
12mins
Australia 18-1 Ireland: Another mark by Wingard, another over. Ireland are seriously struggling here.
Nov 22nd 2014, 10:01 AM
14mins
Australia 19-1 Ireland: Nick Riewoldt kicks a behind. All of the play is in the Irish half at the moment.
Nov 22nd 2014, 10:04 AM
16mins
Ireland haven't settled at all. All of the balls into the forwards are totally aimless and the Australian defence keep gobbling it up.
Nov 22nd 2014, 10:05 AM
17mins
Australia 22-1 Ireland: Jared McVeigh saunters forward unopposed and points Australia's seventh over. Ireland need to change things up and they need to do it fast!
Nov 22nd 2014, 10:06 AM
19mins
The Irish tactics are wrecking Wooly's head:
Nov 22nd 2014, 10:07 AM
20mins
Australia 22-4 Ireland: Ireland get a break from referee Marty Duffy as he awards a mark when Michael Murphy looked to have spilled possession. Murphy kicks the visitors' first over.
Nov 22nd 2014, 10:08 AM
ENDOFFIRSTQUARTER
Australia (0-7-1) 22-4 (0-1-1) Ireland
So much for saving the series! We might never recover if the Aussies keep this up:
Nov 22nd 2014, 10:14 AM
21mins
Brilliant tackle by Smith who dives in to deny Colm O'Neill, much to the delight of the Perth crowd.
Nov 22nd 2014, 10:15 AM
22mins
Australia 22-5 Ireland: David Moran kicks the first score of the second quarter, a behind for Ireland
Nov 22nd 2014, 10:16 AM
23mins
Australia 25-5 Ireland: Steve Johnson drifts into space in front of O'Rourke's posts, takes the mark, and points an easy over.
Nov 22nd 2014, 10:17 AM
24mins
Aidan O'Shea has a chance for a simple score but skews it a million miles wide off his left boot. Shocking stuff.
Nov 22nd 2014, 10:20 AM
27mins
Just as I was about to type that Ireland are settling and playing a bit better, Colm Begley kicks the ball straight into Australian hands under no pressure.
Never mind.
Nov 22nd 2014, 10:24 AM
30mins
Australia 28-6 Ireland: Riewoldt kicks another Australian over. Hanley responds with a behind for Ireland.
Nov 22nd 2014, 10:25 AM
32mins
Wonder if Richie is regretting getting out of bed?
Nov 22nd 2014, 10:27 AM
33mins
Australia 31-7 Ireland: Superb play by Nick Riewoldt who gets up over Neil McGee to win the mark. He takes another as play quickly develops and then kicks his first over.
Nov 22nd 2014, 10:28 AM
34mins
Ross Munnelly drops a shot off the top of the Australian bar. I'm not sure he was going for goal there but he very nearly caught Fletcher off guard.
Nov 22nd 2014, 10:29 AM
35mins
"We can't even kick the ball 20 metres to one of our own," tweets Galway legend Padraic Joyce, "which proves our own game is littered with too much hand passing."
Nov 22nd 2014, 10:31 AM
37mins
Australia 35-7 Ireland: An over for Riewoldt, a behind for Breust. This is turning into a hammering.
Nov 22nd 2014, 10:32 AM
HALFTIME
Australia 35-7 Ireland
Dear oh dear.
This looks to be our best bet at the moment…
Pablo: Feck it .. we'll give em this one and smash em in the Rugby.
Nov 22nd 2014, 10:48 AM
37mins
We're back up and running in Perth. Surely it can only get better for Ireland?
Nov 22nd 2014, 10:50 AM
37mins
Australia 35-8 Ireland: Lee Keegan kicks a behind to get Ireland on the board in this third quarter.
Nov 22nd 2014, 10:52 AM
40mins
Australia 38-8 Ireland: Chad Wingard has all day and all night to kick an over … and he does.
Nov 22nd 2014, 10:53 AM
41mins
Australia 41-8 Ireland: Jared McVeigh with an over. Ireland love kicking away possession.
Nov 22nd 2014, 10:55 AM
42mins
GOAL FOR IRELAND! Australia 41-14 Ireland: Darren Hughes gets on to a breaking ball and rolls in the game's opening goal. Even at this stage, it looks like it will be far too little far too late for Ireland.
Nov 22nd 2014, 10:57 AM
46mins
Australia 42-17 Ireland: Conor McManus kicks an over and, despite what I just wrote, Ireland are threatening to make this interesting.
Nov 22nd 2014, 10:58 AM
47mins
Australia 42-20 Ireland: A great goal chance for Ireland but they've to settle for an over through Mattie Donnelly. It's a 22-point game now.
Nov 22nd 2014, 11:00 AM
48mins
Australia 42-23 Ireland: Make that a 19-point game now as Conor McManus takes another mark and scores an over. Ireland have outscored the Aussies 15-1 in the last seven minutes!
Nov 22nd 2014, 11:02 AM
50mins
Australia 42-26 Ireland: Another Irish over! Mattie Donnelly again. Fine response by Ireland but surely they've left themselves with far too much work to do?
Nov 22nd 2014, 11:04 AM
53mins
Australia 43-27 Ireland: A behind apiece — Gray for Australia, Hanley for Ireland.
Nov 22nd 2014, 11:05 AM
54mins
Australia 43-30 Ireland: Marvellous stuff by Down's Kevin McKernan. There's only been one team in this quarter and it has been the visitors.
Nov 22nd 2014, 11:06 AM
54mins
Australia 46-30 Ireland: That could be crucial for Australia. Robbie Gray scores an over from in front of the posts to steady the ship.
Nov 22nd 2014, 11:07 AM
ENDOFTHIRDQUARTER
Serious stuff by Ireland in that third quarter, outscoring Australia 23-11. They'll need to do eve better in the last 18 minutes to turn this around and retain the Cormac McAnallen Cup though.
The tactic there seemed to be to bombard Aussie keeper Dustin Fletcher. If they keep trying that, the second crucial goal might come.
Patrick Dangerfield and Sean Cavanagh compete under a high ball
Cathal Noonan / INPHO Cathal Noonan / INPHO / INPHO
Here are the thoughts of Dublin's Paul Flynn:
Nov 22nd 2014, 11:14 AM
57mins
Bad miss by Australia as the fourth quarter gets underway. Wingard has a chance for a handy over and scuffs it so far wide, he doesn't even get a point for a behind.
Nov 22nd 2014, 11:15 AM
57mins
Australia 46-33 Ireland: Colm Begley floats in an over on the run with his left boot. Thirteen points the margin now with 15 minutes to play.
Nov 22nd 2014, 11:16 AM
59mins
That could be costly. Darren Hughes has a free kick in from the left but can't make it count.
Nov 22nd 2014, 11:18 AM
61mins
Australia 50-33 Ireland: Big play by Wingard. He gets up above James McCarthy to take the mark and slots an easy over. Gray adds a behind and Australia have a small bit more breathing room.
Nov 22nd 2014, 11:20 AM
62mins
Australia 53-33 Ireland: You may forget any thoughts of an Irish comeback, I think. The Aussies are cutting Ireland open with some really slick handpassing, and Kieran Jack puts them 20 points up.
Nov 22nd 2014, 11:21 AM
63mins
Australia 53-36 Ireland: Conor McManus with another over. He's been at the heart of this Irish revival.
Nov 22nd 2014, 11:24 AM
66mins
Australia 53-37 Ireland: Cavanagh snatches at a difficult chance, turning to kick over his shoulder, and it's a behind. Australia are far more composed in this final quarter.
Nov 22nd 2014, 11:25 AM
68mins
Australia 56-37 Ireland: Australia picking off their scores now, and Breust kicks an over.
Nov 22nd 2014, 11:27 AM
70mins
GOAL FOR IRELAND! Australia 56-43 Ireland: Absolutely bizarre stuff as there's a scramble in front of the Australian goal and Nick Smith hoofs it into his own net.
And when I say hoofs it, I mean hoofs it!
Nov 22nd 2014, 11:28 AM
71mins
Ireland have the ball in the Australian net again but it's a free out for a foul on keeper Dustin Fletcher.
Nov 22nd 2014, 11:29 AM
72mins
Last few seconds before the buzzer …
Nov 22nd 2014, 11:30 AM
72mins
Australia 56-46 Ireland: Conor McManus with a fine, fine over. He's certainly been one of Ireland's standout performers.
Nov 22nd 2014, 11:30 AM
FULLTIME
Close but no cigar for Ireland but, at the very least, it was entertaining.
Is that enough to save the series?
Nov 22nd 2014, 11:49 AM
11.38
Ireland captain Michael Murphy pays tribute to the Australians and says that he hopes to have many more great series against them down the line.
Conor McManus is named Irish Player of the Series, while Luke Hodge wins the Jim Stynes Medal.
Nov 22nd 2014, 11:50 AM
11.40
In case you missed it, here's that spectacular Aussie og again:
http://vine.co/v/OJYK7qdQrhQ
Nov 22nd 2014, 11:53 AM
11.43
That's it from us. If we needed an argument to keep this series alive, the entertainment provided by this morning's game might just be it.
Ireland's slow start cost them in the end but the second half showed just how entertaining the compromise code can be when both sides field strong sides and go for the win.
Thanks for reading.