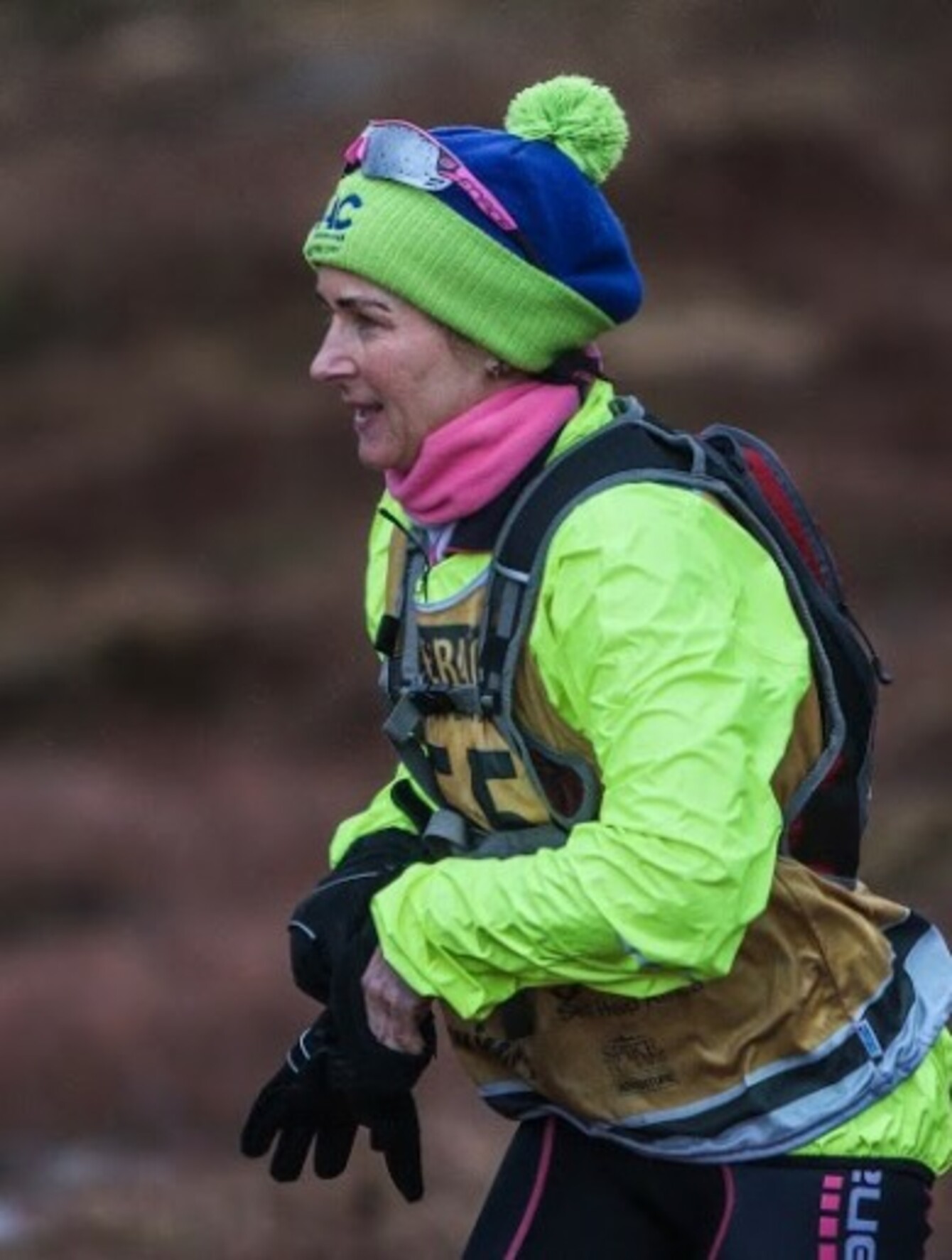 Behan starting stage 3 of The Race 2015 -- the climb up Muckish.
Behan starting stage 3 of The Race 2015 -- the climb up Muckish.
"TO BE HONEST, when I came in at the finish, I thought I'd have another 5k to go."
When Diane Behan triumphed in The Race last weekend, coming first in the female category and eighth overall, she surprised many people, including herself.
Pitted against more renowned athletes such as seasoned adventure racer Avril Copeland, the 45-year-old Waterford native wouldn't have been many people's favourite to prevail in the Donegal-based challenge, which involves a half marathon, a 175km cycle, a 15km paddle and an 800 vertical metres climb, before finishing with a marathon (all of which must be completed within 24 hours).
Behan's achievement — in what has been called 'one of the world's 10 toughest endurance races' – is all the more remarkable, given that she lacked both the experience and excess free time to spend on training, which some of her rivals would have enjoyed. As a 45-year-old nurse who frequently works 13-hour shifts, devoting the necessary hours needed to complete the race, never mind winning it, was never going to be easy.
However, Behan is accustomed to overcoming challenges. After her husband died suddenly 13 years ago, she was left to raise two young children on her own. But ultimately, she responded to this tragedy positively — ditching her 20-cigarettes-a-day habit and taking up running.
In addition, having initially had a "strong fear of the water," Behan is now a capable swimmer, competing in several triathlons of late.
Moreover, she may be a late bloomer in athletics, but the Irish athlete has certainly made up for lost time. Since starting to run competitively in her early 30s, she has acquired 150 championship medals for county, Munster and national events, as well as two British master track medals. Furthermore, she has taken part in six marathons to date, setting a personal best of 3.16 in the Dublin 2012 marathon (though she is aiming to set a new PB when she takes part in the Berlin Marathon this September), while she is also a member of both the Waterford Athletics Club and the Biscuit Cycling Club.
(Behan poses with the male winner of The Race, Sean McFadden)
However, signing up for The 2015 Race — a challenge she casually came across while scrolling down her Facebook timeline — was somewhat of a step into the unknown, given that Behan had never competed in a 24-hour event before.
And one of the biggest obstacles last weekend, for both Behan and her rivals, turned out to be the conditions. The Race is deliberately arranged for the start of March every year, when the weather is at its most unpredictable and changeable, but even by those standards, the climate on 7 March was more than a little extreme. As co-creator David Burns subsequently told us: "It was an incredibly tough day for competitors — probably as tough a day as you could safely run the event."
Yet Behan insists she was relatively unaffected by this potential pitfall.
"To be honest, I didn't mind the rain," she tells The42. "I would have trained a lot in it. Because my days off were quite specific, I had to get out whatever the weather was like. So I have been out in the cold and the wet — though probably not in such high winds… There was a small bit of danger on the bike, but I was used to the conditions.
"The elements probably added to the toughness of the event, but never once did they dampen the spirits. The clothing I had with me — I always changed my base gear, three top layers every time I came to a transition, so I was warm all of the time."
(A competitor slipping and sliding down from Muckish in the wind and rain)
But while the Waterford native remained quite calm throughout, many onlookers were less reserved.
"There was a lad who was laughing at me because I was covered in shite," she recalls "Even when I was getting on the bike, there was an elderly man and he said 'Jesus, nothing has dampened your spirits anyway.'"
Behan finished the event in 18 hours, 43 minutes and 57 seconds — well over an hour quicker than she had initially aimed for.
"I had no watch from the start, so I had no concept of where I was and I couldn't see the signs anyway," she says. "When the girl said to me 'you've only 200m to go,' I thought: 'Really?'"
The lack of a watch, she explains, lessened the pressure on her time-wise, although she "knew she was leading from the first half hour on".
Among other factors, Behan cites her meticulous focus on nutrition as being key to her success.
"I had my nutrition down going into that event. I had researched it a lot and a lot of my diet over the last four months was only fats and proteins, and I had introduced proteins only in the last four days — besides porridge, which I was eating every day. So I never had a slump nutrition-wise, where I was getting a bit shaky, or getting a bit low.
"I don't eat too much racing-wise, because it takes away the blood supply from where it should be.
"I did have my protein balls and a half-litre of home-made solution that I'd made to keep the electrolytes balanced."
(A competitor leaving Doochary, as darkness sets in, to run the lonely final stage, a marathon)
Unlike other competitors, most notably the winner in the male category, Sean McFadden, Behan never had any real moments of doubt and was always confident of finishing within the allotted 24 hours.
"I never once had a slump, and I think, because I didn't, my mind was never upset. If I was slumping sugar-level-wise, I might have got despondent in my head. Halfway through, when I was heading in on the fourth, fifth and sixth stages, I was actually feeling very good.
"The last two miles, I was kind of running low on fuel, and walked a bit, but other than that I ran [the whole way through]. The research I'd done on the nutritional side — taking in 80 grams of carbohydrates every hour — definitely added to my performance, and kept me mentally balanced and focused.
"I'm not gloating — I actually found the event grand. I never struggled or came to a point where there were tears in my eyes and I said: 'I'm going to give it up.' There may have been tears in my eyes for different reasons — joy that I was still there. But there was never a point where I thought: 'I can't do this.'"
Behan's faultless preparation extended to a rigorous training schedule ahead of the event, which was undertaken in spite of a similarly intense devotion to her day job.
"Because we work 13-hour shifts here, we start at 7.30am and I live half an hour away [from the hospital], so generally on a shift, I'd be up at 6.15am for work, so initially when I went into The Race, I wasn't getting in my run on my shift and it was really bothering me. So I actually started getting up at 4.50am and I'd run for an hour and 15 minutes, then I'd shower and get ready to go into work. Then I'd go for another hour when I finished work.
"On the shift, you don't sit around either. You're buzzing around all day and time just flies. The legs were hanging off me initially, but my times came down by two or three minutes.
"I'd run maybe six to eight miles in the woods, or maybe 10 miles depending on the form. But there was no doubt that those 13-hour shifts on my feet stood to me."
(Male runner-up Sean McLoughlin pictured on a very wet and windy Muckish Mountain on stage three of The Race 2015)
And Behan admits that beating one competitor, in particular, made her proud.
"Avril [Copeland] is a really accomplished endurance athlete, and I would never have done anything over four hours. I was up there for the day, on my own. I wasn't going to leave it behind if I could, because I was feeling so good and strong mentally, I just pushed on. I said I'd take the event every 5k. I took it every 5k and before I knew it, I had 35k done."
Meanwhile, as for the future, Behan feels age will likely prevent her from fulfilling certain challenges.
"Maybe if I was younger and there was a chance to represent Ireland — like Avril did — I would [have greater ambitions]. But with my age and everything, I don't know if it's something I'll pursue."
However, far from looking back with regret and reflecting on what might have been, Behan seems to be savouring every moment of her improbable success.
"The people of Donegal took me into their hearts and all knew me by my name. I thought: 'My God, how do these people know who I am?'"
"At one point, a spectator said: 'I can't believe you're still going.' I didn't get upset but I thought 'that's so nice,' because these people didn't know me. I was so overwhelmed!
"I got lots of messages from some of the main competitors the next day and I couldn't believe it. I would have been chatting to them at the meal and talking about everything they had done. I thought that I had done so little by comparison, and I think they were amazed that I managed to keep going.
"But to come out and win it in the time I did, and be up in the top-eight athletes, it's something that exceeded anything I would have anticipated."
The Race is a not-for-profit event organised by Gartan OETC with all proceeds going towards the work of Gorta – Self Help Africa. For more info on how to donate, click here.
All pics taken by Paul Doherty and used with permission from David Burns.