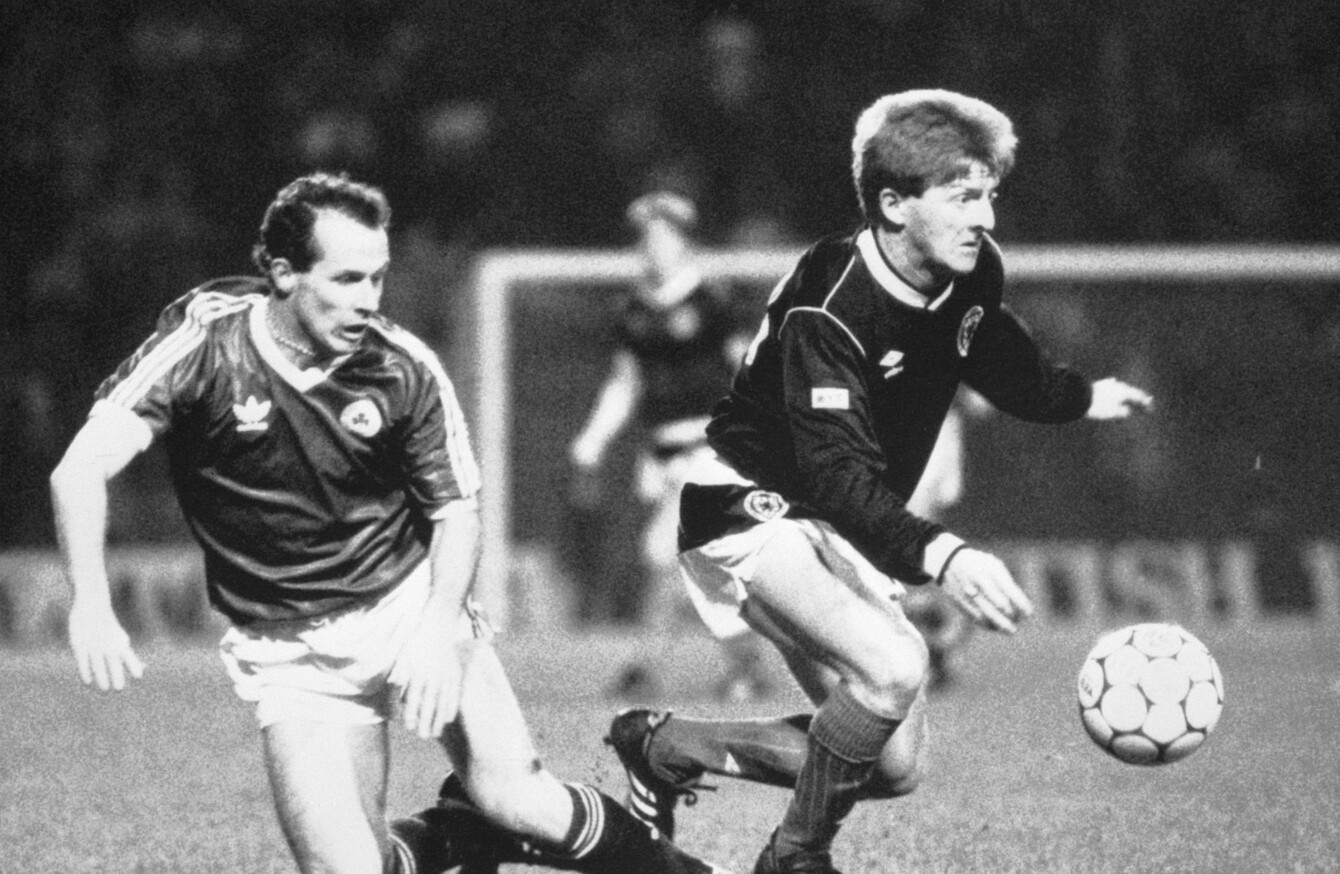 Scotland's Gordon Strachan, right, beats the Republic of Ireland's Liam Brady to the ball during the European Championship qualifier at Hampden Park, which Ireland won 1-0.
Image: PA Archive/PA Images
Scotland's Gordon Strachan, right, beats the Republic of Ireland's Liam Brady to the ball during the European Championship qualifier at Hampden Park, which Ireland won 1-0.
Image: PA Archive/PA Images
Updated at 18.54
1. Ireland exorcise the ghost of Scotland '87
THE OMENS DID not look good for Ireland going into today's game with Austria.
It's been well documented how poor their record was against their Group D rivals. The Boys in Green had won just two of the previous 14 meetings between the sides, with their last victory in the fixture coming in 1963.
In addition, the Irish side's last win against a genuinely competitive team away from home came against Scotland in 1987 during the Jack Charlton era (excluding, of course, the win in normal time against France amid the infamous 2010 World Cup qualification play-off).
And as if winning this evening's game didn't look improbable enough as it was, Austria had not lost a home qualifier since a September 2012 defeat by Germany.
So make no mistake, in many ways and from a psychological viewpoint more than anything else, this was a big win for the Irish team.
2. Austria and Alaba were poor
As impressively as Ireland fought to earn a vital three points, it must be said that Austria were very underwhelming today.
The hangover following a disappointing Euro 2016 campaign is showing no signs of abating, as Marcel Koller's side gave home fans at the Ernst Happel Stadion little to shout about, while struggling to open up a well-organised Irish defence.
Though in a way it is harsh to single one player out, David Alaba is so integral to the side that when he is off form, it almost seems to affect others in the team to boot.
Alaba, the country's youngest-ever international, is the golden boy of Austrian football, winning their player-of-the-year award for the past five consecutive seasons.
At 24, the Bayern Munich star already has 51 caps and is expected to double that at least before retiring.
But tonight, the talented playmaker clearly was not up to his usual standard. Free kicks were underhit, numerous passes went astray, and the team as a whole failed to tick as a result.
Austria in general seemed to be suffering from a lack of ideas and confidence, and following a poor start in Group D, are beginning to look like rank outsiders in the qualification race.
3. James McClean epitomises all that's good about this Irish team 
If James McClean wasn't already a cult hero in Irish footballing circles, he certainly became one this evening.
Not only did the West Brom winger take his goal extremely well, he also showed immense bravery to play through the pain after tearing a back muscle in the build-up to the game.
In an era when footballers' commitment to international football is constantly being questioned amid reports that certain high-profile players are no longer particularly pushed about representing their country, McClean is one footballer who could never be accused of lacking desire at this level.
"Playing for this country means everything. If there is a chance I can play I'm not going to shirk it," he told RTÉ following the historic win over Austria.
And tonight, he clearly backed up these words in his actions, as the Derry native delivered a performance that epitomised the grit and determination which characterised the Irish team's performance.
4. Brady booking the one sour note
Robbie Brady's booking was the only real disappointing aspect of tonight's win over Austria.
The Norwich star produced an excellent display overall. He was solid at the back and his excellent set-piece deliveries frequently created panic in the Austrian backline.
It therefore must be very frustrating for Martin O'Neill that Brady ended up picking up a needless booking in the dying minutes of this crucial qualifier, which means the Dubliner will now miss the home game against Wales next March.
In an obvious attempt to waste time, Brady foolishly kicked the ball away as Austria attempted to take a quick throw-in.
Moreover, Martin O'Neill suggested after the game that Brady was unaware he was on a booking going into the game, and if that was indeed the case, it makes the incident all the more disappointing.
Brady should have known he was on a booking before the match, while the management must also share some of the blame for not warning the 24-year-old about the crucial importance of retaining his discipline tonight.
5. Ireland in pole position to win Group D
Ireland have only once topped a qualification group for a major tournament in their history — ahead of Euro '88, when a famous goal from Scotland's Gary Mackay sent them on their way to Germany.
As Martin O'Neill keeps emphasising of course, there is a long way to go yet in qualification, but tonight's results at the very least mean the Boys in Green will go into 2017 as Group D leaders.
In addition, it is hard to remember the last time they have had a better chance of topping their group and securing automatic qualification in the process.
Ireland, over the years, have generally been paired with at least one European footballing superpower in qualification — a Germany, Italy or France — thereby making the prospect of first place appear rather unlikely.
This time around, however, they are in a group with no real outstanding team.
The Boys in Green have now played four of the five other sides in the group and Martin O'Neill has yet to see anything that should concern him unduly.
A win against Wales at the Aviva Stadium next March would really put the team in dreamland, and should that feat be achieved, a top-two spot at least would start to seem probable rather than possible.
The42 is on Snapchat! Tap the button below on your phone to add!