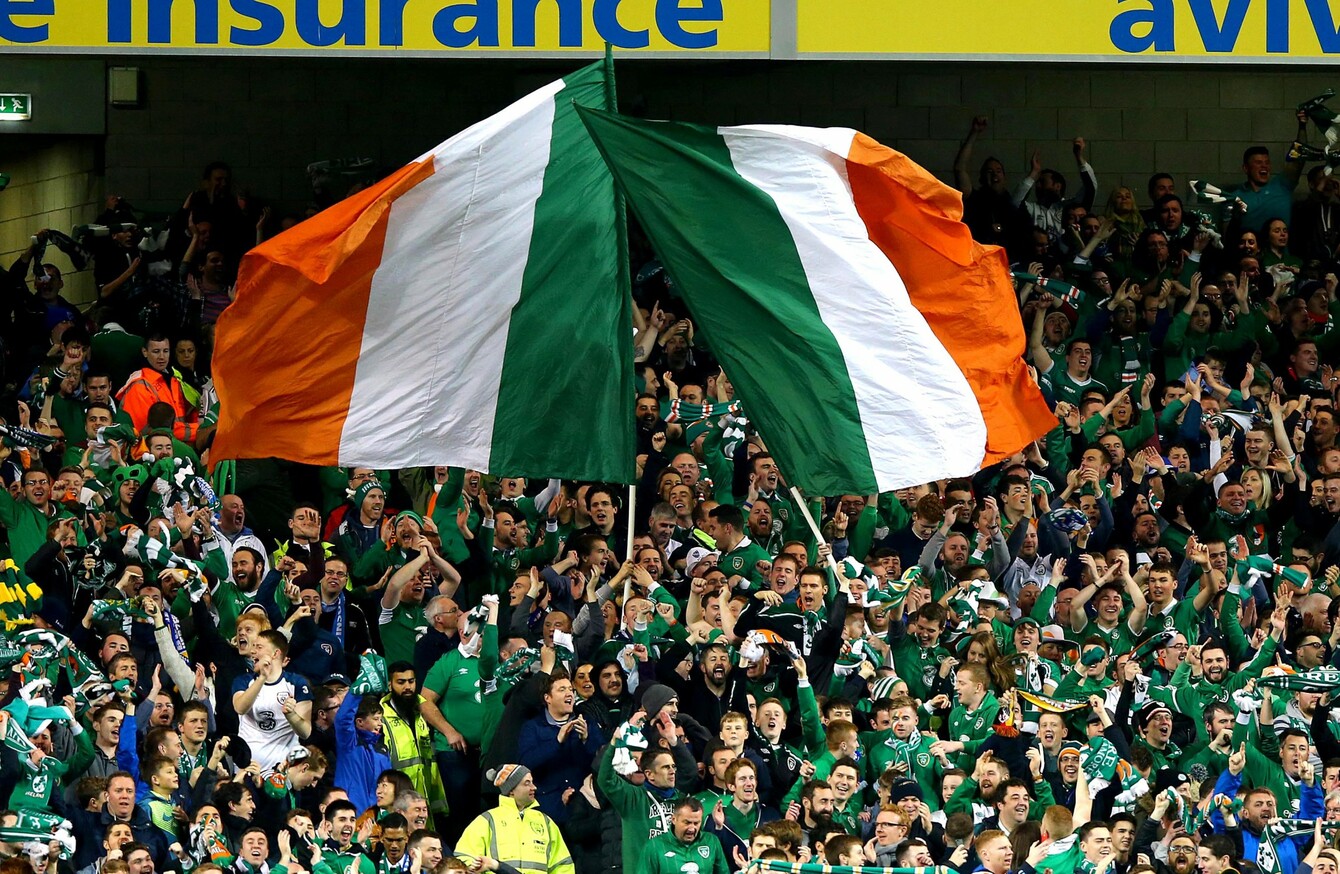 Image: Donall Farmer/INPHO
Image: Donall Farmer/INPHO
"The whole thing was depressing, though, wasn't it? The whole thing was depressing. I'm looking forward to the future. I'm looking forward to the fact that we're now in trouble because our seeding will be changed for the Europeans, we'll go down another peg."
It was in a cold, fittingly grey TV studio just over two years ago when the late Bill O'Herlihy sat back in his chair, threw his arms out wide and, exasperated, asked for the opinions of John Giles, Eamon Dunphy and Liam Brady.
It was a sobering evening.
Giovanni Trapattoni's side had just succumbed to David Alaba's 84th-minute strike and lost to Austria – their third defeat from eight World Cup qualification games. Four days before, the side had suffered a miserable home defeat to Sweden in Dublin and across a grim September week, everything ahead seemed bleak.
It had been a tough year. There were protests against the bank bailout, the household tax, the water tax. Media organisations went into administration. EU ministers assembled in the country's capital to discuss 'austerity', whatever that was. Garda whistle-blowers alleged corruption within the organisation tasked with protecting us. The fall-out from the chilling death of Savita Halappanavar continued. The Anglo Tapes surfaced and humiliated. John Gilligan was released from prison. The negatives firmly outweighed the good times.
But that was then. And this is now.
To the credit of this current Irish side, they twice pushed us into something like a transcendent state in recent months. The Shane Long strike and subsequent win over Germany led to a joyous outpouring of emotion but last night was even better.
I had forgotten what a pinch-yourself moment felt like until that final whistle blew.
It signalled accomplishment and achievement. Is there a better feeling? Rewarded after a long, tough, uncompromising road that had its fair share of difficult diversions to navigate, the group fully deserve this. Where sometimes sport is cruel and unforgiving, oft-times it's reassuring and we love it all over again.
The wonderful thing about sport is that it's a reflection of something bigger. Work hard and you'll get there in the end. Make mistakes and you'll get punished. And it's much easier to accomplish great things if you have others around you – inspiring you, driving you.
What made the Charlton era so special was that it was about so much more than just a football team. It was a representation of where the country was at the time. A small, brilliant place filled with character and life and energy and aspirations that was bursting at the seams. It was ready for something bigger, ready to take off and show off.
But when a small place achieves greatness, it's a long way down the other side. When a small place steps above its limitations and excels, there's an expectation that it's the new normal. But a small place lives through peaks and troughs and is at the mercy of plenty. A small place doesn't dictate the rules, as much as others might think. A small place will struggle more than succeed.
The Danes, who do moodiness and dark melancholy better than most – even us – have a phrase: hygge. It can't be easily defined. It's a feeling, a warmth, a happiness.
Essentially, it places the importance on the small, soothing things. Candlelight, dinner with friends, a glass of red wine with a loved one after a long day in the office. And above all else, hygge is about the experience more than anything else.
The Republic of Ireland qualifying for Euro 2016 may not seem like a small thing but, for many, sport still remains an irrelevance, unimportant. For many, they don't 'get' it. Football, after all, is just 22 people kicking a ball around a field. But the experience, that feeling elicited by the team's victory last night is infectious and unifying.
Source: Daithi333/YouTube
When we look back on the archive footage of the scenes around the Walkinstown Roundabout after Ireland's penalty shoot-out win over Romania in 1990, we think it's a different lifetime ago. Fans take to the streets to celebrate. They know nothing else. They just want to share in the experience of what had just happened. They dance and they sing and they cheer. And people hop in their cars to merely drive around and breathe in what has happened.
A quarter of a century later, we're still doing it. Like what happened in the immediate aftermath of the Irish win over Germany, fans took to the city centre to celebrate last night. They stood together and sang football songs. They draped arms around each other and danced in the streets. In an era of self-awareness, such natural behaviour is a rare thing. Sometimes, amidst the posturing and the posing, we can still live in the moment and savour it.
The Danes, and Scandinavians generally, have another phrase or way of life: jante. It centres around the importance of humility and the blatant dis-regard of self-serving behaviour. But, you know what? A little self-praise is important sometimes.
It's been a long time since the Irish football team made the wider public burst out of pubs and clubs and join in on the chorus. It's our miserabilist way to play it down, our way to push away the positivity. But let's enjoy this. Let's take the time to feel good and to feel proud of our team and ourselves.
There was something startling about the immediate outpouring across social media last night and this morning. Irish supporters were making travel plans already. They were tapping their local credit union for a loan. They were looking at hotel prices. Flight prices. Boat prices. Train prices.
And in the aftermath of what happened in Paris on Friday, it said much about sport and its effect on people. It says that in spite of a potential threat, fans have a burning desire to support their own, far and wide, whatever it takes. It's what all this does to you.
It's the experience.
Let's savour it.