TOMORROW MARKS THE 10-year anniversary of one of the true watershed days in modern Irish rugby.
March 6, 2004: The afternoon Ireland travelled to the home of the world champions and won.
Reigning champions had been beaten before and since by Ireland, but never on their own soil and never so soon after they secured the William Webb Ellis Crown.
And before England had the World Cup, the same Clive Woodward team had a Grand Slam – claimed in the spring sunshine of Lansdowne Road on a day when Ireland had their own designs on reaching a perfect 10 Championship points.
In 2004, the all-conquering English were shorn of a handful of their biggest names and barely endured a hiccup, scoring 11 tries in wins over Italy and Scotland. Ireland began the championship with defeat to France, but were back on track with a 36 – 15 win over Wales at Lansdowne Road.
What follows here are the accounts of the men with some of the best seats in the house (and one woman who had just departed her own):
John Hayes (tight-head): We had been together as a squad for a few years at that stage. We obviously hadn't won in Twickenham for 10 years, '94 was the last time Ireland had won there. They were obviously recent world champions, so that gives you a great draw as a team. We were a young team developing and it was a great opportunity to play against the best and we wanted to have a good lash off them
Shane Horgan (wing): There was a lot of optimism around that time. We had a decent World Cup and we had a very, very young team. We saw a team in England that won by an extra-time drop-goal against an Australian team we probably should have beaten in the group stage of the World Cup.
Hayes: The first thing I remember is that Niall O'Donovan pulled us in that morning for 'a beating', he gave us a good old fashioned rev-up to get us going. Wherever this game was going to be won, like all games it had to start up front. They had a good pack, a very big pack. Martin Johnson was gone alright, but a lot of the other fellas were still there.
Michael Corcoran (RTÉ Radio commentator): From the press point of view, it was seen as a regular trip to Twickenham for Ireland.  It was easy for England to get distracted in the build-up because they were the world champions, but there were 11 of the England team who started the World Cup final starting against Ireland. 12 if you include Iain Balshaw, who was a replacement in Sydney.
Ireland were completely dismissed in the run-up to it, no-hopers, and in many respects that's where Ireland are better.
Eddie O'Sullivan (head coach)*: England's World Cup homecoming was to be, essentially, a show without a supporting cast.
The build-up to Twickenham didn't really tap into the normal energies of a Six Nations contest. Clive Woodward and his team had come back from Australia as rugby royalty and to be Irish that week in London was pretty much to be invisible.
England had the Webb Ellis trophy. This was, essentially, their victory parade.
There was all manner of rumour as to the kind of innovation Clive was now bringing to the English dressing room: He was said to have an aromatherapist releasing scents like basil and peppermint to sharpen the alertness of his players. There was, supposedly, a visual awareness specialist working on their peripheral vision. The impression being given was of England stretching the boundaries of preparation while the rest of us gaped in awe. It suited us perfectly.
Drico maybe captured our mindset best with his infamous pre-match observation that Ireland hoped to make the Twickenham crowd 'choke on their prawn sandwiches'. He said it tongue in cheek, but deep down, I think it reflected the sense of determination within the group not to keel over meekly for England's titillation.
Conor Ryan
Horgan: I think we stayed in a different hotel that year — a bit of a nicer place just outside London — where we had a base and just came in on the day of the game.
I remember it just being a very relaxed environment beforehand. I actually remember Eddie having a lot of confidence before the game. If you're looking back you wonder what was the reason behind that. It's hard to know.
The preparation was done right and we had a good side out. Also, I think we saw a chink in the armour, that they were missing a couple of players and they had achieved their goal, so the potential was there to take them on.
There wasn't a huge amount of fear going into the game. A lot of that came out of how the World Cup went for Ireland — I know, beaten in the quarter final by France — but the way it panned out, there was a greater belief in our group.
Fiona Steed (Flanker, Ireland Women): For us, it was a huge honour to be playing in Twickenham and playing against England at the time when they were at the height of their powers. It was very, very physical and we got well and truly hammered 51 – 10. My two back row colleagues Joy Neville and Rachel Boyd both managed to score a try. Both were off rolling mauls, we were delighted with ourselves at that stage to have scored two tries.
That was my 60th cap and I finished out the Six Nations and retired. I was up against Maggie Alphonsi on one of her first caps. I had a right good tussle with her… and I had the scars to prove it.
Guard of honour?
O'Sullivan*: The day before the game, while training at Bracknell, I proposed applauding England onto the pitch. It was kind of reverse psychology; applaud them on, then kick them off it.
Shane Byrne (hooker): Going into the game there was a lot of silliness around – like that clap them onto the pitch – there was just absolutely no bloody way that was happening. It was a suggested because they were world champions and look, okay fair enough, it was a great achievement; but to hell with that.
O'Sullivan*: I felt it might add to their complacency. Initially, the players agreed, but back at the hotel a few reservations began to gather steam… Drico came to me while I was having dinner.
'You know you were talking about clapping them on the field tomorrow, then kicking them off it?'
'Yeah.'
'Well fuck the clapping bit!'
'Anyone in particular speak out against it?' I asked, already knowing the answer.
'Maggsy. He nearly went fucking crazy.'
Byrne: The Irish, we live and thrive on the underdog banner when we have it. It's not something we have an awful lot now, but right then we did. We were playing the world champions on their welcome home and they hadn't been beaten in Twickenham in a hell of a long time, but we were very confident we had the skill-set, fitness and the match of them both physically. And we had the gameplan to mentally take them on and move them around the park.
Hayes: There was the typical Irish motivation, but that wasn't personal motivation for me. I'd say for a lot of us it wasn't either, we wanted to win something ourselves as opposed to party-poop for them.
O'Sullivan*: Take away the aura of being world champions and I saw plenty to target.
That aura, mind, was everywhere. One of the first things we noticed was a line of 22 plaques arranged around the frame of the dressing room door, signifying each of England's consecutive victories at Twickenham.They hadn't lost a Championship game at home since 1997. No doubt the engraver was already somewhere in the stadium now, poised to put the finishing touches to a 23rd.
Steed: There was the whole thing about the bloody chariot and the World Cup and all of this. When you're passionate about your country and about rugby, then your future husband is playing as well, it was a hugely emotional day all round.
We played so far ahead of the men so that they could do their full warm-up and everything, I remember having a brief chat with John (Hayes). I had a black eye, my eye was practically closed and I remember him going:
Hayes: 'Well, howya?  That didn't go to well…'
Steed: '…best of luck, so.'
One of the girls had a photo of it, so I always had that to say 'there we are, both on Twickenham at the same time.
Hayes: Among the squad there'd be certain choice words anyway in the build-up, but I think it was mostly along the lines of; 'these are the World Champions, these are the fellas you want to test yourself against'. So it was really a drive to focus on playing against the best.
These are the games you play for.
Byrne: There was a huge amount of Irish in the crowd. I've been to Twickenham a lot and it was something I noticed during the warm-up was that the Irish roar was very prominent that day.
You could feel something in the air, was there an upset? I don't know what it was, looking back it's easy to put it together, but on the park it led to a feeling that there was just no way we were going to back down today.
Whether your lungs were hanging out, or your ankle was falling off, it didn't matter. You were just going to get what you wanted because we were so disappointed after the Six Nations decider.
Jim Sherwin (RTE TV commentary): Stringer. Little chip through for O'Driscoll – Oh! Obstruction! And that's the height of it, I'm afraid, I don't think there's going to be a yellow card, but penalty Ireland.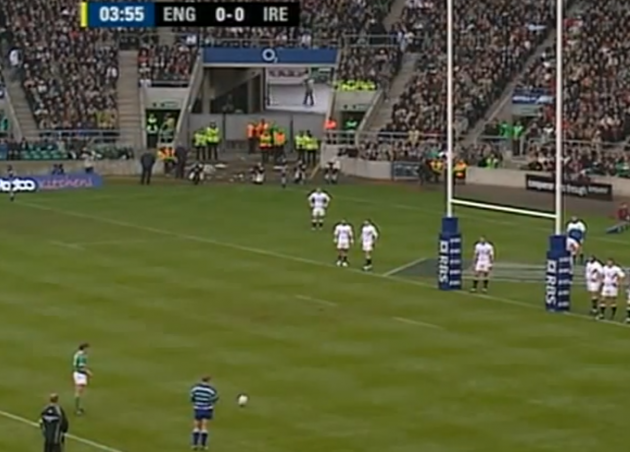 Ronan O'Gara (out-half):  I missed a penalty in front of the post, did I?
Lashed it off the right-hand post… it was a gimme.  I was thinking; 'ah no, not one of these days.'
Corcoran: That's the one thing I've always admired about ROG, he has got incredible mental toughness. Where I've seen him miss kicks or do something uncharacteristically wrong, he had this ability to just come back and correct it, not let it affect him when some fellas would just drop the head. He has this ability to draw a line in the sand and move on.
His attitude was typical of the day.
O'Gara: It was strange. A friend of mine, Conor Howell, one of these financial gurus, he had some statistical thing about kicking at 80%. He said to me one time that — 'sure it's great. Once you miss your first kick you'll kick them all'.
He actually came into my head then, I didn't mind missing a first kick… in hindsight I'd say, 'why didn't I concentrate more' or whatever…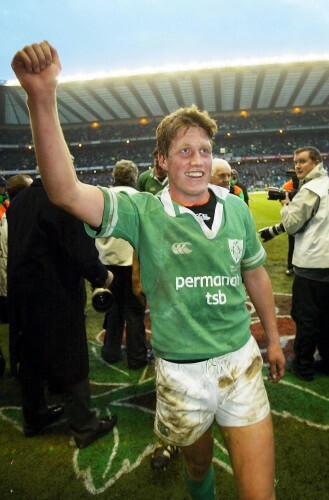 INPHO INPHO
Corcoran: Ireland didn't have any fear at all to be fair about it. They knew they had been written off completely in the build-up to the match and Ireland had respect, but no respect if you understand me — they were respectful as opponents.
In fairness to Eddie, he always had a couple of phrases and as he might say himself Ireland "were like mad dogs in a meat house." Anything that moved in white shirt was hit aggressively.
Byrne: We basically knew their line-out calls, knew what they were going to do and we knew more than likely whereabouts on the pitch they were going to do it.
On a personal front, we had the best line-out in the Six Nations for a couple of years at that stage and we were quite happy with our own line-out and the idea was to starve them of their own ball.
Paul Ackford (Sunday Telegraph match report): Ireland's gameplan was never risky. It essentially involved Stringer and O'Gara putting the ball in behind the England forwards forcing them to change direction on a treacherous surface. But, given the contributions of O'Connell in particular and England's lack of bite, it proved more than enough in the first period.
O'Sullivan*: We targeted England's set-piece, their line-out in particular, and got 6–0 up through two Ronan O'Gara penalties.
Sherwin: Deliberately, Trevor Woodman collapsing the maul. Penalty opportunity again and… deservedly Ireland are in front after 16 and a half minutes.
O'Sullivan*: Then they got a try, almost a replica of one they got the year before in Dublin; just a ball squirting out of the scrum and Matt Dawson getting the touchdown.
Hayes: Trevor Woodman and Phil Vickery were the two props at the World Cup… against a team like them, world champions, they would have a period of the game when they would come back into it at some stage. But it was just a case of not panicking and not allowing anything to go against you too much. Just keep the composure to get back into it.
Steed: When we left the changing rooms we were brought across the road to Rugby House and given our post match dinner. We caught glimpses on TV, but we didn't really get to see the game.
Corcoran: I always feel that if you go out to play at Twickenham and England get any score at all, they grow in confidence and into the game. It's like as if they are half a yard faster, an inch taller or feel as if their chest is two inches bigger and their shirts are just spray-painted onto their back.
It's a really, really difficult place. If England go in front in the game at all it's very difficult to claw them back. It's just the way they are. They grow in stature as the crowd grows into the game.
Hayes: There wouldn't have been panic like, just a case of 'stick at it', the experienced boys would have been saying. We mightn't have it on the scoreboard, but we are getting there, we're doing damage, just keep at it.
Byrne: Back in the 90s and early 00s when Ireland would play New Zealand or Australia, if you got your nose in front and then lost the lead, your tails went down.
That was just not going to happen here. It was right back to the grindstone – we know what we had to do — we still at huge confidence in the gameplan we had put together and we knew that if we just played it, it would work.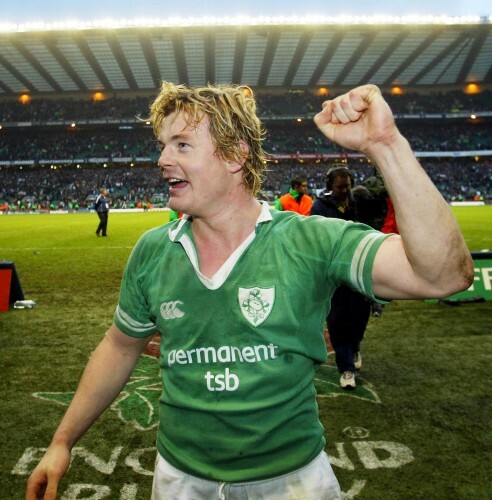 INPHO INPHO
Paul Ackford: Ireland went in at half-time 12-10 in front and such was their professionalism and control that they were able to respond to England's only try of the half and regain the lead.
Horgan: They considered themselves a better team — they had legitimate expectations. But the longer we stayed in the game, that favourites tag or the benefit you get from being a home team, at some stage that switches and there's a realisation that; 'actually we might be getting beaten up here by Ireland in our own back yard'.
Then it goes from being an advantage, to a disadvantage.
Steed: While the second half was on, we were walking back through the Twickenham grounds to get to our bus to get to the airport. I remember myself, Rosie Foley and Sarah-Jane Belton ran up the back of the steps of the west stand in Twickenham and had a look in so that we could actually say that we had witnessed what was going on — the men were in full flight at that stage.
I can't remember seeing anything in particular, but I can remember being shouted at to come down.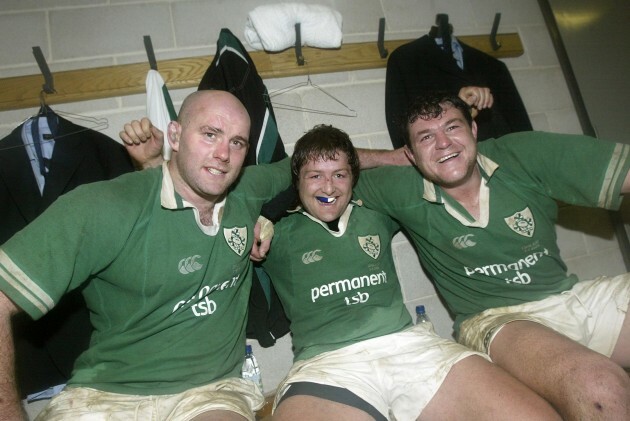 INPHO INPHO
O'Gara: That was a serious gameplan Eddie O'Sullivan devised for beating them. It was a wide-wide pattern for playing England and we didn't really play it against anyone else, but Girvan Dempsey scored a great try in the left hand side.
The way they defended: 10, 12, 13 were very tight and there was space in the outer channels every time. They were a drift defence, but if we could get the ball to width and get on the front foot, then we could go back to width again because they were compressed from the ruck to the inside post.  That's the way it worked and it just worked a treat because we had good passers in midfield too.
Horgan: Eddie was always very diligent about how he'd try to exploit a team. He put a lot of analysis in before games.
I do remember we played a wider pattern that day, it was just what was right for the team against England. I remember a couple of years later, Eddie recognised that there was a lot of space inside the 10 for England and although Wilkinson's a very good defender, he left that space and we exploited well. Eddie has a good eye for weaknesses.
Sherwin: O'Gara. Long pass missing out O'Driscoll. That's D'Arcy, is there a little gap there? He IS through it…
O'Sullivan**: We knew it was the right gameplan, but we executed it very well.  Girvan Dempsey's try, the crucial score of the game was a great try, a great team try. We stretched them across the park; went through them, went around them.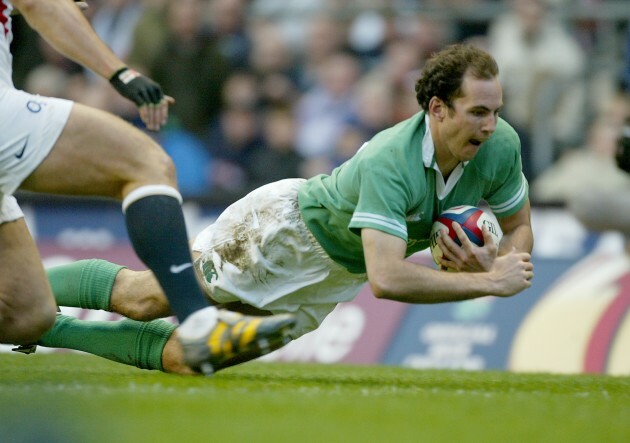 INPHO INPHO
Sherwin: Stringer to Howe, going back infield where he knows there is support. Inside the 22, they're going to play it right. O'Gara to Gleeson, there are two to his right – here's Horgan and O'Kelly beside him on the inside switch.
Foley has it, his great strength taking him to within two…
Hayes: I do remember coming out of the ruck and seeing the try. That was a play that had been practised that week that hadn't been used before. They had seen on video that if we keep hold of that ball and go wide with it then there might be mismatches between backs and forwards. It worked out like that and it was great to see it on the day.
Horgan: To be honest, my memory of a try 10 years ago that I didn't score is pretty hazy. I have a vague recollection: There were a lot of contributions from a lot of players in that move and a lot of strong carries. Not fancy line breaks, but just inch by inch and then a sweep from the right hand side –a pretty impressive team try.
There was certainly a lot of practice put into it and a number of different options. When you're playing moves such as that; you play the move, but then there's a reaction to what occurs around you.
Conditions weren't ideal, and not every pass was perfect, and at different times there were little half line breaks made and people carried well. So that was, generally, as important as the formal move, but it's nice when something you spent a lot of time on in training is then implemented. Seeing what Eddie had said and what players had come up with, when it actually works on the field there is great satisfaction in that.
Sherwin: … Stringer slips in the mud. Very close for Ireland, great possession. Here's D'Arcy, to O'Driscoll – swinging it out, there's a man to spare! Here's Howe, can he get past his man? Oh surely. Yes, it must be in the corner; Girvan Dempsey.
Steed: Having Rosie (Foley) there as well, the two of us were like two peas in a pod down the back of the bus, but all the girls there wanted to know what was happening and I remember the cheers on the bus when we heard that they had scored – it certainly lifted our own mood as we went back to the airport to fly home.
O'Gara: As players, you get serious satisfaction if you devise a plan, you apply a plan and the plan works. I think that's hugely satisfying. A week's work, then you park it and you move on to the next challenge.
Concern
From that 51st minute try and the subsequent conversion to make the score 10 – 19, it was time for Ireland to shut the game down.
There were moments of concern, namely with Mark Regan's lunge for the line before being ousted into touch by Malcolm O'Kelly, but for the most part the 14 starters and Kevin Maggs continued to thwart the World Champions.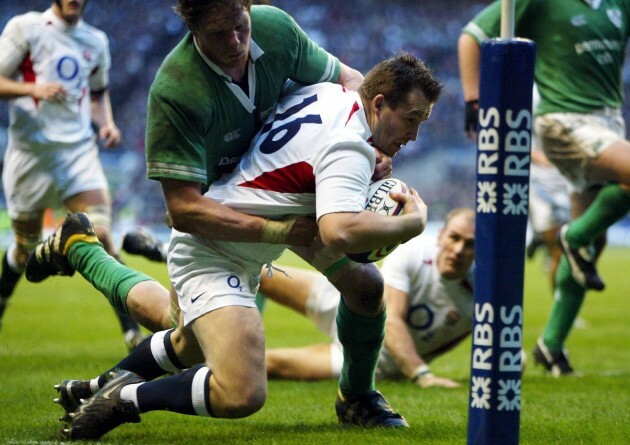 ©INPHO ©INPHO
Byrne: They had a massive ability to retain possession and just wear defences down.
I remember being in a kind of a daze the whole way through the game. You were so fatigued and putting in so much effort into the game, but there was just no way were you backing down.
When you feel like that all the clichés count in; never-say-die attitude, never take a step back… but it's true.
Eddie O'Sullivan had a philosophy around then that the minute you make contact with somebody there's a blade of grass below that point and you just make sure you get over that blade of grass — you push them back.
As long as you mentally think like that, the effect is always going to be positive. If that's your attitude going into every single confrontation, that's the way you win.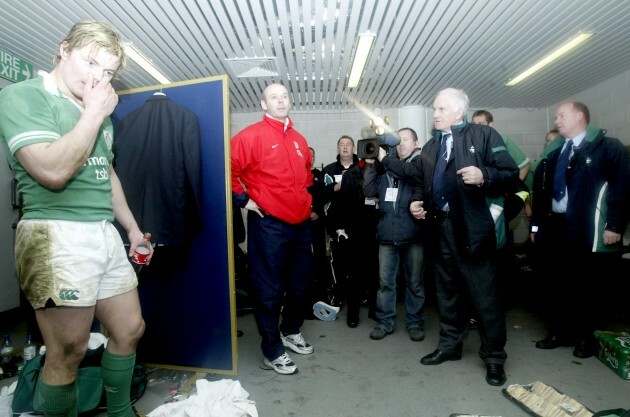 ©INPHO ©INPHO
O'Sullivan*: England came at us with the kitchen sink and, true, we were hanging on for dear life at the end.
Corcoran: To me it was all about the attitude Ireland brought to the match that day. Their attitude was all about; 'you might be World champions, but that means nothing to me. I don't care about that'.
Over the years I think that's when Irish teams have performed at their best. It's like if somebody sets you a challenge, and goes; 'see that mountain over there. Jesus, you'd never be able to climb that.'
It taps into the Irish psyche. It's laying down the wrong challenge to you and that's what happened that day.
'Boot, bite and bollock'
O'Gara: The pleasing thing about it was that it wasn't a lucky victory. It was a serious performance, it wasn't boot, bite and bollock Irish rugby, it was calculated, smart, it was aggressive and yet we were very precise.
Those days aren't to be under appreciated because they were the times we were winning three or four games in a Championship and they were the days which finally led us to believe, essentially, the same group of players could win a Grand Slam.
O'Sullivan**: We were never going to physically beat up England, But we could always box smarter than they could if we could move them around and create quick ball. We had to have the shape to do that, the skill-set and the players, but ultimately in these games in can all comes down to defending your line.
We had to go through a long period of defence and again it was kind of a homecoming for Mike Ford, our defence coach and an Englishman, but that night he said it was the proudest day of his life that we had embraced his defence system and really pitched up when it counted.
Paul Ackford: England appeared rudderless. None of this will worry Ireland one little bit. They came talking big, but they justified every last word.
©INPHO ©INPHO
Horgan: There are a lot of guys who started to recognise that you could compete against the best sides in the world and that wasn't a feeling that existed for a very long time in Irish rugby right through the 1990s, and that probably attaches itself to everybody that played rugby in that time. This was one of the major landmarks of breaking that down.
O'Sullivan*: There were extraordinary scenes afterwards as we came out of the stadium, maybe 700 people waiting to applaud the players onto the bus. It took us an hour and a half to get back through the awful traffic to the Chelsea Harbour Hotel and we were then an hour late for the post-match banquet at the Intercontinental.
When we got to the banquet the Webb Ellis Trophy was on display, there was a string quartet, a brass band… everything you'd expect for a glorious coronation.
Corcoran: Back then, in an even year people would look at the fixtures and see away to England and away to France and think 'sure, we'll see how we get on.' People would automatically go, 'Ireland won't do well that year.'
To a degree, we travel now in high expectations to places. We go to Edinburgh and we expect to win there, we go to Rome we expect to win. We go to Wales and Twickenham; we have a good chance of winning, we go to France and you're still praying to God that you might win.
O'Sullivan**: Twickenham is a bit of a citadel of rugby. It sounds nerdy to say that, but when you actually get there on a matchday, you go in there and the atmosphere builds and you realise you're in a real iconic place.
It's very tough to win there. We all like to think our own stadiums – whether it be Thomond Park, Ravenhill, Aviva Stadium or the old Lansdowne Road – are great but Twickenham is right up there when it comes to stadiums. You get a great buzz there and you always have to put up a big performance to win.
It took us a little while to build up a habit of winning there, but even when we did, they were always very tight games that could have gone either way.
Interviews with Ronan O'Gara, Shane Horgan, John Hayes, Fiona Steed, Shane Byrne and Michael Corcoran by Sean Farrell.
Eddie O'Sullivan* from the autobiography, Never Die Wondering.
Eddie O'Sullivan** interview by Joe Molloy, Newstalk.
Paul Ackford match report from Telegraph.co.uk