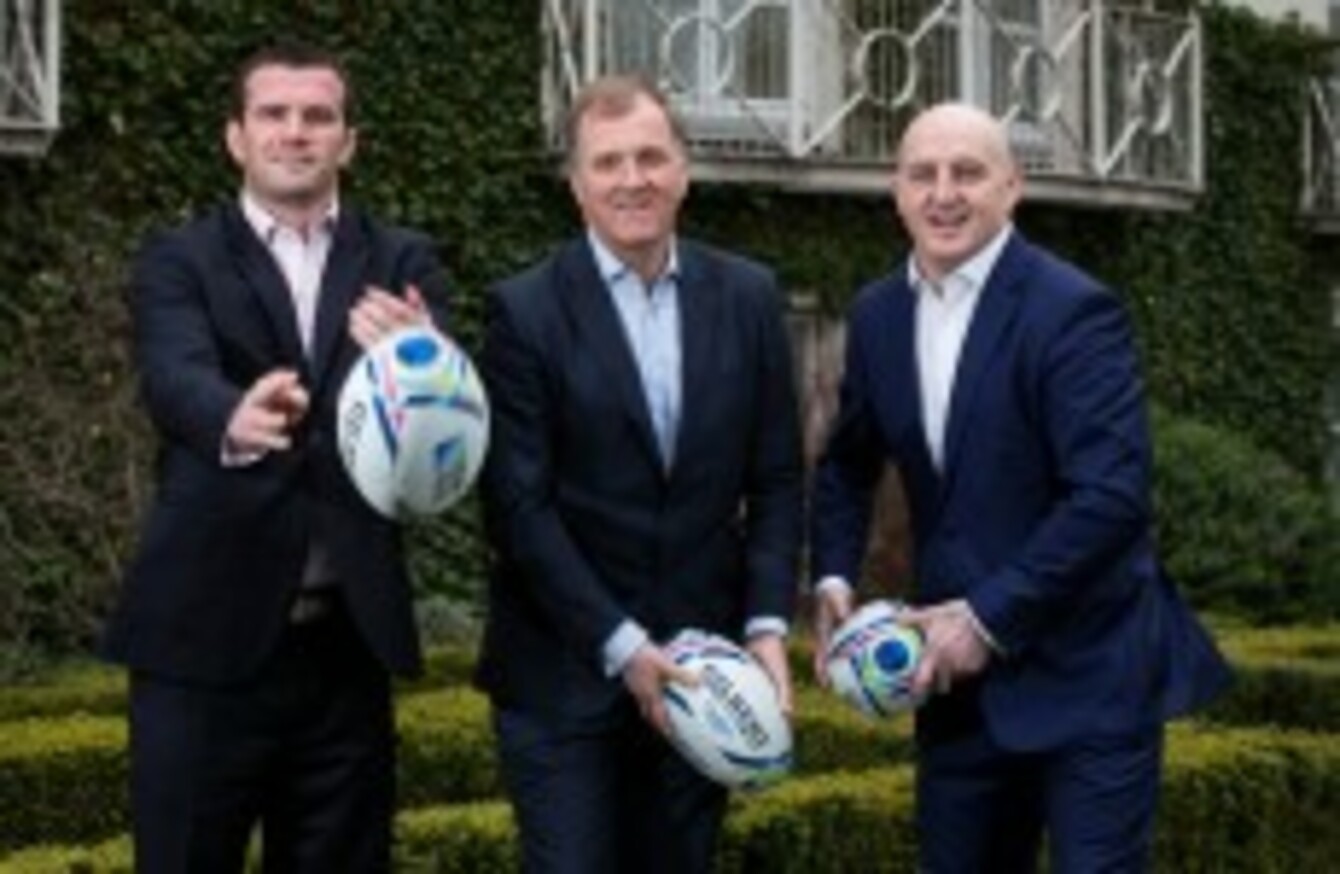 Wood is part of the TV3 World Cup team along with Shane Jennings and Hugo MacNeill.
Image: Ryan Byrne/INPHO
Wood is part of the TV3 World Cup team along with Shane Jennings and Hugo MacNeill.
Image: Ryan Byrne/INPHO
SUNDAY PROVIDES IRELAND with a chance to equal their best-ever run of victories when England come to town, while the World Cup looms large in the background.
Joe Schmidt's men can make it 10 wins in-a-row this weekend and if they are to do so, the current levels of expectation would surely grow even further.
There is widespread belief among the Irish rugby fraternity that Schmidt can lead Ireland to new heights at the World Cup later this year, as well as retaining the Six Nations crown they captured in 2014.
Schmidt himself has been at pains to manage the expectation around Ireland, pointing to it as one of the greatest dangers to his team, both short and long-term. Irish rugby has been in this position before, only for the dreams to be swiftly extinguished.
However, legendary hooker Keith Wood doesn't buy the line that expectation around Ireland is such an evil thing, given that the current belief has been built upon consistent achievement.
"Ireland have a more preparation-based philosophy now. If the expectation was built on the back of one victory, that just isn't enough foundation to build it on.
"This expectation is based on nine victories, and even though some of those victories have not been fantastic or flamboyant, they've been efficient. That's not a particularly sexy word, but the wins have been appropriate.
"The performances have been pretty much appropriate for the standard of the team coming back from injury."
Source: Conor Ryan/YouTube
Despite the grumblings over some of Ireland's wins, particularly around the style of rugby, Wood has seen the performances as "entirely sensible" and admits to having loved the victory over France.
That said, the Killaloe man believes there is more to come from Ireland, pointing to a number of areas that need to be addressed this weekend against England.
"I'd be critical in that I don't think we tried enough the last day," explained Wood. "Now it's difficult, because France gave away an awful lots of penalties and we kicked them. It's hard to get a flow in the game, get into it properly when every time you do get to a point where you can attack, one of the French guys goes off his feet. It's bloody frustrating.
"I thought we were poor at clearing out and I thought our attention to detail at the ruck wasn't good enough on our ball. At times we were running guys up individually and France were very good at clamping down on the ball.
I thought some of the accuracy of our passing wasn't up to scratch and for the most part, our invention wasn't up there. We were waiting for all the plans to be aligned before trying something. It's a criticism but a mild form of it.
"We won, we didn't force it and if we'd scored the try from Johnny Sexton's pass to Jared Payne, it would have put a far better complexion on the game."
Wood points to Jonathan Joseph as a running threat to Ireland this weekend, although he underlines that "I wouldn't buy into the over-hype" the outside centre is currently enjoying.
A "hard and heavy" back row led by the work rate of Chris Robshaw has Wood's respect, although the former Harlequins hooker points to the second row as a probable area of advantage for Ireland.
It's the English number 10 who draws most praise from Wood, ahead of a major test of his mettle against Johnny Sexton.
"I really like George Ford," said Wood. "He's calm on the ball, he's not a hero and I mean that in the nicest way. If he's going to get smashed he says 'I'm going to give it to someone bigger, let him gets smashed.'
"He has the time, awareness and composure to realise that he can pass and he'll still get the ball off the nine the next time. It's hyper-intelligent and he sees the whole picture.
He's a very young out-half, and you'll try to expose him, target him at defence time, because he's not a big guy. Although he's a brave guy and a good tackler, but you will try target him. But there's something about him, I like that assuredness to his swagger."
The bookmakers have Ireland as the slimmest of favourites coming into the game, although Wood doesn't quite see it that way.
"I don't look at this game and think we're favourites, I don't think we are. I think it's even and that never happens. Never, ever does it happen that you have such an even game."