Sean Farrell reports from Cardiff
NOBODY EVER EXPECTED this to be easy. It's never easy.
The most optimistic of us are hoping Ireland can cram as much fresh pre-planned attacking moves and ruthless breakdown efficiency as the first half of the game can handle.
The powder we've been keeping so dry all this time will blow France away, set them a target and allow Ireland to turn the screw. Capitalise on the mistakes, reap the rewards.
That would be nice.
Ireland's players, however, have iced the bruises and groaned the groans that come after going head to head with France. To a man, each and every player is adamant that there is no dry powder storage silo, what you see is what you get.
Source: Dan Sheridan/INPHO
"We've worked on our gameplan for two years now. We don't be doing anything different this weekend," said a pumped-up Peter O'Mahony.
Perhaps it's all subterfuge. French players hit the headlines because they were shouting from the rooftops about how they intend to 'hunt' Jonathan Sexton. Ireland responded in kind with a promise to drop high bombs in on Les Bleus' back three and let the best men win.
"It's part of our gameplan most weekends, it's won us a lot of games," said fullback Rob Kearney, who has shaken off a glute strain and is itching to take flight for some aerial combat.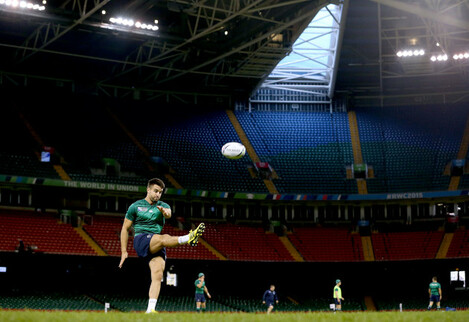 Source: Dan Sheridan/INPHO
"Opposition teams know it's coming when they play Ireland. So we have to be better at that now they know it's coming on a weekly basis."
If proof were needed of how teams are now bracing themselves for the incoming air raids from Ireland, Philippe Saint Andre has passed on the chance to pick a second out-and-out winger, preferring to station Racing Metro fullback Brice Dulin on the wing to lend Scott Spedding a hand combating the inevitable arrival of Messrs Kearney, Kearney and Bowe.
"Teams do it against us more often than not (two fullbacks in back three) — there's going to be a contest and we need to come out on top as many times as possible," Kearney adds.
So, will Ireland be the all-singing, all-dancing Joe show two years in the making? Or will they be more like the pragmatic, percentage playing, efficiency hunters that set out their stall in the early part of the Six Nations?
After leading the team on the Captain's Run, Paul O'Connell at least promised that we wouldn't see the third option that was presented against Italy last week. Schmidt's Ireland will likely be pitched somewhere in the middle.
Source: Dan Sheridan/INPHO
It's not just down to forwards to earn the right to go wide after all. All XV men will put in the work that allows them play. The massive collisions must be embraced, the high balls in behind the line must be chased to gain ground and momentum. Get those factors right and the platform will be set for Jonathan Sexton to call the plays he and his fellow JS have been holding back. The line-out will be a key launchpad too. It's in the tight where Ireland can really get cogs turning to make a set-play work like a dream.
Though we will see Ireland unleash moves that were not present in earlier pool games, it would be wrong to say that they have been holding out on us all along or keeping the playbook locked up. This will simply be a gameplan made to measure for France, the way Schmidt has always had it.
"We haven't been keeping anything up our sleeve," began the reasoned explanation from Paul O'Connell.
Source: Dan Sheridan/INPHO
"If we're going to live by the philosophy that we've lived by in the last two years – that we take each game in turn and that the next game's the most important one – then we need to carry that through."
"I believe it's important that we've done that over the last few months. And we've tried plenty of plays in games but they just haven't come off as well as we would have liked."
Four years on from Ireland's last defeat to France, it's still not going to be easy to pull them apart.
Ireland
15. Rob Kearney
14. Tommy Bowe
13. Keith Earls
12. Robbie Henshaw
11. Dave Kearney
10. Johnny Sexton
9. Conor Murray
1. Cian Healy
2. Rory Best
3. Mike Ross
4. Devin Toner
5. Paul O'Connell (captain)
6. Peter O'Mahony
7. Sean O'Brien
8. Jamie Heaslip
Replacements:
16. Richardt Strauss
17. Jack McGrath
18. Nathan White
19. Iain Henderson
20. Chris Henry
21. Eoin Reddan
22. Ian Madigan
23. Luke Fitzgerald
France
15. Scott Spedding
14. Noa Nakaitaci
13. Mathieu Bastareaud
12. Wesley Fofana
11. Brice Dulin
10. Frederic Michalak
9. Sebastien Tillous-Borde
1. Eddy Ben Arous
2. Guilhem Guirado
3. Rabah Slimani
4. Pascal Pape
5. Yoann Maestri
6. Thierry Dusautoir (captain)
7. Damien Chouly
8. Louis Picamoles
Replacements
16. Benjamin Kayser
17. Vincent Debaty
18. Nicolas Mas
19. Alexandre Flanquart
20. Bernard Le Roux
21. Morgan Parra
22. Remi Tales
23. Alexandre Dumoulin
Referee: Nigel Owens.
Kick-off: 4.45pm