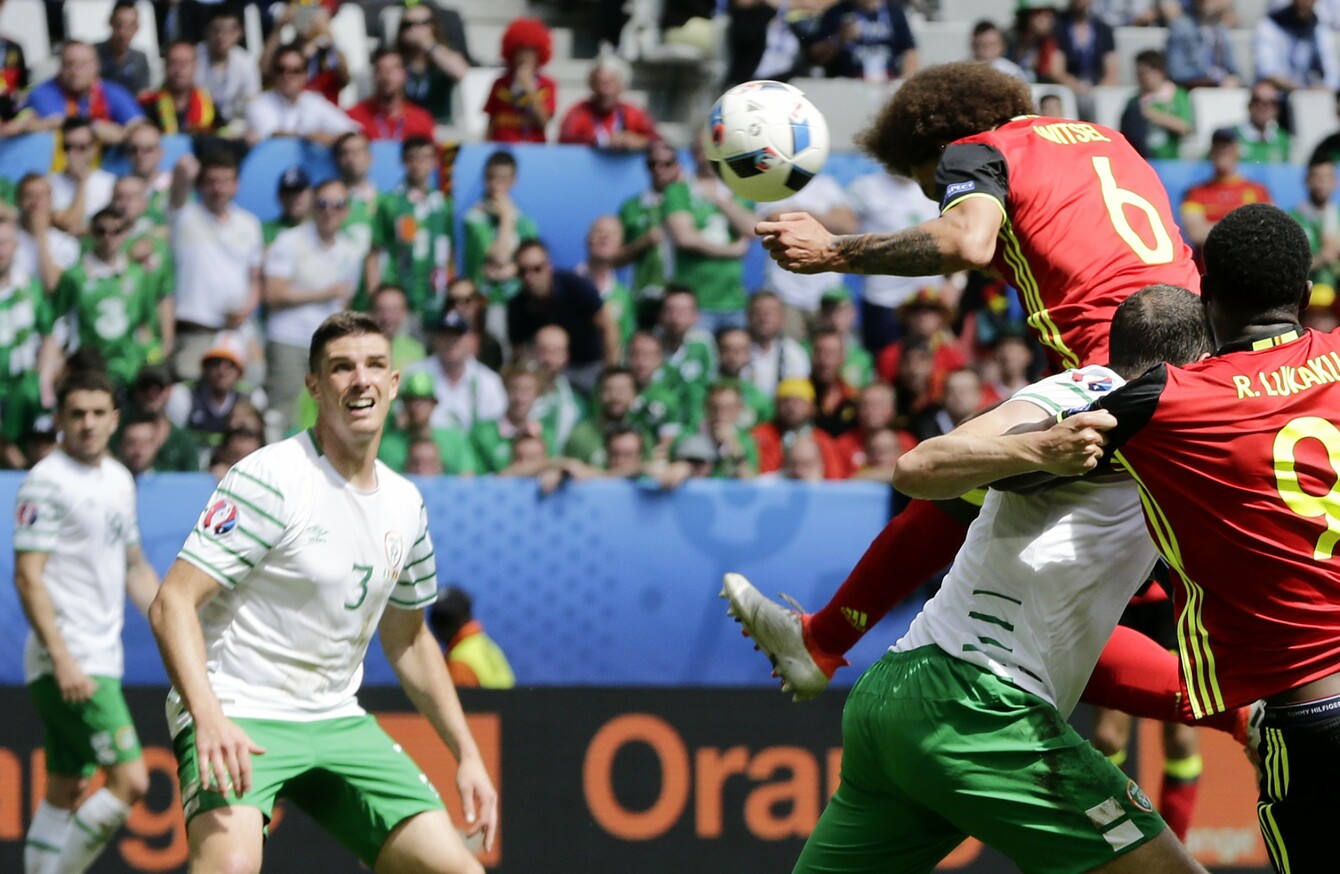 Belgium's Axel Witsel, top, scores on a header his side's second goal during the Euro 2016 Group E match between Belgium and Ireland.
Belgium's Axel Witsel, top, scores on a header his side's second goal during the Euro 2016 Group E match between Belgium and Ireland.
- Paul Fennessy reports from Versailles
ROY KEANE REPEATEDLY used the word 'courage' in his press conference yesterday.
His exact last words during the interview were: "We need players with courage and balls."
The frustration in the Ireland assistant manager's voice was palpable after being asked to assess the team's dire display as they were beaten 3-0 by a far superior Belgian side.
Keane, of course, speaks with a sense of authority that's merited. One aspect of his own game as a player was an incredibly consistent ability to deliver a near-perfect pass and to almost always make the right decision when in possession — in other words, the antithesis of the Irish display at the weekend.
In his playing career, which was also brought up yesterday to Keane's evident irritation ("it's irrelevant," he argued), the Corkonian was often lauded for his tough-tackling and leadership qualities.
But Keane's superb technical ability is an often overlooked aspect of his career.
And while the more infamous aspects of Keane's playing days are still routinely discussed, in an episode of the Graham Hunter podcast a few months ago, Darren Fletcher — who played with the Irishman at United — spoke of his exceptional technical ability.
"Roy Keane was one of the best passers of the ball I've ever seen," he said.
Everyone looked at him as this ferocious competitor and box-to-box runner and tackler. That wasn't false, but, with the ball, he had one of the best first touches and the best pass forward into the attacking half to break the lines of the opposition that I've ever seen."
Moreover, Keane played this way in pressurised circumstances — it's hard to think of a better Irish individual performance than the one he gave in the famous 1-0 win over Holland, as Ireland took a big step towards 2002 World Cup qualification, or a better Man United individual performance than the one away to Juventus in the 1999 Champions League semi, when (in stark contrast with James McCarthy against the Belgians) he selflessly took a booking for the team to prevent Zinedine Zidane counter-attacking, even though it meant he would miss the final of that year's competition.
Source: markg541/YouTube
It was therefore difficult not to yearn for a player of Keane's calibre as Ireland meekly surrendered to Belgium on Saturday, with the edge that characterised the former Man United captain's play patently absent from the Irish performance.
The assistant was understandably appalled by what he saw the other day and probably wished he was out there himself to prevent such an error-strewn display.
"When you're chasing the ball quite a bit, your concentration levels can be down and that's when you do make mistakes. That's why it's more important to look after the ball," Keane said yesterday.
"That's frustrated the manager and all of us the other day.
"We gave the ball away far too cheaply. You speak to most managers and we do a lot of possession work in training
But you've got to take care of the ball. No problem giving it away 20 or 30 yards from goal when you're trying stuff. But when you're sloppy in the middle of the park, it just puts the team under so much pressure.
"When you give the ball away to a big, big team, you get punished for that.
"If we're as sloppy in possession against Italy, there's going to be a good chance it'll be the same result."
Asked about Irish football in general and whether there is a problem with the system and its supposed inability to produce players with the technique to compete at the top level, Keane seemed to agree, but was reluctant to elaborate too much.
"Looking at the bigger picture, we actually speak to the players about it, at international level, you do actually get time on the ball. It's not like a Premier League game or Championship match.
"I've heard it before from great managers. The time to judge a player is when you see whether he's got time on the ball, his decision-making, how long he takes with his first and second touch, and that's an area we have to improve on, and I'm going back 20, 30, 40 years. You've got to be able to deal with the ball at the highest level.
It's highly unlikely we're going to sort it in the next 48 hours, but in terms of the bigger picture, going forward from the underage teams, you have to have lads that can put their foot on the ball and show a bit of courage, want the ball.
"I'm not talking about our players but sometimes you've got players who are showing for it, but they're not really showing for it.
You want to see it in the whites of their eyes — do you want the ball? That's where courage comes into it. Courage is a big part of being a footballer. And courage doesn't mean booting somebody. It's wanting the ball when sometimes you don't want the ball if that makes sense, and we need to see that in the next couple of days.
Asked whether the Belgium game was a wake-up call for Irish football and a means of highlighting the need for players of greater technical ability á la the Belgians, Keane was unwilling to be too critical.
"I don't think this is the time or place to be analysing the system in Belgium compared to Ireland. We have some very good players and it's not a panic situation where all of a sudden, we don't think we've got players who can deal with the ball — we have. We didn't the other day, but we have done in this campaign in certain parts.
There have been other games where we've not, but then we've produced really good performances, whether it's against Germany or Bosnia and sometimes a country can produce a lot of good players at the same time. I think Belgium is a situation like that. But I don't think I'm going to over-analyse that today."
Keane is correct in his comments above. Ireland's possession figures under O'Neill actually are not as bad as some people might assume.
The following are the possession stats for all of all 14 competitive matches Ireland have played since O'Neill has taken over as manager…
Possession stats:
Georgia away 55%
Gibraltar home 67%
Germany away 35%
Scotland away 42%
Poland home 57%
Scotland home 52%
Gibraltar away 61%
Georgia home 51%
Germany home 28%
Poland away 45%
Bosnia away 37%
Bosnia home 31%
Sweden 43%
Belgium 43%
So in just under 50% of O'Neill's matches as manager (six out of 14 games), Ireland have had more of the ball than their opponents.
Of course, success and having plenty of the ball do not always go hand in hand — in the Premier League this season, champions Leicester ranked 18th out of 20 in terms of possession, had the lowest pass success rate and played more long balls than all but two teams.
And although, as Keane alluded to above, international football is far different to the Premier League in terms of style, Ireland have done something of a Leicester with their three best results under O'Neill — in the two matches with Germany and the home defeat of Bosnia, they had less than 40% possession on each occasion.
What was different from the Belgium encounter is that during all the aforementioned games, the Boys in Green got the kind of luck with the opposition missing chances and referee awarding favourable decisions, which seemed to desert them in Bordeaux.
But what's also interesting is the varying statistics in the four away and home games against Poland and Scotland — hardly world beaters, but solid teams nonetheless. In the home games, when Ireland really needed to win, they came out and attacked, whereas the possession stats in the away matches of these particular fixtures pale in comparison. On both occasions, a draw would have been a decent result and twice, they ended up losing.
Similarly, in the two Georgia games, they needed to win and consequently had the lion's share of possession.
You could argue that the actual Euro 2016 tournament rather than the qualifiers are a true measure of a side's talent and that Ireland are finally being found out for the technically inept side that they always were when faced with high-calibre teams.
But while it's true that they cannot compete with the truly elite sides, the Germanys and Belgiums of this world, in terms of technical prowess, Poland are one of the best second-tier sides in Euro 2016, and if Ireland are capable of enjoying 57% against them, they should theoretically be able to do likewise against the majority of teams in Euro 2016.
Even against Sweden and Belgium, Ireland sporadically showed that they were capable of playing in a positive fashion.
Against the Swedes, a game where they clearly felt a win was required, Ireland had better possession in the first half. Once the Martin O'Neill's men went ahead, however, they sat back too deep and allowed Sweden the ball in the hope that they could cling on for a victory.
In contrast, against Belgium, they presumably suspected a draw would be a good result, and so they started the way they had played for much of the second half against Sweden — hesitant and willing to concede far too much territory.
Indeed, it was only after going a goal behind that Ireland began to really try to be creative and use the ball intelligently, only much of the damage had been already done at that stage by a clinical Belgian outfit.
However, there are two factors that could potentially work in Ireland's favour on Wednesday: (a) for all their many qualities, Italy are not a team that like to dominate possession relentlessly in the same way as Belgium — despite losing 2-0, the Belgians had 56% of the ball in their opening match against the Azzurri.
And (b) Ireland know they simply have to win in order to avoid exiting at the first stage. They consequently will be more inclined to start in a positive fashion akin to the way they began the Swedish match with this knowledge in mind.
Of course, saying it is one thing and doing it is another — so, as Keane suggests, courage and balls will be required in Lille tomorrow night.
The42 is on Snapchat! Tap the button below on your phone to add!