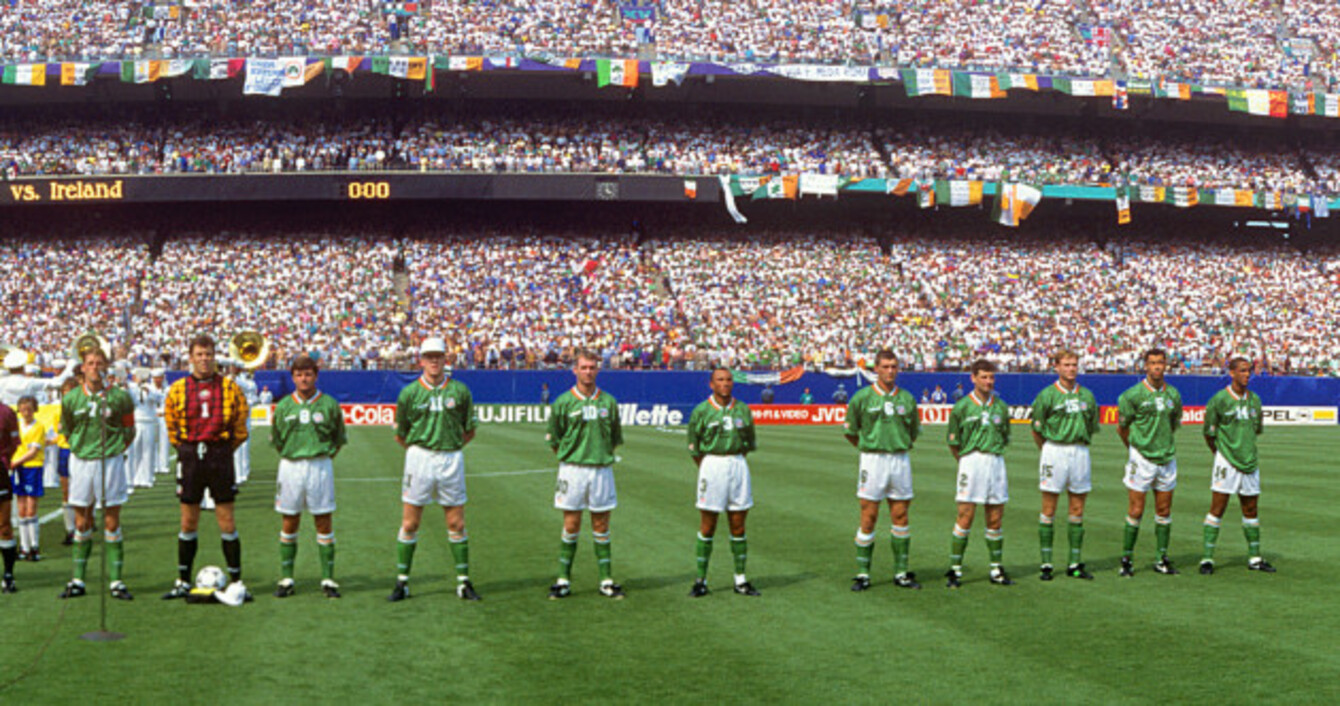 Ireland line-up before the kick off. (l-r) Andy Townsend, Packie Bonner (goalkeeper), Ray Houghton, Steve Staunton, John Sheridan, Terry Phelan, Roy Keane, Denis Irwin, Tommy Coyne, Paul McGrath and Phil Babb.
Image: EMPICS Sport
Ireland line-up before the kick off. (l-r) Andy Townsend, Packie Bonner (goalkeeper), Ray Houghton, Steve Staunton, John Sheridan, Terry Phelan, Roy Keane, Denis Irwin, Tommy Coyne, Paul McGrath and Phil Babb.
Image: EMPICS Sport
IT MAY HAVE taken place 24 years ago, but the Italy-Ireland World Cup '94 match is etched in the memory of most Irish sports fans old enough to have appreciated it at the time.
Last year, it was listed among the contenders for 'Ireland's Greatest Sporting Moment' on RTÉ.
And there is no doubt that it was an unforgettable and iconic occasion.
Optimism in Irish soccer has arguably never been higher before or since.
Source: John MacDonald/YouTube
Jack Charlton's side's warm-up games included away wins over Holland and Germany, many of whose players had won the World Cup under the 'West Germany' moniker four years previously.
Ahead of the big game, the RTÉ studio gave a sense of the nation's confident mood. "I think Ireland will win tonight," said analyst and then-Wimbledon manager Joe Kinnear.
Meanwhile, Bill O'Herlihy and John Giles seemed to agree that Ireland were a "world-class" team.
"I think since the 1990 World Cup, we have developed even further than we did before," added Giles.
"We should consider ourselves one of the major forces in Europe. Although they were friendly matches, we went to Holland and Germany, won and played well, so I don't think there should be any fear tonight.
"Jack is talking in a much more positive manner now than he did four years ago and I think that's right."
Frank Stapleton continued along similar lines, explaining: "We've got stars in our team and people fear us."
But if Ireland were adjudged to be world-class, the Italians — considered one of the favourites to win the competition pre-tournament — most certainly also fitted that description. A month previously, Milan had thumped Barcelona 4-0 in the Champions League final. Six of the Serie A side's players started in Giants Stadium that day.
And the sense of anticipation was matched by the occasion amid an electric atmosphere. The attendance figure in East Rutherford, New Jersey was listed by Fifa as 75,338, and the overwhelming majority were clearly Irish supporters.
One man there that day was New Jersey native Charlie Stillitano, who was the venue director for Giants Stadium at the competition that year.
Stillitano has remained an influential figure in the football world since then. A 2015 Sports Illustrated piece called him "world soccer's best-connected American".
He is currently Executive Chairman of Relevent Sports, the company that host the International Champions Cup, and Stillitano was in Dublin yesterday for the announcement of an upcoming pre-season friendly between Arsenal and Chelsea at the Aviva Stadium.
He can also vividly remember the day Ray Houghton put the ball in the Italian net, and for a brief moment, many Irish fans dreamed they might have a chance of winning the competition.
Instead, their first official victory at the World Cup would remain the Boys in Green's only triumph in the competition until Mick McCarthy's team overcame Saudi Arabia 3-0 eight years later.
The victory against eventual finalists Italy proved to be somewhat of a false dawn, with three considerably uninspiring games following, culminating in a last-16 exit at the hands of the same Dutch team they had beaten in a friendly in Tilburg less than three months previously.
Stillitano, as one of the organisers tasked with ensuring the event ran smoothly, can still recall minute details about that unforgettable day.
"I grew up in an Irish neighbourhood, so all my buddies [have Irish surnames]. All my uncles ended up marrying Irish girls. And that was probably the worst fucking day of my life," he laughs.
"The game started with an inauspicious moment that both Ireland and Italy were in white uniforms in the tunnel to come out. I talked with Denis Irwin about this [more recently].
"The night before, you go see the managers. I'm the manager for the US organising committee and there's a Fifa guy there. Arrigo Sacchi's the ultimate gentleman and Jack Charlton's a maniac, I mean that in the most respectful way. I know Sir Bobby [Charlton] quite well and he's much more like Arrigo Sacchi than Jack, who was screaming and yelling and cursing at us. And he didn't pay much attention to what the colour of the uniform was. So the next day, I see them wearing a sweat jacket underneath and I'm going 'fuck'. So I [tried to get the attention of] the Swiss guy who was organising it, he says 'not now Charlie,' I say 'they're both in the same fucking uniform'.
"So Ireland had to go back and change, and put on green uniforms."
He continues: "That game was truly remarkable. There was a guy in charge of World Cup ticketing. The Greeks thought they were going to be in New York. Ireland thought they would be in Boston. So this guy arranged for all the Greeks to exchange tickets with the Irish. It was the first secondary ticket market ever invented.
So they had six or seven jumbo jets filled with Irish fans [planning on attending]. At that time, I knew a lot of the Italian guys. And [Italy defender Paolo] Maldini says as he's walking out, 'I thought we were going to be playing at home today.' It was all green. So it was really quite a day."
The scale of the achievement has been a topic of rigorous debate among Irish sports figures ever since. Roy Keane, in his subsequent autobiography, was among those to castigate the supposedly Irish tendency to latch on to 'moral victories' and be almost happy to settle for one big win at a major tournament rather than sustained success and refusal to implicitly accept defeat regardless of the circumstances.
The jockey Ruby Walsh echoed similar sentiments on the aforementioned 'Ireland's Greatest Sporting Moments' programme.
"This is hyping up mediocrity," he said. "You're talking about winners — a world champion in Sonia O'Sullivan, an Olympic medallist in Michael Carruth, Clare at least won the All-Ireland. Ireland won one match and came home.
"That's what we do in Ireland — jump up and down about mediocrity."
And there is undoubtedly a degree of sense in the comments of Walsh and Keane, but what is perhaps overlooked by some people is the sheer wave of ecstasy emanating from that one result and the belief it instilled.
In terms of its overall significance in world football, it is a mere footnote, probably looked upon in a similar manner to Switzerland's 1-0 defeat of eventual champions Spain at the 2010 World Cup.
For Ireland though, it was the last of three unbelievable wins over some of the best sides in the world at a time when friendlies were more competitive than they are now.
With a number of key players the wrong side of 30, Charlton's side were ultimately undone by the searing American heat, fatigue and some talented, well-drilled opponents.
After the Italy game, a jubilant Niall Quinn — who missed the tournament through injury and was on commentary duty for RTÉ — epitomised the euphoria of the moment.
"It may be suggested that Ireland are one of the favourites now, and that's fine," he said, as for one glorious instant, everything seemed possible.
The42 is on Instagram! Tap the button below on your phone to follow us!