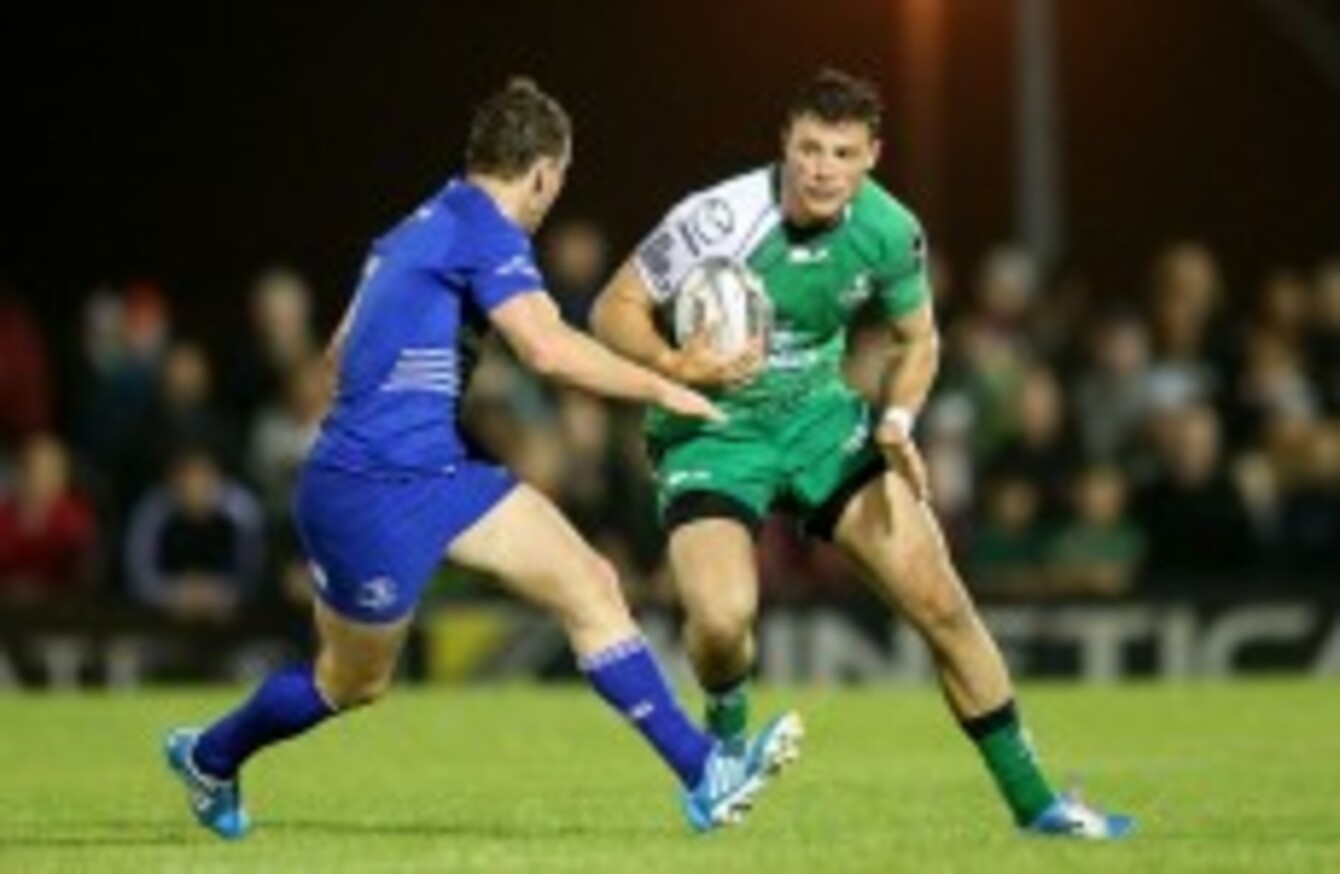 Henshaw has been in strong form for Connacht in the 13 shirt.
Image: James Crombie/INPHO
Henshaw has been in strong form for Connacht in the 13 shirt.
Image: James Crombie/INPHO
EITHER ROBBIE HENSHAW or Jared Payne will wear Ireland's 13 shirt on 8 November against South Africa at the Aviva Stadium, head coach Joe Schmidt has unsurprisingly indicated.
While the Kiwi also mentioned a handful of other players who cover outside centre in the longer-term, it will be one of the Connacht powerhouse and the Ulster playmaker that gets next shot at the vacancy left by Brian O'Driscoll's retirement.
Both players have recent history as fullbacks, but the duo also have much experience in midfield throughout their careers; Henshaw as a youngster and with Connacht, Payne with the Blues in Super Rugby and for Ulster.
"Right here right now, you're likely to see either Robbie or Jared at 13 in the November series," said Schmidt yesterday, "with the potential that one other player may be utilised if form or injury demands that that be the case."
The centre for us is Robbie and Jared selected, but we know there are other guys like Tommy Bowe, Keith Earls and Luke Fitzgerald who played that position. Luke finished the game last year against the All Blacks at 13."
Schmidt also name-checked Darren Cave and London Irish's Eoin Griffin as men who are "on our radar," but it's Payne and Henshaw vying for the 13 shirt for next month at least.
Schmidt is positive about the impact Payne has had for Ulster in midfield this season, the Kiwi player having featured more prominently at 15 previously. That versatility is a positive for Ireland, but it is as an outside centre the 29-year-old has been initially been selected.
"He's gone really well in the centre; he's gone really well at 15 as well," said Schmidt. "That's one of the things about Jared's selection – it does give us cover at 15 as well. Jared can cover 15, as can Robbie Henshaw."
"I think Jared's kicking game as a 13 is handy. He's got a good variety in his kicking game, his passing game is very competent. His ability to read defensively at tackle time is good, and his ability to carry the ball and slip tackles or at least win the gainline has been positive."
There were equally encouraging words for Henshaw in the wake of his two-try display against La Rochelle in the Challenge Cup last weekend. The 21-year-old's confidence appears to grow with every outing at 13.
Robbie has also got a very good kicking game," outlined Schmidt. "His passing game I think is a super aspect to his game. Robbie, he's got very good width and a really flat, wide pass.
"And the ability to make the subtle passes as well. He's done really well defensively this year. We saw some great reads and some crunching tackles, and he's handled those situations really well."
Take from that whatever subtle hints you well, but it may be that Henshaw's unique power is best suited to facing the Springboks, while Payne's strong decision-making and subtle playmaking skillset are ideal for picking apart the Wallabies two weekends later.
What Schmidt's words certainly do underline is that there is very little between the two outside centres as the Guinness Series approaches.
*******************
Munster's historic 12-0 victory over New Zealand in 1978 is retold in a new Guinness ad campaign, 'Munster: Self Belief,' which will air on Irish TV for the first time on Wednesday 5 November ahead of Ireland's opening Guinness Series fixture.