THE DUST IS still settling after the most frenetic Six Nations finale in living memory, but already thoughts are beginning to turn towards the 2015 World Cup.
Back-to-back championships mean Ireland's squad will head into the global tournament with justified confidence in their ability to deliver a semi-final at least, but perhaps the element that gives them most belief of all is head coach Joe Schmidt.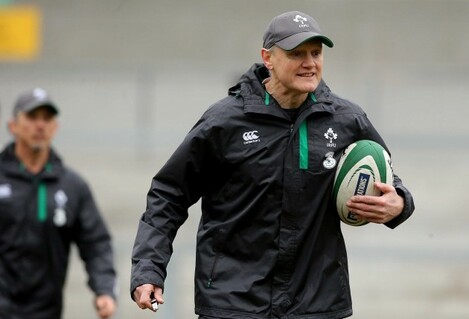 Schmidt has enjoyed consistent success in Ireland since 2010. Source: Ryan Byrne/INPHO
The Kiwi has been an almost non-stop success since arriving in Ireland in 2010, first with Leinster and now with the national team. Two Six Nations titles in his first two attempts, as well as a clean sweep of last November's Tests matches, underline his quality.
Steve Hansen, Warren Gatland, Stuart Lancaster and Michael Cheika could all have claims made in their names, but Ireland certainly possess one of the finest coaches in the world game at present.
It's a major advantage before September and October's World Cup, and the Ireland players are fully behind Schmidt and his coaching team of Les Kiss, Simon Easterby, Greg Feek, and Richie Murphy.
Yeah he's right up there, he is a fantastic coach," says captain Paul O'Connell when asked if Schmidt is the best in the world.
"I think the trust the players have in what he does and what his coaching staff do is a massive part of why we're successful. Certainly times like Australia in the first game [2013], the England game last year, Wales last week, those were times where other teams might question themselves – but we never did.
"I don't think we've ever once done that. There's a lot of trust and a lot of confidence in the coaches."
That all said, there was a bedding-in period for Ireland's player with Schmidt, perhaps explaining that early poor performance against the Wallabies, although the Leinster-based contingent already knew what they should expect.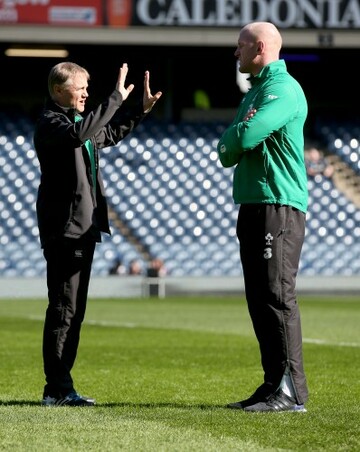 Schmidt and O'Connell at Murrayfield last weekend. Source: Dan Sheridan/INPHO
Indeed, there was a natural nervousness from the Munster, Ulster and Connacht men as to whether Schmidt would rate them. Conor Murray is one player who admits to that slight unease.
"When Joe came in we were nervous whether he would like you as a player, the style of play and would you fit into that; that was the main part for me," says Murray. "I'm sure [it was the same] for a number of other players too.
As time went on, you knew how good he was with what he had done with Leinster, it was just taking time to get used to his game plan. It was a little different to what we had played with before with our province or Ireland, it just took a little bit of time."
One of the reasons Schmidt enjoys the level of trust O'Connell alludes to above is that his game plans so often work ideally. The fact that his starter plays are also very often perfectly built to exploit opposition weaknesses also floods the players with belief.
Simply put, when a coach hands players a plan and it works, they will get total buy-in in return.
Be part
of the team
Access exclusive podcasts, interviews and analysis with a monthly or annual membership.
Become a Member
"The information he gives you is so clear and so accurate," explains Murray. "You see it on the Tuesday in the video room and it does happen on Saturday in an international game.
"He studies the game unbelievably hard and knows it inside out, and we are blessed to have a coach like him."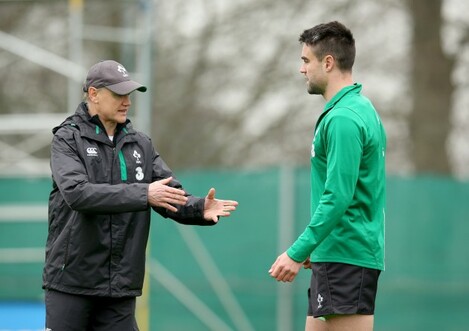 Murray says he has learned much from Schmidt. Source: Dan Sheridan/INPHO
Another important factor in Schmidt's success is his intense focus on constant improvement, both on collective and individual levels. Even with the lock now at the age of 35, the Ireland head coach sees scope for getting better in O'Connell.
That philosophy filters down through Lions like Murray and Johnny Sexton to the youngest players in the Ireland group such as Robbie Henshaw.
"He gets the best out of you, he demands you try to raise your game and try to improve week in, week out," says Connacht centre Henshaw. "There's always some little thing you can do better.
He's just an exceptional coach, and I always take on board every bit of advice, because it always helps, and he has just really improved a lot of players, including myself."
Murray has experienced similar improvements in his own game during Schmidt's two seasons in charge, with the one-time Clermont assistant having helped to shift Murray's own mindset towards improvement.
"He's just driven it home to me that you have to work on it week in, week out for it to come out in a big game," outlines Murray. "It is the work you do off the pitch, at home or just thinking about the game.
"He has given me advice about all sorts of things that I take away from training, I think about and try to improve on."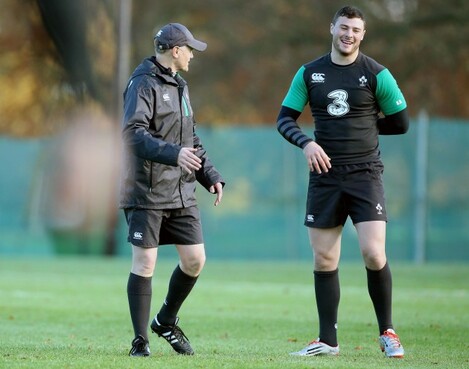 Henshaw has made rapid strides of progress under Schmidt. Source: Dan Sheridan/INPHO
So how much further can this Ireland group go? Despite their remarkable success under Schmidt so far, one senses that they will need to move another step or two forward to beat the likes of New Zealand in the World Cup.
Again, the players' belief is strong.
"I think we can improve quite a lot," says Murray. "We are at a good level [already]. Every game through the Six Nations, there has been things we have been frustrated with and we haven't executed quite as well as we wanted to.
"But overall we are very satisfied with the way we have handled this championship and it's exciting that we can improve. With a World Cup coming up, it's a great position to be in."