TWO MAJOR QUESTIONS emerged following Ireland's depressing 1-0 defeat at home to Wales on Tuesday — how did we get here, and where do we go next? 
After going from the brink of qualifying for a first World Cup in 16 years, to imminent relegation in the Uefa Nations League, Ireland's decline has been a shock to the system for players and supporters alike.
Looking back at the numbers, Martin O'Neill's record over the last five years has not been as bad as some would make it out to be today. Alongside Roy Keane, O'Neill has recorded 19 wins from 53 games, with 18 draws and 16 defeats — managing a 36% win rate since taking charge in 2013.
At the moment it's hard to see light at the end of the tunnel as qualification for Euro 2020 is thrown into jeopardy. But it does seem like some revision appears to be taking place with regard to O'Neill's record by critics.
The outlook for the national team is as bleak as it has been in over a decade. But even with that taken into consideration, there have been countless memorable nights during O'Neill's tenure, which should be acknowledged from the outset.
O'Neill oversaw Ireland's passage to the knockout stages of Euro 2016 following Robbie Brady's late winner against Italy. Source: James Crombie/INPHO
With Ireland never likely to actually make it deep into international competitions, we are reliant on memorable goals, brilliant individual performances and once-off displays that claw us over the line from the jaws of defeat.
Over the last five years Ireland fans can happily recall O'Shea's last minute equaliser in Gelsenkirchen, Shane Long's sweet strike past Neuer, Wes's goal against Sweden which started the party in France, and Robbie Brady's header which kept the party going for another week.
Even after that dreamy summer at Euro 2016, the good times kept rolling into the autumn. The qualification campaign for the 2018 World Cup in Russia looked a mean test from the outset — Serbia, Austria and Wales as the competition.
But with 10 points from a possible twelve following the opening four games, finishing top of the group seemed a distinct possibility. When James McClean swept that brilliant low effort past Austria goalkeeper Ramazan Özcan to earn a 1-0 win in Vienna, Ireland were not only on top of Group D — but felt on top of the world too.
It is intriguing to return to McClean's goal against Austria and the win that came with it. The victory is now regarded as one of Ireland's great modern displays away from home. Battling and steely, but with a killer composure to snatch all three points on the road while enjoying just 35% possession.
Source: NX SPORTS/YouTube
Following Tuesday's defeat against Wales, it now seems like that win in Vienna was the highpoint of O'Neill's reign in charge of Ireland, and that it seems a long time ago now. A point at which all his best attributes as a manager had come together alongside his players, but also a point at which a decline began to take place.
Ireland have never reached the same performance level since that win against Austria, with the team's decline reaching it's lowest ebb when the final whistle sounded at the Aviva Stadium earlier this week against Ryan Giggs's men. Dejected green jerseys were dotted all over the field like, soldiers' bodies slumped on a battlefield that had been conceded to the enemy.
Against Austria, Ireland were playing against an opponent of higher quality who had a star performer in David Alaba. Against Wales in the Nations League however, Ireland were pitted against a like-minded side who had three of its star performers — Gareth Bale, Ethan Ampadu and Aaron Ramsey — all ruled out.
After the win in Vienna in November 2016, Martin O'Neill had the highest win percentage of any Ireland manager in competitive games. He has since slipped behind Mick McCarthy, Brian Kerr, Jack Charlton and Giovanni Trapattoni.

— Neil O'Riordan (@noriordan) October 17, 2018
The contrast is worrying. Two years ago Ireland were capable of beating better opposition on their own patch, while now they have tasted defeat against lesser teams without their star players.
None of it makes for good reading, but supporters have sensed a malaise within the Irish team over the last couple of years — the fruits of that decline being on display for all 38,000 spectators to see against Wales at Landsdowne Road.
The key word in all of this is decline. From the high of 10 points from a possible 12 in World Cup qualification, to boldly securing a play-off position, to being embarrassed 5-1 by Denmark in Dublin, to Tuesday's slump this past week, it has been a sorry fall from grace.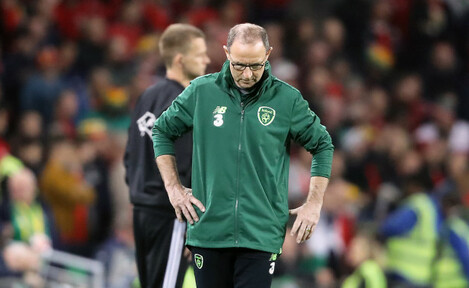 Martin O'Neill dejected during Ireland's defeat against Wales earlier this week. Source: Niall Carson
Martin O'Neill has come under increased pressure since Tuesday's loss, with many calling for the Derry native to be sacked, and others resigning themselves to the fact that – after signing a new €2 million contract in January —  the FAI cannot afford to let him go, regardless of results.
If it has been a frustrating decline for supporters watching Ireland from the stands over the last 24 months since that win in Vienna, then it has been a baffling one from O'Neill's point of view to try and come to terms with.
SEE SPORT
DIFFERENTLY
Get closer to the stories that matter with exclusive analysis, insight and debate in The42 Membership.
Become a Member
Two years ago O'Neill had the highest competitive win rate of any Irish manager, ever. Following Tuesday's defeat, he has now slipped behind all of Brian Kerr, Jack Charlton, Mick McCarthy and Giovanni Trapattoni.
Over the last two years since victory in Vienna Ireland have played 18 games — won four, drawn six and lost eight, with Ireland enjoying just one win (against the USA) in their last nine games.
As with any major loss in international football, everything has come into question — the management, the tactics, the quality of players, a lack of attention to the League of Ireland, the FAI as well as grassroots-level football.
There is no easy answer of where the national team goes next. But what cannot be ignored is a steady and consistent decline in the fortunes of the senior national team. The euphoria sitting atop Group D as the prospect of a World Cup in Russia seemed possible was unlike anything the national team had felt in a decade.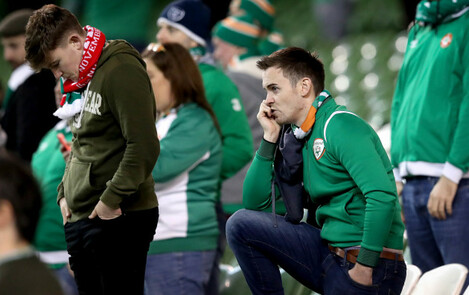 Ireland have just one win in their last nine games. Source: Ryan Byrne/INPHO
Qualifying for a play-off against Denmark was the result of unrelenting persistence from O'Neill and his players to not give in — but the momentum of that win away in Cardiff was only to be replaced by a morbid sense of dread after the 5-1 loss at the Aviva Stadium a few short weeks later at the hands of Christian Eriksen & Co.
It seems all but certain that the FAI and John Delaney will stick with O'Neill for the time being, with the absence of a better option being a key factor in that decision. But whether or not Ireland can reach the same heights of two years ago is the real question on everyone's lips.
In that time two years Ireland have gone from ecstasy to a lingering agony. One which has called everything into question and deeply affected the public's faith in the national team.
Many critics of O'Neill are casting a sceptical look back on the manager's entire reign. It would be completely unfair to label his entire tenure as a failing. O'Neill's first four years in the job were marked by countless memorable nights that will remain long after his final day in charge.
Qualifying for a major competition, getting to the knockout stages of Euro 2016 and making it to a World Cup play-off are hallmarks of a successful reign. But the stale decline over the course of the last two years has been drastic, with many suggesting the damage done is irreparable.
The true test of any great manager is the ability to bounce back. The difficulty for O'Neill is that bouncing back will mean having to qualify for the European Championships in two years' time.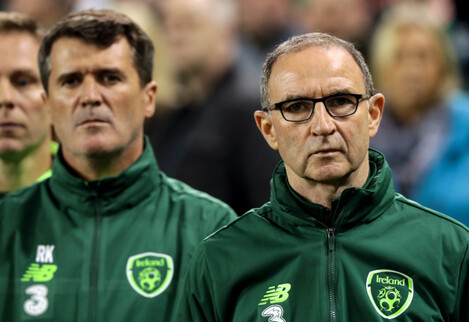 O'Neill has insisted that Ireland will qualify for Euro 2020. This will be the manager's biggest challenge following a dismal Nations League campaign. Source: Morgan Treacy/INPHO
With the damage inflicted during this debut Nations League campaign — Ireland potentially dropping down to third seeds for Euro 2020 qualification — the chance to make amends for the past two years and repair the current scars is immensely difficult.
O'Neill would suggest he has earned enough credit in the bank for one last roll of the dice, and with the FAI unlikely to pay out his contract, it seems increasingly likely that he will get one final opportunity to try and put things right.
The Vienna performance represented all that was good about his style of management in charge of Ireland — taking the few chances that come his side's way, staying composed to see a result out and a battling determination to get over the line when the odds are stacked against them.
We have seen these performances many times under O'Neill — Germany away, Germany at home, Wales in Cardiff, Denmark in Copenhagen. The lingering question that is left unanswered is whether or not the Ireland manager can, once again, get the best out of a limited squad, to punch well above their weight when the chips are down.
Subscribe to our new podcast, Heineken Rugby Weekly on The42, here: