Updated at 12.33
Will Slattery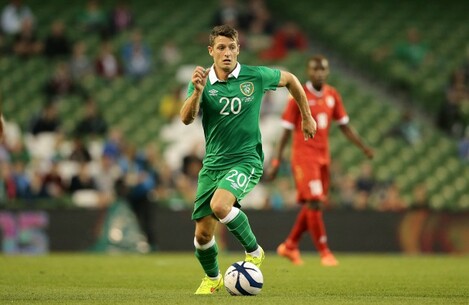 (Wes Hoolahan has been in fine form for Norwich this season)
What the team should be: Forde, Coleman, O'Shea, Clark, Wilson, McCarthy, Whelan, McGeady, Hoolahan, McClean, Walters. (4-2-3-1)
What the team will be: Forde, Coleman, O'Shea, Keogh, Wilson, McGeady, McCarthy, Whelan, Walters, McClean, Keane. (4-2-3-1)
Ideally I would like to see Hoolahan in the team in an advanced role because he keeps possession well and could create space for McGeady and McClean out wide. Robbie Keane has been in great form for LA Galaxy but Walters has been just as good in the Premier League so he gets the nod in my hypothetical team. As for the real thing, MONKeano don't usually like to start Hoolahan so I think they will go for our record goal scorer with Walters playing in the next line of attack just behind him.
Steve O'Rourke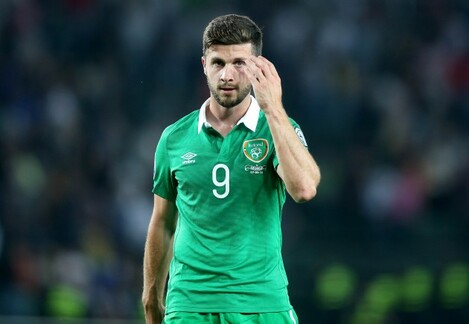 Source: Donall Farmer/INPHO
(Shane Long recently broke his goalscoring duck in Southampton's 2-0 win over Burnley)
What it should be
Forde,
Coleman, O'Shea, Clark, Brady,
McCarthy, Whelan,
Walters, Hoolahan, McClean,
Long
I don't believe for a second this will be the team that lines up on Sunday night but, if O'Neill is true to his word — that Wes Hoolahan is better suited to starting Ireland's home games — then he should name him. This means there's no room for Robbie Keane of course with Long's movement making him the better choice as the sole striker. With Poland preferring to play through the middle rather than attacking the channels, O'Neill should use McCarthy and Whelan to protect the relatively inexperienced Clark.
What it will be
Forde,
Coleman, O'Shea, Wilson, Ward
McGeady, McCarthy, Whelan, McClean,
Walters
Keane
Ryan Bailey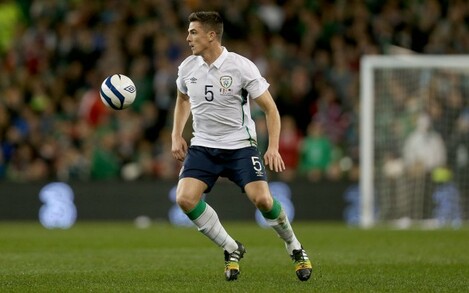 Source: Donall Farmer/INPHO
(Ciaran Clark has been in good form for Aston Villa recently)
Likely XI: Forde; Coleman, O'Shea, Keogh, Wilson; McGeady, McCarthy, Whelan, McClean; Walters; Keane.
What it should be:
Forde
Coleman, O'Shea, Clark, Brady
McCarthy, Whelan
McGeady, Hoolahan, McClean
Keane.
Throughout the week, O'Neill has insisted his side will 'go for it' on Sunday but it's hard to envisage the manager sending his players out set up in a formation that leaves Ireland vulnerable. The options in personnel are plentiful, particularly further forward, but it would be another big call to leave Robbie Keane on the bench. At the back, Ciaran Clark's form for Villa merits inclusion ahead of Richard Keogh while, regardless of his fitness, Stephen Ward shouldn't be considered, with both Marc Wilson and Robbie Brady better alternatives.
Ben Blake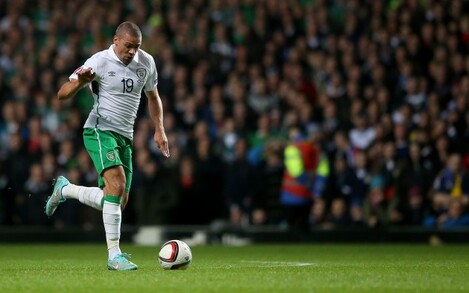 Source: James Crombie/INPHO
(Walters has completed 90 minutes in three of Ireland four competitive games during O'Neill's tenure thus far)
What the team should be:
Given
Coleman O'Shea Clark Wilson
McCarthy Whelan
McGeady Hoolahan Brady
Walters
What the team will be:
Forde
Coleman O'Shea Keogh Wilson
McCarthy Whelan
McGeady McClean
Keane Walters
It is undoubtedly one of the toughest Irish team line-ups to call in recent memory and Martin O'Neill is determined not to give anything away before Sunday evening. Although Shay Given has shown he is more than capable of playing at the top level during Aston Villa's FA Cup run this season, David Forde hasn't put a foot wrong and will most likely hold onto the number one jersey.
He may have trained on Friday but Stephen Ward's fitness must surely be a worry and Mark Wilson should be moved across to left full-back. I believe Ciaran Clark is a better option than Richard Keogh but think the Derby County man might get the nod.
A midfield pairing of James McCarthy and Glenn Whelan looks a no-brainer at this point and O'Neill could stick with his preferred wingers of Aiden McGeady and James McClean but I would like to see Robbie Brady included for his all-round game and ability over set pieces.
It's pure speculation but I'm of the opinion that O'Neill will go with Robbie Keane and Jon Walters up front. However, dropping the all-time leading goalscorer and playing Wes Hoolahan in a deeper role with the physical Stoke City striker up top is a stronger option for me. Walters pips Shane Long as he is currently in better form with 10 club goals to Long's five this season.
Paul Fennessy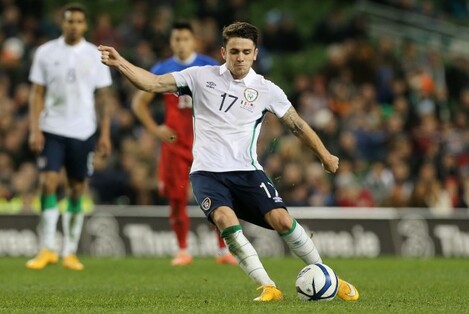 Source: Ryan Byrne/INPHO
(Robbie Brady scored a brace in Ireland's friendly win over USA last November)
What the team should be
Westwood
Coleman O'Shea Clark Wilson
McGeady McCarthy Whelan Brady
Hoolahan
Long
What the team will be
Forde
Coleman O'Shea Wilson Ward
Walters Whelan McCarthy McGeady
Hoolahan
Keane
The toughest decision was leaving out Jon Walters, but Robbie Brady's delivery from set pieces — which was evident even in a relatively brief cameo against Scotland — gives him the edge, even if Walters is arguably the bigger goal threat, as emphasised by the fact that he's managed 10 goals in all competitions this season.
The other controversial decision in the team is picking Westwood. Granted, he doesn't have much international experience and it almost certainly won't happen, while David Forde has done reasonably in the past, but with international games so rare, it seems fair enough to base selection on club form, and Westwood is surely the best-performing Irish goalkeeper at the moment, and was even linked with a move to Liverpool in January. Moreover, at 30, he conceivably has plenty of years left in the game, unlike Given (38) or Forde (35).
As for the likely team, I have a feeling O'Neill will pick Hoolahan, as he suggested he might in the 'home' games. Other than that, I can't see many changes from the previous qualifiers.
What do you think the Ireland starting XI to face Poland should be? Let us know in the comments section below.