IRELAND HEAD COACH Peter Malone has handed an instant start to late call-up Diarmuid Barron ahead of the World Rugby U20 Championship opener against Italy tomorrow (kick-off 12.30 Irish time, EirSport).
Former Rockwell College man Barron was an 11th hour replacement for Saracens-bound hooker Tadhg McElroy in the 28-man travelling squad, but has taken a front row berth alongside his provincial team-mate Joey Conway and Leinster's Charlie Connolly.
Jack Kelly has shrugged off the shoulder complaint that dogged his Six Nations to take up the fullback berth with Ciaran Frawley re-forging their midfield partnership with Gavin Mullin – the son of Ireland international Brendan.
The second uncapped starter is Conor Dean, son of Ireland team manager and former international out-half Paul, is in the number 10 shirt with Ulster's Johnny Stewart at scrum-half.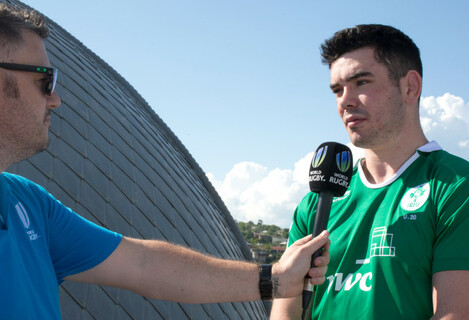 Paul Boyle does the captain's duty in Georgia yesterday. Source: Achi Gegenava/INPHO
Wexford man Paul Boyle takes over the captaincy for this tournament after an unfortunate run of injuries to people wearing the metaphorical armband.
Ireland U20
15. Jack Kelly  (Dublin University / Leinster)
14. Colm Hogan (Dublin University / Munster)
13. Gavin Mullin (UCD / Leinster)
12. Ciaran Frawley (UCD / Leinster)
11. Calvin Nash (Young Munster / Munster)
10. Conor Dean (UCD / Leinster)
9. Jonny Stewart (Queen's University / Ulster)
1. Joey Conway (UL Bohemians / Munster)
2. Diarmuid Barron (Garryowen / Munster)
3. Charlie Connolly (Dublin University / Leinster)
4. Fineen Wycherley (Young Munster /Munster)
5. Oisin Dowling (Lansdowne / Leinster)
6. Marcus Rea (Queen's University / Ulster)
7. Paul Boyle (Lansdowne FC/Leinster) (Capt.)
8. Gavin Coombes (Young Munster /Munster)
Replacements
16. Ronan Kelleher (UCD / Leinster)
17. Greg McGrath (Lansdowne FC/Leinster)
18. Peter Cooper (Belfast Harlequins/Ulster)
19. Jack Regan (UCD /Leinster)
20. Sean Masterson (Corinthians RFC/Connacht)
21. Jack Stafford (Shannon RFC / Munster)
22. Angus Curtis (Queen's University / Ulster)
23. Alan Tynan (Young Munster / Munster)
Italy U20
15. Massimo Cioffi (Lazio Rugby)
14. Andrea De Masi (Benetton Treviso)
13. Marco Zanon (Mogliano Rugby)
12. Dario Schiabel (Lafert San Donà)
11. Giovanni D'Onofrio (Rugby Benevento)
10. Antonio Rizzi (Mogliano Rubgy)
9. Charly Vincenzo Ernst Trussardi (Clermont Auvergne)
1. Danilo Fischetti (Unione Rugby Capitolina)
2. Massimo Ceciliani (Delebio Rugby)
3. Marco Riccioni (Patarò Calvisano) (Capt)
4. Niccolò Cannone (Florentia Rugby)
5. Edoardo Iachizzi (USAP Perpignan)
6. Jacopo Bianchi (Vasari Arezzo)
7. Lorenzo Masselli (Sitav Rugby Lyons)
8. Giovanni Licata (Miraglia Rugby)
Replacements
16. Alberto Rollero (Sitav Rugby Lyons)
17. Daniele Rimpelli (Patarò Calvisano)
18. Dante Gavrilita (Patarò Calvisano)
19. Lodovico Manni (Mogliano Rugby)
20. Michele Lamaro (Lazio Rugby)
21. MatteoMaria Panunzi (Unione Rugby Capitolina)
22. Filippo Di Marco (L'Aquila Rugby Club)
23. Andrea Bronzini (Rugby Viadana 1970)