GALWEGIAN SECOND ROW Peter Claffey towers well over six foot, so he comfortably wears his listed 119 kg weight  and his confidence doesn't shake between telling team-mates to scarper out of gawking range and the end of his interview.
Yet the 19-year-old does admit to being a touch star-struck recently, when Nigel Carolan's under 20 squad suited up for training with the big boys in Joe Schmidt's ranks.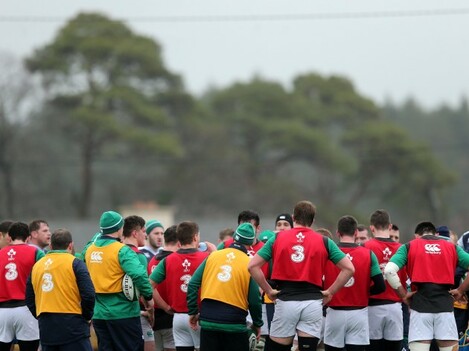 "The first five or 10 minutes I was just looking… we started off doing units and were doing line-outs. And you're going into a line-out looking across: 'there's Jamie Heaslip, there's Devin Toner…' and it's getting to grips with that."
By all accounts the under 20s did more than get to grips, they let rip and made sure that Friday in Mullingar was a good physical tester rather than just a walk in the park for the reigning champions.
"It did get kind of physical. It was kind of grab and touch (rules), but it got pretty physical. It was a great experience, it was class."
After suffering back-to-back Six Nations defeats to Wales and France. Claffey is hoping that the session can make Friday night's clash with England in Newcastle a little less daunting.
"Coming up and meeting men like that in defensive lines and attacking lines puts things into perspective.
"You've got to break down into your fundamentals. Your carry, everything has to be perfect if you want to get good ball retention and get gain-line success in attack and defence. Coming up against players of that level and size is going to be a huge help for us going in to the next game.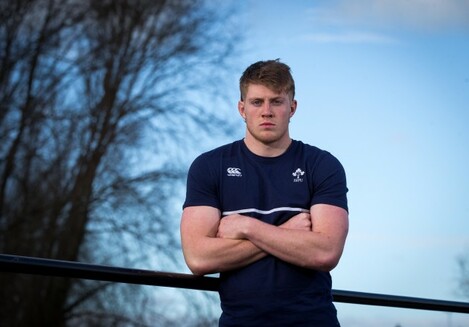 Source: Ryan Byrne/INPHO
Not that physicality is a problem for Claffey; he has enough Connacht Eagles appearances under his belt to know how mean a grizzled English second row can be. Indeed, the performance of the second row as a unit has been a major plus within Ireland's a disappointing (so far) campaign. Claffey has forged a strong partnership alongside captain James Ryan, and the Galway man has been nothing but impressed by Ryan in the time he has known him.
"I played with James in FIRA u18 – I started playing against him inter-pro at u18 and I've done it at u19 and 20 as well. He's a force to be reckoned with, he puts his body on the line which I think is invaluable for the captain.
Anyone can talk and say what they want, but he leads by example, puts his body on the line and it's so easy to follow him.
"He is pretty vocal and becoming more vocal over the last few years I've been with him. Just watching him, his athletic ability is unbelievable, puts his body on the line with the hits he makes. And you could see with the cover tackle against France, he'll die for the cause, as they say.
"We're a pretty good pairing. I make mistakes in my game, but I'm always trying to improve. I feel like I'm improving as the Six Nations is going on."
Claffey is pointing to mistakes of his own because he touches on the key focus points for Carolan's side before the halfway stage of the tournament. Fundamental skills and reducing unforced errors. Indeed, another added bonus of training against the seniors is that the 'Wolfpuppies' were up against highly-skilled opposition who routinely punish lapses in concentration.
Claffey powered in the opening try in the encounter with France, but the lead was frittered away. Once-offs can be swallowed, but when it happens in back-to-back weeks it's already a worrying trend.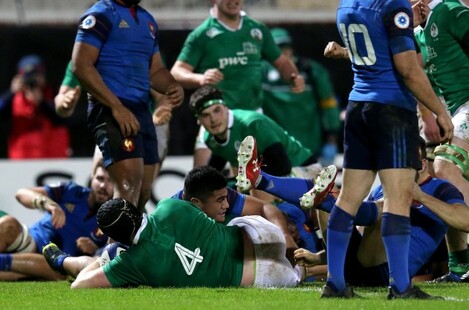 Source: Ryan Byrne/INPHO
"In both games we've come out all guns blazing in the first halves. It's been neck and neck going in to half time. Then in the second half, due to our mistakes we don't really show up, not even coming out of the dressing rooms you could say.
"In the reviews it's coming down to our mistakes, and the opportunities we gave to Wales and France, they were very clinical in punishing us. There are positives from our set piece, statistically and stuff, so we're going to take them and push on."
"We just need to simplify things back down and get back to our proper game, get back to our fundamentals which were letting us down in the last few games. (The week without a game) was definitely well needed."
The42 is on Snapchat! Tap the button below on your phone to add!