NORMALLY IT COULD be considered lazy to simply draw parallels between two teams and their respective journeys for means of illustration, but in the case of Irish hockey, there are now striking similarities between the men's and women's sides.
Just as Ireland's men used the anguish of a succession of near misses to turn the tide and change the culture within the dressing room, the women's national team have travelled a strangely similar pilgrimage — one of steady highs offset by shattering lows — to reach this heady promised land.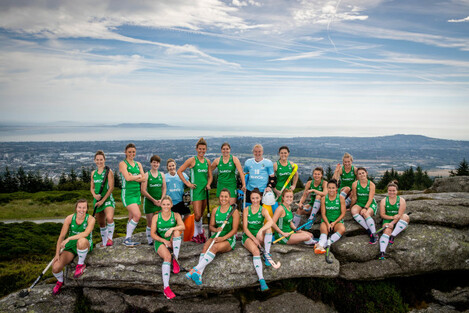 The Ireland World Cup squad. Source: Morgan Treacy/INPHO
A first World Cup appearance in 16 years will always feel like a seminal moment, but particularly for this team under Graham Shaw, who was the man tasked with picking up the pieces and rebuilding after the Rio Olympic qualification campaign ended in utter heartbreak.
It wasn't the first time this group of players had fallen so agonisingly at the final hurdle — the 2012 Olympic dream came crashing down in similarly cruel circumstances — but the last three years have been different.
Shaw has unequivocally changed the face of Irish women's hockey in that time and, feeding off the improved professionalism within Hockey Ireland as a result of the exploits of the men's side, has been able to drive standards, challenge expectations and achieve what his predecessors tried so desperately to do, but ultimately failed.
Granted it has been a long and arduous road — the ledger would contain wildly oscillating peaks and troughs — but such is sport, and such is sport when you are trying to compete with the best on an entirely amateur footing.
"It's an emotional rollercoaster," Shaw laughs. "But you need to try and stay level-headed. I came in after the girls missed out on Rio and it was tough. It was very tough. "
It would have been easy to think negatively. Perhaps it wasn't meant to be for this golden generation. That excruciatingly painful defeat to China — when the width of a post separated delirium and despair — ended the Rio dream, and at the same time, the hopes of many who had longed to represent Ireland on the big stage.
Shaw succeeded Darren Smith shortly after and was left to work with a squad shattered and disillusioned by another near miss, many of whom had exited stage left simply unable to give any more. Was there any coming back from that?
"To miss out on Rio in the way we missed out on it was absolutely heartbreaking and to be honest took a lot of time to get over it," the head coach admits. "To get that close. We sat down that October, post the qualifiers, and we set ourselves a goal to qualify for the World Cup and then Tokyo 2020.
"What we looked at as a management team, was what were the areas we needed to focus on to give us every possible chance of really competing against the best teams in the world. We set out certain goals within our group, to focus on individually and collectively over the last three years and worked hard on that."
One of the areas Shaw identified that needed to be strengthened was the resource pool available to him and, over the course of this cycle, has used every window to give younger players the opportunity to stake their claim.
There has been an element of trial and error with over 40 different players used, but it heightened competition within the panel, increased the levels of performance required from each individual and created an exciting blend of youth and experience in the team.
Whittling the extended squad down to just 18 for the World Cup proved difficult, but they're the sort of headaches a coach needs to face at this level.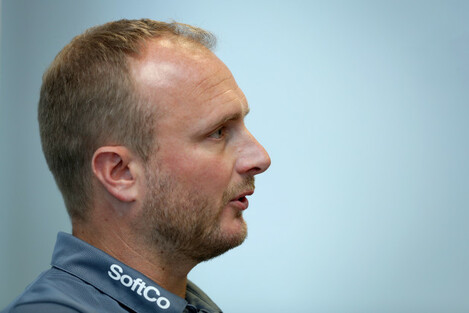 Graham Shaw. Source: Inpho
"What we found in 2013 and 2015, it was the same players getting in all the time," Shaw explains.
Another key factor in Ireland's progression in recent years has been the invaluable exposure and experience several senior players have gained by pursuing professional opportunities abroad, with the likes of Chloe Watkins, Nikki Evans and Anna O'Flanagan coming off good seasons in Germany and Holland.
Not only has Ireland's standing in the hockey world soared on the back of standout performances, but the impact Irish players have been making on international leagues has been crucial in shifting the mindset and forging a winning mentality within the group.
With Hockey Ireland's resources limited in the extreme, the set-up remains entirely amateur, meaning the players plying their trade in Ireland do so as a hobby, rather than a professional career.
The training windows Shaw gets with his squad are short, so having a core group of players living and playing abroad, fully immersed in hockey on a full-time basis, is crucial.
"You've seen that with players who have gone abroad in the last few years, even the conditioning aspect of it, just being able to eat when you need to eat, recover when you need to recover and not having to worry about getting up to go to work at 7am in the morning," he continues.
"That's probably the biggest benefit as well as playing such a high level day in, day out.
"We've got 18 plus players capable of playing in Europe. It's obviously trying to find that time in your life where you can go away for a few years and give it a go. They deserve to give it a go, they deserve it.
"This group of players give every single day of their lives to this sport while trying to manage other aspects of their lives, so to get the opportunity to play professionally abroad when you can live your life as an elite athlete and not have to worry about work, financial constraints or careers is a very powerful thing and a very powerful thing for an athlete.
"That's where they can really put their sole focus into becoming the best athlete they can basically become. We encourage it, I know I'll probably get a bit of stick for saying that, but it allows them to train full-time and any time you can dedicate your life to one sport and not worry about other aspects outside of sport is a really powerful thing."
The benefits are clear-cut, but the idea of players — male or female — being able to stay in Ireland and represent their country as full-time athletes remains a long way off, even if the team's success has generated an increase in Sport Ireland funding, as well as the investment of primary team sponsor SoftCo.
"I don't know how far it's down the line," Shaw says of a professional set-up.
"We have to be a bit more creative in how we do it, I think we need to investigate different avenues to what we've done in the past. Do I see it happening in the immediate one or two years? Probably not, but that's the ultimate goal, the ultimate dream.
"To have players who are financially backed to represent their country and dedicate their lives to try and qualify and win medals."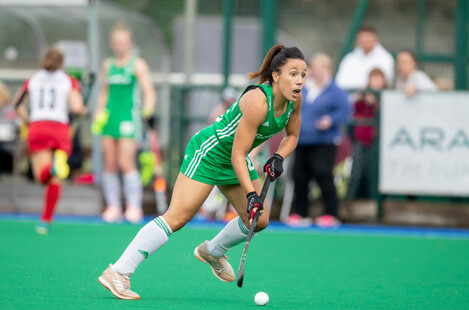 Ireland's Anna O'Flanagan. Source: Morgan Treacy/INPHO
Even still, the target of qualifying for London — a pipe-dream for so long — has been achieved by a group of players for whom this tournament will be the absolute pinnacle of their career. Reward for all the sacrifices they have made over the years.
But this doesn't feel like the end, rather the beginning of the next chapter for Irish women's hockey. After a 16-year wait, they have broken through the glass ceiling again, and while under no illusions of the task ahead, are not going to London to revel in the achievement of qualifying. It can be used as the launchpad for bigger and better things going forward.
Hosts England, India and USA will all provide a considerable challenge in Pool B but Ireland, ranked 16th in the world, are infused with the belief an enviable dressing-room bond generates, each and every one of them sharing a unique connection having been on this white-knuckle together.
"It will be the pinnacle for so many of them," says Shaw.
"I think naturally in a squad when they begin to get more experience over time and then when you introduce some young players with real talent, sometimes it just takes a little bit longer to happen and I think that's the case in this squad.
"We have a mature squad now with a really high level of experience but also a lot of youth coming through and we're ready. We're excited."
Having faced Japan in a three-game series in Cork last week, Ireland will fine-tune their preparations with warm-up games against Chile, Italy and South Africa, before the all-important campaign opener against USA on 21 July.
For so many reasons, walking out in front of 15,000 people at London's Lee Valley Stadium will be a special, and indeed sweet, moment for everyone involved with this team and Irish hockey generally, as Shaw's Ireland join the World Cup party.
"This is it now, to go and represent Ireland at a World Cup," he adds.
"If you don't feel pressure when you're putting on the Irish jersey, I question where your thoughts are. Pressure is a good thing if you can deal with it in a positive way and we're confident with the experience we have in the group and the number of competitions we've played, that this squad will deal with that pressure.
"We're approaching every game as if we can win it, they're all one-off finals for us."
Their time is now, and not a moment too soon.
The42 is on Instagram! Tap the button below on your phone to follow us!