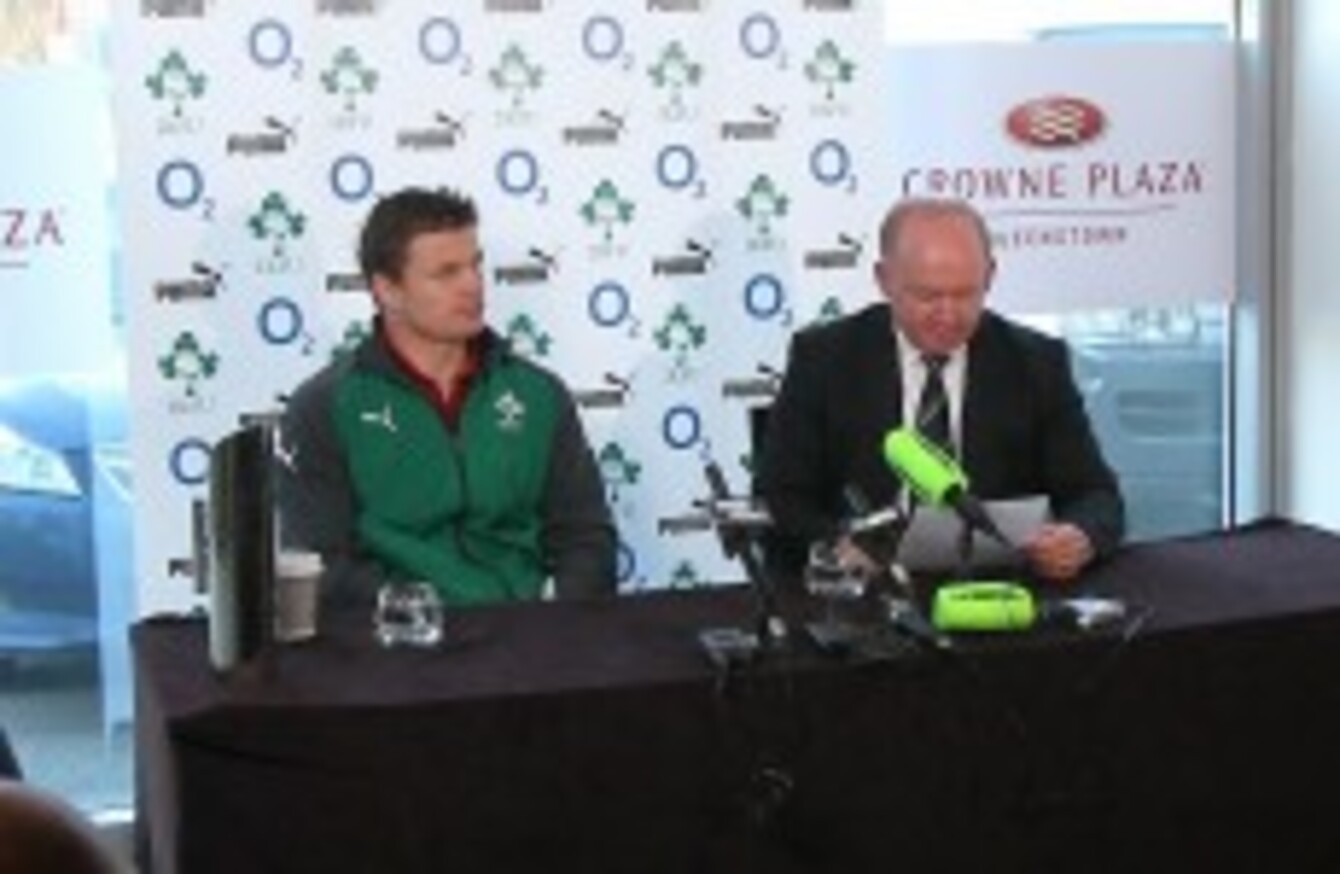 Brian O'Driscoll and Declan Kidney at Thursday's team announcement.
Image: ©INPHO/Billy Stickland
Brian O'Driscoll and Declan Kidney at Thursday's team announcement.
Image: ©INPHO/Billy Stickland
NOT A BAD spot for a bit of questioning and some answering.
Declan Kidney and Brian O'Driscoll took to the top table at the Crowne Plaza in Queenstown as sunlight streamed through the windows and snow-capped mountains towered in the distance.
Somewhere out there, not too far away, was a petrified backpacker attached to a bungee-cord.
The chat revolved around Kidney's assessment on whether his team could eek out one more big performance and O'Driscoll's take on the vulnerability of an All Black side shorn of Dan Carter's services.
On top of that, we put six readers' questions to the men in green and hit the record button on the dictaphone.
****
Declan Kidney:
I think that, in an Irish context, players will never be a thing of the past once they are playing. Once they play to form and show ability then they will always be in the picture.

With our professional playing numbers you are never going to disregard anybody so we will keep a close eye on them. I think it has been a great learning experience for a lot of the guys, who have come out and toured here for the first time.

I can already see gains from them being on tour and some of the guys you talked about (Ronan Loughney and Declan Fitzpatrick) and the lads that haven't been fortunate enough to pick up pitch time.
****
AND
Declan Kidney:
I think that is fair enough. That is what this group need to learn how to do. It's not easy to put in a big performance because you have to be good players to do it but once they've shown they can do it I think (consistency) is the challenge. We've got a lot of guys in the squad that don't have a huge amount of Test experience.

You just look at our out-halves. Jonny Sexton is in just his third year of international experience. You could look right down the team with our second-row, that back-row, it is Peter O'Mahony's first year; there's quite a number.

The team that went before them, en-block, they had to learn that over a while; that it wasn't a matter of doing it once, putting in a big performance, it was a case of doing it week-in, week-out. It is definitely one of the things we are working on and that is why we have trained the way we have this week.
Kidney added: "There's no point in doing it once. Nobody goes to an inconsistent doctor. That's just the truth of it."
****
JJ Hanrahan in action at the Junior World Cup. (©INPHO/Shaun Roy)
Declan Kidney:
Obviously, any guy that puts his hand up in a big tournament like that (would be considered). I think  Jamie was in that situation a few years back and it was Mr (Jerome) Kaino that got the award at the end of the day.

All players will tell you that awards, it is nice to be a part of that but it is nicer to be part of a winning team. JJ would be the first to admit that, usually, anybody playing in the number 10 role goes as well as the people around him allow him to go.

The fact that he has shown himself to good effect can only benefit Irish rugby. But then, Paddy Jackson will be looking for his place back at that level too. It is a good sign for the future.
****
Declan Kidney:
Being absolutely honest, we learned after the first Test that it was just a matter of getting ourselves right. It is good to get an update on them but we've concentrated purely this week on getting ourselves right.
Aaron Cruden is getting used to media attention as back-up to Dan Carter. (©INPHO/PHOTOSPORT/Stephen Barker)
Brian O'Driscoll:
Dan Carter is a world class player but Aaron Cruden is handy enough and he has shown it. The bits I've seen of the Super Rugby this season he has been pretty impressive.

They have to look at life without Dan Carter and it gives Aaron a great opportunity. It is not all about the guy pulling strings at 10, you need smart players around you and I think New Zealand have that.
****
Declan Kidney:
That is my regard for these players. They can let things go and pick them back up. A number of them have been involved in some big matches over the course of the season, which started just under 12 months ago.

The have done it week-in, week-out. It is not a given that they can't do it (again). If it is there New Zealand will be prepared and if it is not, it won't be because of lack of effort.
****
NOTE: We did not get an opportunity to ask Rodrigo Detriano's question about Jonathan Sexton going for three points rather than kicking for the field position but from discussions with Sexton and Ronan O'Gara in the past week, both felt it was the right option as the Leinster man was kicking well in the match.
*You can follow all the latest news, comments and goings on from the Irish camp by following @patmccarry on Twitter and by regularly checking in with TheScore.ie.