IRELAND'S CONOR MCGREGOR announced himself on the world stage with an incredible first round knockout on his UFC debut.
The 24-year-old featherweight, nicknamed 'The Notorious', took on experienced US fighter Marcus Brimage (6-1-0) in front of 16,000 spectators in Stockholm this afternoon and took just 67 seconds to end the fight with a series of devastating blows to his opponent's head.
There was huge expectation from MMA fans in Ireland and further afield going into the fight, and the hype was justified as McGregor disposed of Brimage with utter confidence.
Speaking afterwards, the Dublin native said. "I didn't really have a gameplan. You can't let emotions get in the way. I think Marcus let the fact that the Irish were getting on his back get to him.
"This is the first time I've experienced something like this. It's a game to me. I just keep calm.
He wobbled a couple of times early. I thought he was emotionally attached to the contest."
Calling for UFC president Dana White to award him with the $60,000 Knockout of the Night prize, McGregor added:
"Dana… 60 Gs, baby!"
White then tweeted: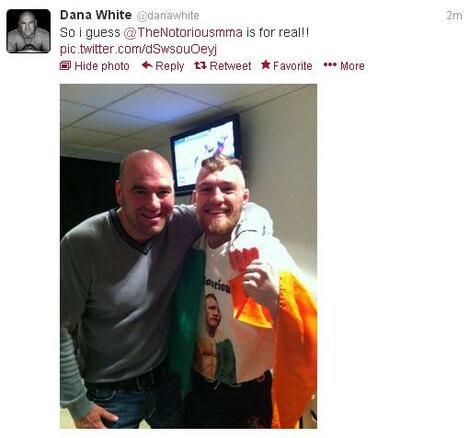 Watch a GIF of the knockout below:
Credit: Big Red Bench