Simon Keogh, IRUPA, Operations/Legal Manager, Dr Rod McLoughlin, IRFU, Dr Garrett Coughlan, IRFU and Pat Fitzgerald, IRFU President .
Image: INPHO/Dan Sheridan
Simon Keogh, IRUPA, Operations/Legal Manager, Dr Rod McLoughlin, IRFU, Dr Garrett Coughlan, IRFU and Pat Fitzgerald, IRFU President .
Image: INPHO/Dan Sheridan
THE IRISH RUGBY Football Union is to enforce a new set of concussion guidelines in an effort to ensure player welfare and avoid serious injuries and fatalities.
Dr Rod McLoughlin, IRFU head of medical services, believes there needs to be a culture change in rugby as many concussed players are being placed under 'inappropriate pressure' to remain on the pitch.
McLoughlin referred to the case of 14-year-old Ben Robinson, who passed away in 2011 after suffering multiple concussive blows during a game for Carrickfergus Grammar. Coroner Suzanne Anderson told a Belfast court, in September, that the teenager had passed away from brain injuries due to Second Impact Syndrome.
Dr McLoughlin said, "We've already had a fatality, two years ago. It's an incredibly rare condition and that's the first recorded case on the British Isles; there are less than a handful worldwide. But that is what we are trying to avoid it happening again.
We don't want to just avoid the catastrophic end-game, we want to prevent any other minor things that could happen. This is about managing all things that occur and, yes, I hope we never see that happen again."
McLoughlin added, "We are educating everyone — coaches, players, officials — so they understand they should not be putting pressure, in a way that they would be suggesting that somebody stay on the pitch when they shouldn't. It's about changing everyone's opinion and the culture that's out there so we don't have inappropriate pressure being put on people.
Dr McLoughlin was speaking at today's IRFU-backed launch of new concussion guidelines for the amateur game. While the union is promoting the new mantra of 'Stop,-Inform-Rest-Return', professional Irish players will continue to go by the IRB's return to play concussion guidelines.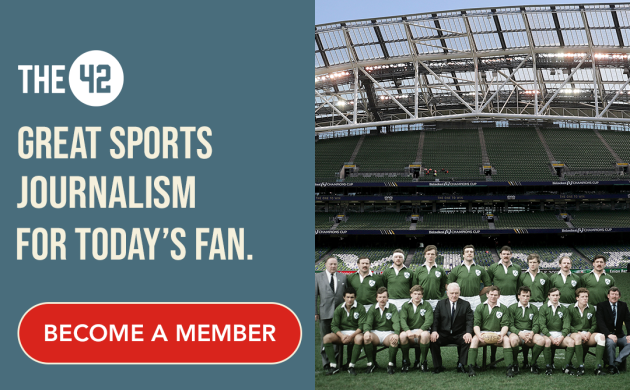 IRFU Head of Medical Services, Dr Rod McLoughlin. INPHO/Dan Sheridan
McLoughlin believes the professional game has made significant improvements to assessing and treating concussion-like symptoms. He said, "The nature of the pitch-side assessment tool has changed between its introduction last year and this year. Research shows that there are other things we need to do.
"I do feel that [professionals] will lead the way. I think they are leading the way. We are now seeing a lower level of tolerance to any suspected concussion.
We're working hard to change the culture so that anybody will feel supportive of every decision that is made, and we're educating so that people will have the knowledge to recognise concussion and understand that the [players] are removed from play."
In August, the NFL reached a settlement worth $765 million in a lawsuit filed by more than 4,500 former American Football players over concussion injuries. McLoughlin feels the connection between concussive blows and the heavy-hitting nature of the two sports must be studied further.
"What we have seen is a link," he commented. "We have not seen a cause and effect. We've seen a link that we need to monitor. I think it will be a number of years before we can tell that because, as you say, the [professional rugby] game is in its infancy in a professional sense.
"The important thing is, the appropriate management of present concussions that will be the most protective thing in avoiding the long-term effects if there are any [links]."
Like rugby? Follow TheScore.ie's dedicated Twitter account @rugby_ie >