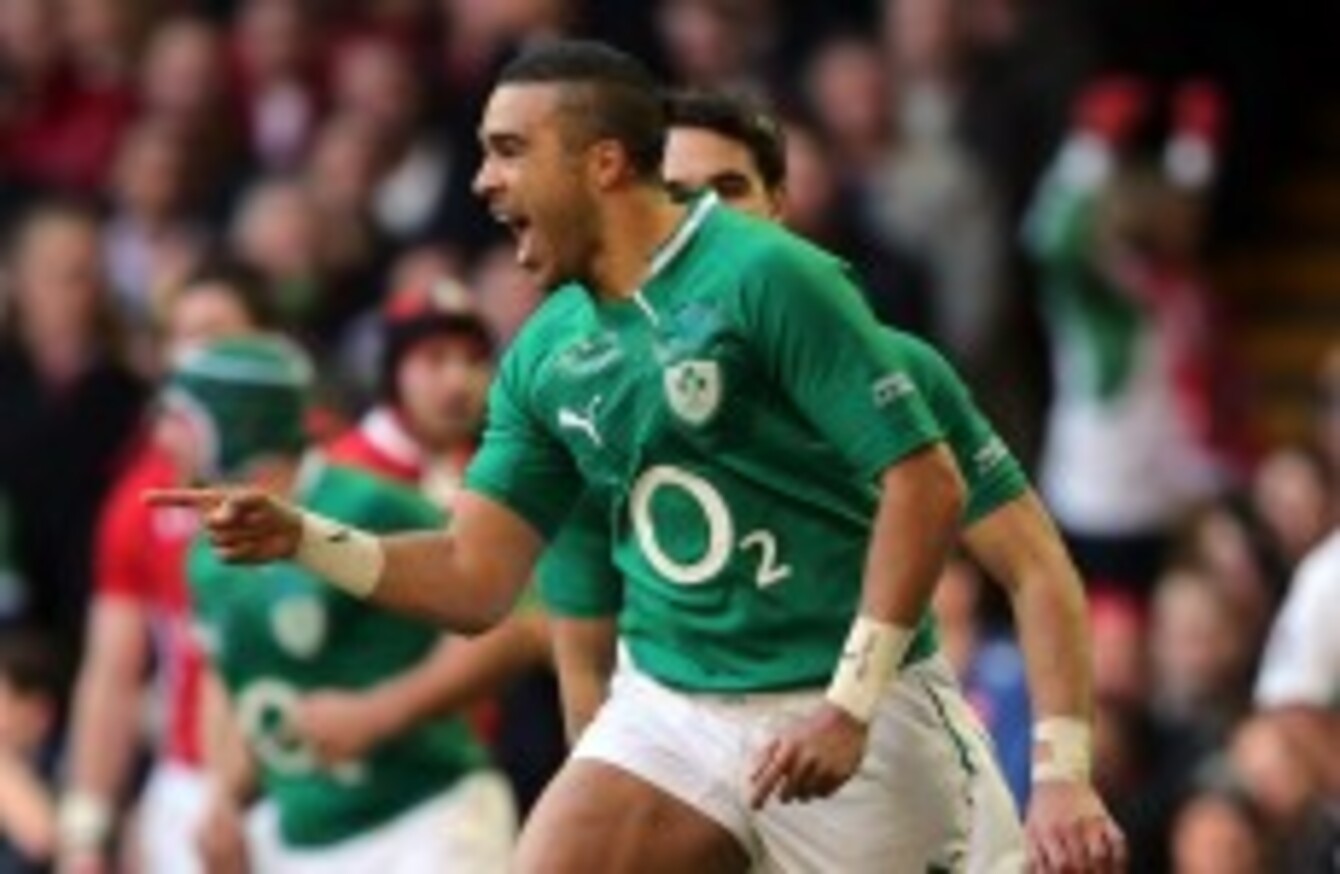 Could players like Simon Zebo eventually be tempted into the sevens game if Ireland make the Olympics in the future?
Image: Dan Sheridan/INPHO
Could players like Simon Zebo eventually be tempted into the sevens game if Ireland make the Olympics in the future?
Image: Dan Sheridan/INPHO
THE IRFU HAVE confirmed that they will re-launch their international men's sevens programme in the coming season, as reported by TheScore.ie last week.
An Ireland team will take part in the European Championships next June, where they will begin life in Division C of the competition, potentially competing against minnows such as San Marino, Liechtenstein, Belarus and Montenegro.
If an Ireland team is to take part in the 2020 Olympic Games in Japan, there will need to be successive promotions through the European ranks and eventually into the IRB Sevens World Series over the next five years.
Ireland's team will initially be made up of academy and sub-academy players from the four provincial sides, as well as the best of the club players involved in the Ulster Bank League.
No coaching appointments have been made yet, although the IRFU have indicated that backroom staff are also likely to come from within the provincial structure ahead of warm-up tournaments and training camps this season.
The IRFU's stance on sevens is that the reduced-numbers code can be an ideal developmental and talent identification tool for the 15-a-side game. The union also say that the programme will not be costly to run in the earliest stages.
Ireland has not had a senior international men's sevens team since the 2009 World Cup, with the IRFU having stated in recent years that the finances to run a sevens programme did not exist, as well as their lack of belief in sevens as a developmental aid for 15s.
David Nucifora, who came on board as the IRFU's Performance Director in June, is the key man behind the shift in the IRFU's mentality towards sevens.
"I see this as being part of the development pathway," says Nucifora. "I think sevens is a wonderful game to be able to judge talent and give players an opportunity to play another form of the game that shows you different things about their strengths and weaknesses.
"The game of sevens has developed a lot over the last three to five years. It's a very confrontational game now, so you quickly learn a lot about players, about whether they can tackle, whether they can carry, a lot of things about them that are important.
"We see it as a great opportunity to add to the pathway and give players the chance to be exposed in a different way."
SEE SPORT
DIFFERENTLY
Get closer to the stories that matter with exclusive analysis, insight and debate in The42 Membership.
Become a Member
Australia native Nucifora stresses that this will be a "crawl before we walk-type scenario," for the IRFU and spoke only about short-term plans. He also admitted that he is conscious of not creating "an extra burden" on the four provinces.
That Irish rugby's governing body has previously insisted that sevens was not financially viable makes the u-turn more surprising, but Nucifora outlines that the costs will be minimal to begin with.
In the first year it will be done quite cheaply, to be honest. I don't think you have to spend a hell of a lot of money to get it started, it can be done very economically. We have a plan in place and we're pretty confident it can be done in an economical way.
"I'm not going to put out numbers, we haven't gotten to the end number yet, but we've a rough idea of what it's going to cost us.
"In year one, we're not talking about a lot of money. We're talking about a number of one or two-day camps from February onwards that will lead into warm-up tournaments not too far afield and one or two European tournaments."
An Irish squad of 15 to 20 players will be brought together for those events, although no extra payment beyond academy deals will be offered. The IRFU will subsidise travel expenses and other similar costs, but contracts for sevens players are not part of the thought process at present.
Nucifora points out that there are "ways to work your way up through European rugby reasonably quickly" in the sevens code, but underlines that the IRFU view this as "a long-term process for us to get up to the higher echelons of the game."
That said, the IRFU "want to be playing some meaningful games as quickly as possible," so immediate promotion from Division C into Division B for 2016, and then upwards again the following year will be targeted.
Former Blues coach Nucifora laughed off the suggestion that Ireland could eventually host a sevens tournament in Dublin, saying such ideas involved "rubbing the crystal ball too hard."
The growth of sevens as a standalone product has been phenomenal in recent years, with the inclusion of the sport in the 2016 Olympics likely to accelerate that process. Is there an eventual danger of the IRFU's developmental tool dragging promising players away from the 15-man code?
I think post-Rio, this part of the game will really boom; the quality of the competition and the football that's being played is of a very high standard," says Nucifora.
"I think that's a fair way down the track before you've got to worry about that. I think certainly at the moment it's not in competition, they work together. They work together to be able to develop players for both."