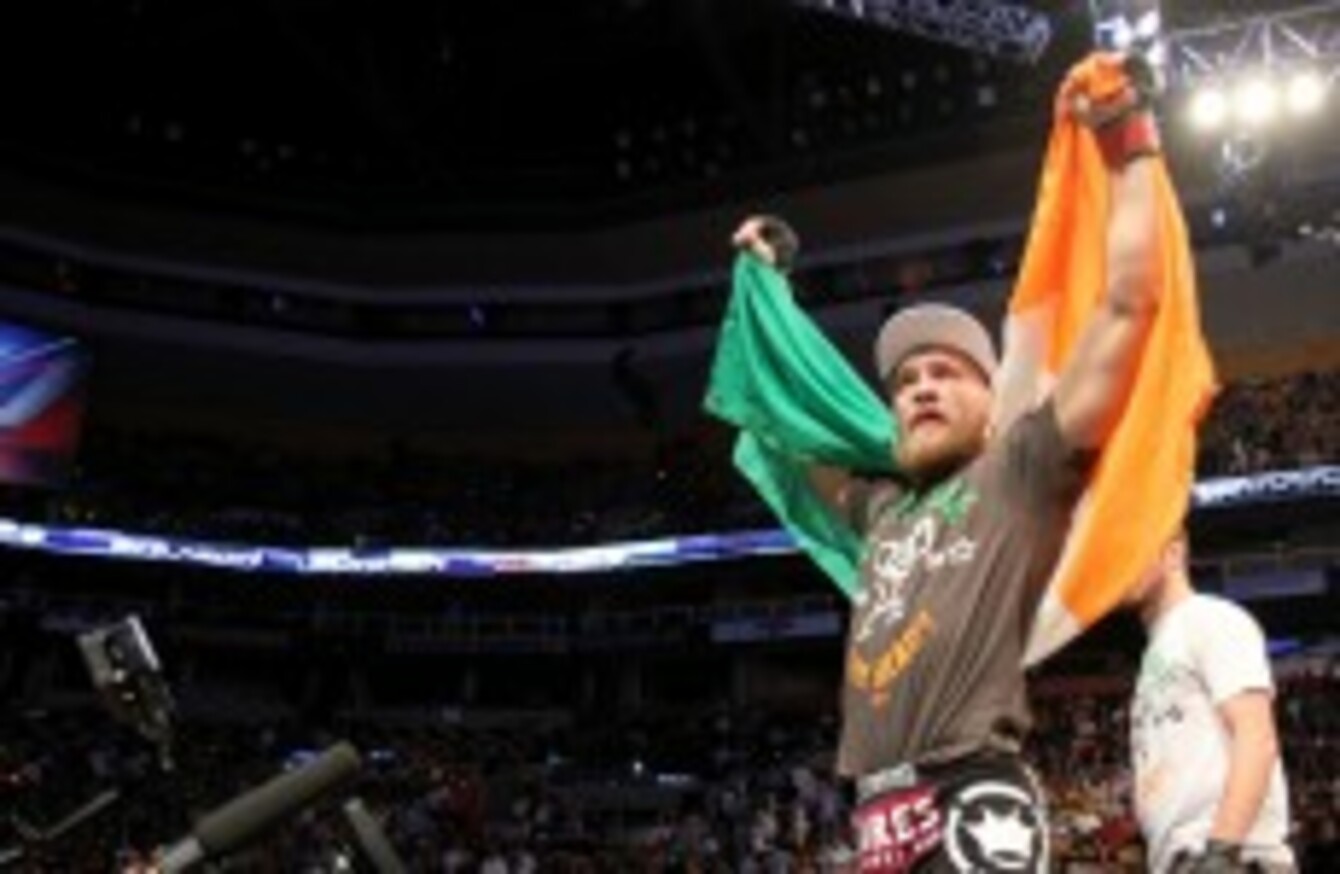 UFC featherweight title challenger Conor McGregor.
Image: AP/Press Association Images
UFC featherweight title challenger Conor McGregor.
Image: AP/Press Association Images
IT WAS ANOTHER moment that put the recent progress of Irish MMA in perspective.
UFC president Dana White's post-event press conference this past Saturday, in the immediate aftermath of two new champions being crowned following unexpected upsets, yet one of the main topics of conversation was a potential fight between two Irishmen.
Mixed martial arts in Ireland has grown so rapidly in such a short spell that it can be difficult for fans to take a step back from the hype and appreciate just how far the sport here has come.
Sure, there's an awareness of the MMA boom, but are we taking that success for granted? An Irish fighter winning a UFC bout may no longer seem like such a big deal, but remember that it took nearly 20 years for that first victory to come. Two-and-a-half months into 2015, we've already had five this year alone.
Dana White was asked last weekend by MMAFighting.com's Ariel Helwani if a rematch between Conor McGregor and Joseph Duffy would be 'a goldmine'. And while the UFC boss quite rightly pointed out that the possibility of such a bout is a long way off, the use of that term by Helwani was nevertheless significant.
For the UFC, the Irish market certainly has shown itself to be a goldmine, and one they stumbled upon very unexpectedly. Ireland gave the UFC nothing for two decades but, in the space of just over two years, eight Irish fighters have joined their roster, contributing a total of 18 wins and counting.
The organisation considered — and still is — holding the largest event in its history in Dublin, and Irish MMA's leading star is currently preparing to fight for a world title, less than two years after making his debut. Only six countries have ever been home to a UFC champion, but this small island is a few months away from potentially being the seventh.
To that end, it's easy to see why the UFC has embraced the Irish movement. When they decided in 2012 to aggressively target the EMEA (Europe, Middle East and Africa) market for growth, Ireland didn't feature significantly in their initial plans.
However, this country has now put itself at the forefront of that expansion. Across the entire region, only Russia, Poland and England can boast a larger current representation of fighters in the UFC.
But even in the UK, many fans envy what has become of the Irish scene. Watching on as Conor McGregor becomes a global star, they lament how the British public and media have yet to get behind MMA to the same extent that we have here, despite having a much deeper history in the sport.
The respective landscapes are very different, however. It's not uncommon for British athletes to be among the best in the world across a wide variety of sports, so there's plenty of competition for space on their back-pages.
In a small country like Ireland, every opportunity to celebrate success at the highest level is pounced on, irrespective of the sport. With a unique sportsman and personality like McGregor leading the charge for MMA, it's one of the main reasons the sport has taken off quicker here than anywhere else.
A hardcore foundation of MMA fans has always existed in Ireland, but nothing captures the imagination of the Irish public like the success of one of our own and being able to support it. Some say it's bandwagon-jumping, others call it human nature.
Nevertheless, the interest in mixed martial arts in Ireland has multiplied, and many of those who worked hardest to get the sport to this point are starting to earn a much healthier living from it.
The pace of that growth means it's also referred to as an overnight success, but the journey probably doesn't seem so swift to people like Andy Ryan and John Kavanagh, Ireland's top coaches, who were training in damp sheds for years before relocating to world-class facilities full of UFC stars.
The same goes for the promoters of domestic shows throughout the country, who provided the platform for Irish fighters to show how good they are. McGregor, Duffy, Pendred et al didn't sprout up like mushrooms. For years, they worked just as hard as they're doing today, but for smaller financial gains.
The likes of Battlezone, Cage Warriors and Cage Contender didn't create our MMA stars, but they did play a key role in helping to bring them to the attention of UFC matchmakers Sean Shelby and Joe Silva.
Irish MMA is in a good place now, but where does it go from here? We could have a world champion on 11 July, and there are a few others who'll also fancy their chances of following Conor McGregor's lead, so it seems the best is yet to come.
Our fighters and their teams have represented the country well, but as the sport continues to cement its place in the public consciousness, there's an onus on the fans to do so too. By its very nature, MMA divides opinion and — in a discipline where people do get hurt — that will always be the case.
Many remain sceptical, and while those opinions are often based on misinformation stemming from the no-holds-barred days of the UFC in the 90s, it's important to acknowledge there will always be a variety of views when the topic involves inflicting physical harm on your opponent.
This contrast of opinions is regularly illustrated on social media, and the defence strategy of some MMA fans hasn't always been measured — which in turn can leave those on the opposite side of the argument with an even less favourable take on the sport. So the message for fans should be to respect that no matter how popular it becomes, MMA isn't always going to be to everyone's taste.
Instead of telling someone they 'haven't got a clue', point to positive examples like the strict regulation of the sport by state commissions in the US; to the work being done by SAFE MMA in the UK and Ireland; and to the likes of Cathal Pendred and Aisling Daly, who are among our many fine ambassadors. MMA is far from perfect, but it's a young sport populated by passionate individuals who are working hard to make it as safe and legitimate as it can possibly be.
Of course, the continuation of MMA's growth in Ireland will ultimately depend on the success of the fighters. Our next batch of UFC hopefuls are each probably a couple of wins shy of being in contention to increase our presence in the Octagon, so it could be 2016 before we see another fresh face in there.
Further down the line, keep an eye on names like Ayo Daly, Kieran O'Brien and Frans Mlambo over the next few years. And at grassroots level, membership numbers in MMA gyms all over the country are increasing significantly.
Two Irish fighters have yet to face each other in the UFC, but a potential rematch for Conor McGregor and Joseph Duffy was one of the main talking points after Duffy's impressive debut at UFC 185 on Saturday.
If it sells, the UFC will make it happen, but as Dana White said — to add context to that possibility – Duffy 'has got some work to do' in order to put himself in a position to take on a man who could be a champion this summer.
But at this early stage, we'd prefer to see Ireland's UFC representatives continue on their own individual journeys up the rankings, instead of having one get ahead at the expense of another.
The two-year anniversary of Conor McGregor's UFC debut is a couple of weeks away. His early TKO of Marcus Brimage was the first win in the Octagon for a fighter from the Republic of Ireland, and it marked the beginning of what has already been a UFC career of unprecedented achievement.
Perhaps it will take a victory against Jose Aldo for the level of Ireland's success in the UFC to really hit home for fans. In footballing terms, we've gone from being Vanarama Conference relegation candidates to Premier League title contenders in a couple of years.
These are exciting times for Irish MMA. Don't wait until they're over before realising it.