Updated at 15.32
PRE-SEASON GLAMOUR friendlies aside, the idea of an Irish team taking on Real Madrid these days is virtually unthinkable.
However, in the 1979-80 season, Dundalk, then a part-time League of Ireland side, narrowly missed out on a European Cup quarter-final with arguably the world's biggest club.
A Setanta Sports documentary, 'Once in a lifetime – Dundalk 79/80,' which airs at 9pm this evening, tells the story of that incredible campaign.
The season encompassed a number of memorable nights for a famous Dundalk side that took on Linfield, Hibernians of Malta and Celtic in an impressive European run.
The director and producer is Shane Tobin, an experienced documentary-maker who has previously worked on films about Hill 16, Thomond Park and a series on Irish referees, 'Men in Black'.
The original plan was to film an entire series focusing on various notable achievements involving Irish sides in Europe, but when that idea fell through, Tobin decided to turn his attention solely to Dundalk's story.
"It was very straightforward," the director tells The42. "What made it easy was the co-operation I got from Dundalk. They opened up their archive for me, which allowed me to build the story of that season, and the previous seasons.
"It really is the story of [manager] Jim McLaughlin and how he transformed that club and turned it into the real powerhouse that it is now.
"They won the league a couple of seasons earlier and then he had his team decimated. Some top players were sold. He had to rebuild the team again. I think the mark of a good manager is one who's able to rebuild a team and win again.
"Jim McLaughlin's record stands the test of time — what he did with Derry, what he did with Shamrock Rovers right afterwards [backs it up]."
Having won the league the previous season, Dundalk were paired with Northern Irish side Linfield in Europe. The fixture could hardly have taken place at a more tense time in Irish life from a political perspective, and featured two sides who were seen as having respective Republican and Unionist links.
Just two days before the first leg, Lord Louis Mountbatten, a second cousin of Queen Elizabeth, had been murdered by the IRA while holidaying in Sligo, while other relatives were also killed after a bomb exploded in his boat.
Later that day, 18 British soldiers and one civilian were killed, while others were seriously injured, after two bombs exploded in the town of Warrenpoint — it was deadliest attack on British soldiers during the Troubles.
Consequently, there was a certain sense of inevitability about the violence that occurred in the stadium when Dundalk took on Linfield later in the week.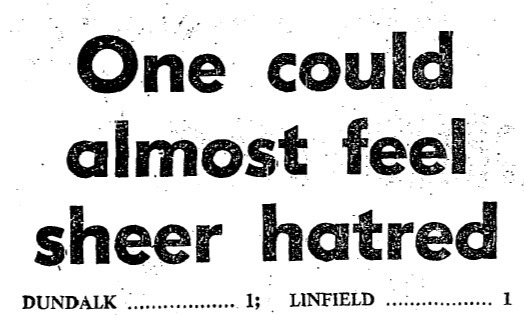 Despite the presence of 300 gardai on the night, making it the largest police presence ever at a sporting event outside of Dublin at the time, chaotic scenes followed, as hooligans ensured the match took place amid a toxic atmosphere, with rival chants of 'IRA' and 'no surrender' clearly audible. Tricolours were burned and objects were thrown with such regularity that the footballers who took to the field later admitted to being afraid of playing on one side of the pitch.
The Dundalk captain at the time, Dermot Keely — who is interviewed in the documentary — paints a particularly vivid picture of the chaos which occurred that night, recalling:
"It was like playing a football match in the middle of a street riot. The match should have been called off. It was crazy. Stones being thrown, cops hauling people off the pitch, all of us avoiding one side of the pitch where the trouble was at its worst. It was a unique and terrifying experience. I still remember the chap shimmying up the flagpole to try to take  down the Union Jack, being stoned, falling down, and going back up again."
100 people were injured, including 56 Gardai, yet incredibly, the match was not abandoned, with both sides showing considerable composure under the circumstances to play out a 1-1 draw.
"If you take it in the context of the time — it's five years away from Heysel, 10 years away from Hillsborough," Tobin explains. "The events in Dundalk that night showed you can have a lot of security, but there was a hooligan element within soccer during that era… If you look at England in that era, in Birmingham, there was a fan killed. Most venues were difficult to police, and that was really the infancy of policing events."
While both teams were punished as a result of this mayhem (Dundalk were fined £870 for 'insufficient security'), Linfield received a greater portion of the blame. Accordingly, rather than taking place in Windsor Park, the second leg of the tie was played at a neutral venue in Haarlem, Holland, where the two teams met in a largely empty stadium.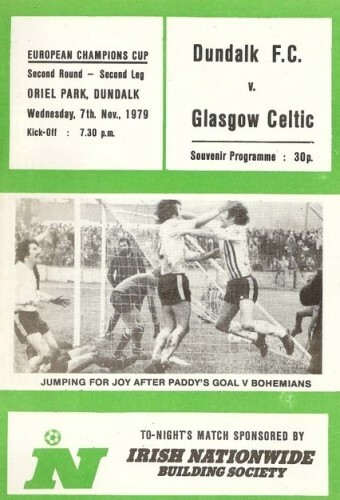 Dundalk ultimately prevailed with a hard-fought 2-0 win on the night, and after overcoming the potential banana skin of Maltese side Hibernians in the following round, they met Celtic — at the time a formidable outfit — for a place in the last eight of Europe.
Despite a spirited effort though, it was against the Glasgow giants that Dundalk's European dream ended. Having performed respectably amid a 3-2 loss at Celtic Park, they could not find the elusive goal needed to progress in the return fixture, despite one glorious chance falling the way of Tommy McConville in the dying moments, as the match finished 0-0.
Still, for a part-time side to go so close to securing a European Cup quarter-final with Real Madrid was effectively unheard at the time (or since), hence the Dundalk players emerged from this bittersweet experience with their heads held high.
"To be one kick away from Real Madrid [was incredible]," Tobin says. "That Celtic team had most of the Scottish national team that would have gone on to the World Cup. It was a very good side.
"A lot of [Dundalk's success] can be attributed to the management of Jim McLaughlin. Nowadays, teams are over-coached. Sometimes it's very simple — you need to treat grown adults like grown adults. They're part-time players, so allowing them to have these once-in-a-lifetime experiences without over-training them and without over-cooking them is a testament to his management.
"He did it again and again. Part-time players need to be treated differently to professional players — people should remember that, especially when you see over-coached GAA teams training five nights a week, you ask yourself 'what's the point?'"
And the director, whose next project will look at legendary Welsh boxer Jim Driscoll, adds that such incredible events are unlikely to be emulated at present, arguing that Uefa are to blame for stifling the romance of the competition in its modern incarnation.
"Since the early 90s, the large leagues and the large clubs in Europe have created a two-tier system to eliminate small clubs in Europe. That has destroyed the romance of the competition – it's removed it from being a knockout competition to a league format, and most of the time, league competitions have dead rubbers.
"Uefa cares more about getting larger clubs to later stages than it does making the competition open to everybody. It's 1 August and all Irish clubs are out of Europe, and that scenario is emulated across a number of nations in Europe. I don't think that's right."
'Once in a lifetime – Dundalk 79/80′ will be showing tonight at 9pm on Setanta Sports.