"AT THE AGE of 25," reflected Eoin O'Malley last week, "it is surreal to be reflecting on your career."
The former Leinster centre was forced into early rugby retirement after a serious knee injury failed to sufficiently heal, despite a mini comeback at the end of last season. O'Malley, once he comes to terms with losing grasp of his dreams, will turn his focus towards a new career. He is not alone.
According to the Irish Rugby Union Players Association, 30% of players forced out of the game, and claiming insurance from the injuries that curtailed their career, are under the age of 30. For every 10 Irish players that embark on a rugby career, injury takes down three with the finish line not even a dot on the horizon.
Maeve Smith, IRUPA players services advisor for Leinster, believes the game of rugby is gradually coming to terms with the task of preparing players for careers after they hang up their boots. "Players have to be realistic," she told TheScore.ie. "Something we talk about with all players and athletes is tomorrow might be the end of rugby for them. If that comes, they face a transition period, just like everyone else who works must, at one stage or another." Smith added:
Before rugby was professional, players went back to their jobs when they retired. In the early years of professionalism the awareness was not there, that players needed qualifications or development in other areas of the life. That is beginning to change now."
The injury woes of Irish players, particularly at Test level, have been starkly highlighted over the past two seasons. Luke Fitzgerald, Tommy Bowe and Felix Jones have endured enforced periods on the sidelines due to knee injuries, Eoin Reddan broke a leg against France and the trio Jonny Sexton, Simon Zebo and Gordon D'Arcy all had bone breakages in their feet. Luke Marshall [twice] and Brian O'Driscoll both suffered from concussion yet lined out soon after.
Be part
of the team
Access exclusive podcasts, interviews and analysis with a monthly or annual membership.
Become a Member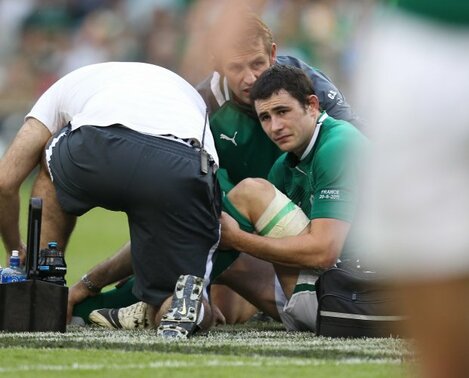 Felix Jones has successfully returned after sustaining a bad knee ligament injury in 2011. ©INPHO/Billy Stickland
Smith argues that player welfare has 'definitely increased' in recent years and cites improved refereeing at collision areas, new scrum laws and strict adherence to concussion rulings as proof. Players, she says, are now being withdrawn from the front whereas many, to their detriment, would have played through the pain barrier in the past.
As much as recent sport science advances and player conditioning has created finely-tuned rugby athletes, the misfortune of a career-ending injury is something that touches each team. One of IRUPA's key roles is to provide career coaching, mock interviews and work experience to players.
Getting players to recognise that their working life goes on after rugby, Smith says, is key. "Many people will stay in a job for three to five years and move on. They will change careers or move on and look upon jobs as stepping stones."
She adds that players from each of the four provinces have sought media training and workshops in public speaking and presentation skills. Smith commented, "Players with an entrepreneurial flair may be set up in business courses, for example, while other interests are encouraged and mentors often provided. These outside interests, we often find, have a great impact on players and provide welcome distraction from purely focusing on rugby."
Players such as Denis Leamy, Girvan Dempsey and Anthony Foley have stayed on in the game they love by, at one level or another, coaching and developing the next generation. Academic studies and upskilling is high on the agenda too, with just under 80% of Irish professional players involved in educational pursuits.
"It's a hard fact that retirement will come for every player," said Smith, "and it is all about equipping them for that transition."