"ONE OF THE greatest days of my life," says Irish wrestler Joe Cabray, "was when I signed for WWE.
"It's the equivalent of playing with Manchester United at their best. They're the absolute pinnacle. There are hundreds of thousands of wrestlers all over the world, but they've only got a few of them under contract."
Cabray is not alone in his passion for the organisation. In America, WWE (formerly WWF) is a genuine phenomenon. At its peak, it has boasted a level of popularity to rival any sport in the US (whether it counts as a sport itself is an issue that's long been furiously debated).
Meanwhile, in Ireland, although it remains nowhere near as prevalent as it is Stateside, a burgeoning wrestling scene has developed in recent years.
Irish wrestlers such as Sheamus and Fergal Devitt have made waves in WWE, while others have enjoyed success elsewhere and dream of emulating their idols in America.
Cabray himself currently wrestles all over Europe on a regular basis, after his WWE stint ended last year following 12 months spent on a development contract with the company.
So where did it all go wrong in the US?
"Personally, I had a lot of bad luck," he tells TheScore.ie. "I had a lot of injuries and a couple of concussions. A lot of new research suggests concussions should be taken quite seriously, so I spent a bit of time on the sidelines. It was tough.
"One of the greatest days of my life was when I got to sign for WWE, but one of the greatest days also was when I left. It's a different level. At independent level, there are guys that are willing to help each other. But when you get to WWE, there are only so many spots on TV, and you've so many guys aiming for those spots. So sometimes, it can be a bit cutthroat. That's not the kind of environment that I want to embrace and live my life through.
"It is quite daunting to be there. They're not going to put you under a contract unless they really believe in you, so you realise that you're there for a reason. The try-outs they do aren't exactly easy. You have to be of a certain level to make it there. They're not going to bring an international guy in unless they're 100% sure.
"It's quite a workload as well. You do a 70-hour week. You're constantly tired, you're constantly working, you're constantly travelling, you're constantly sore.
"So when I left, it wasn't good initially, but about two weeks after, I started to feel a lot happier. My outlook on life became a lot better. So I'm very happy being home with my family and just enjoying wrestling again. I didn't really enjoy wrestling when I was in WWE, because it's more of an entertainment-based industry over there."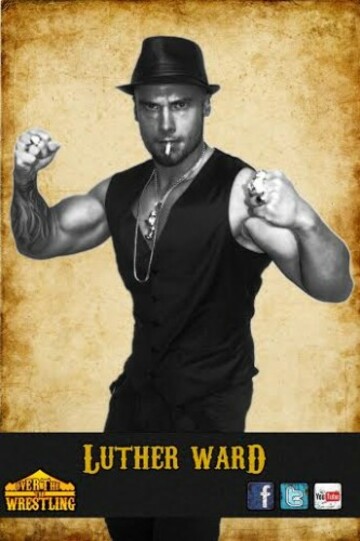 (Cabray wrestles as 'Luther Ward,' who is based loosely on Brad Pitt's character from Snatch)
Yet while it may not have worked out for Cabray, he still acquired some invaluable experience during his tenure with the company. Much of the 32-year-old's time was spent in the organisation's famed performance centre in Florida, where he worked with many of the company's most prized assets.
"Anybody who's had an injury like Triple H or Undertaker or John Cena or Batista — any of those guys would come down and train with us in the ring as part of their rehab. The facilities in Florida are pretty awesome because they have everything you need — a rehab room, six wrestling rings set up, cameras where you can do something and watch it back. So guys who are returning from an injury or who have had time off, they go back there to get rid of their ring rust."
Cabray has now been home in Ireland for roughly a year after parting ways with the company. However, work in wrestling has hardly dried up since, as he estimates he's had only "two or three" weekends off since his return to these shores.
"I'm going to Belgium this week, and in a couple of weeks' time, I've got Germany. So I'm relatively busy."
In addition to taking part in wrestling, the 32-year-old Dubliner also coaches it, as well as spending time working as an events promoter.
"I'm studying health and fitness too, so I understand that this isn't going to last forever. I have my back-up plan," he says.
Moreover, one of the most notable organisations that Cabray is now involved with is an Irish company — Over the Top Wrestling.
Its first event took place to great acclaim last month in the Tivoli Theatre in Francis Street, Dublin, while a second event is planned for the same venue on 15 November.
So what can fans expect from Ireland's only over-18s wrestling event?
"WWE is currently more focused on parental guidance, so it's a lot harder for older wrestling fans to be entertained by it. So we're going back to offer a more adult-themed wrestling show.
"It's basically just an alternative. I think a lot of older fans wish WWE was harder edged, which is what we strive for, with adult-oriented storylines as well.
"A lot of fans today grew up with

the Attitude era

, which was really embraced. It's hard to stay a fan now that it's reverted back to a PG product. So if you were a fan of the Attitude era, that's what we're trying to do."
Cabray wrestles as 'Luther Ward,' who is based on Brad Pitt's character from Snatch, and is "basically a hard-assed bare-knuckle boxer-type take-no-bulls**t character".
Nonetheless, for all its allure, with countless other forms of entertainment currently vying for people's attention, a wrestling event could be construed as a hard sell for a country that has yet to fully embrace the activity. Nevertheless, Cabray remains optimistic that there is a market for Over the Top Wrestling in Ireland.
"It's all about getting people to take a chance and part with their money to be entertained. We had the first OTT show there last month and it got rave reviews, so I think it's a product we can definitely expand."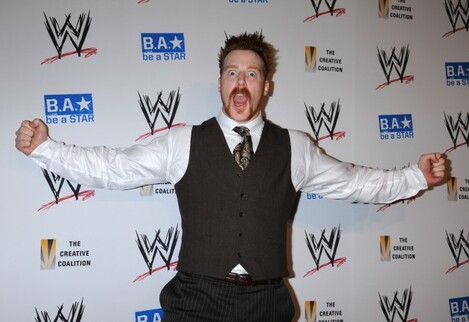 Source: © Tammie Arroyo/AFF-USA.COM
(Irish wrestlers such as Sheamus have had a big impact on WWE)
In addition, Cabray believes the Irish wrestling scene is stronger than ever.
"Wrestling's only been around for 11 years in Ireland, compared to other places like Britain and Germany, where wrestling's been going on for 60 or 70 years, yet we've produced some unbelievable talent.
"Fergal Devitt is considered one of the best wrestlers in the world. He was in Japan until recently, now he's in WWE. We also have

Becky Lynch

, who was actually my roommate in Florida. She's considered one of the best talents in the world and she's also in WWE at the moment.
"And there's been various other Irish guys who have been signed to WWE and it just didn't work out. But for a country so small, it's incredible. Some of our guys have also gone to Japan and represented us really well."
Furthermore, for such a passionate advocate of wrestling, Cabray ironically at first never intended to compete in it.
"What happened was that I knew a guy who wanted to start a wrestling school," he explains. "He approached me about helping him. So I thought 'that sounds kind of interesting to get the first batch of Irish wrestlers'. But what happened was, when we opened the school, all the guys that wanted to train were very young — anywhere between the ages of 10 and 16. They weren't people who could represent you as a wrestler on a show.
"I've always had an interest in lifting weights and stuff like that, so my business partner said 'you're going to have to give this a shot'. I originally broke in because I wanted to promote events, but when I started doing it, it was something I had a knack for. So it was just something that evolved over time and I was getting shows all over Europe, so I decided to stick with it. In Ireland, we do have a wrestling school, just located off the Black Horse pub [in Crumlin], right on the Luas line.
"Wrestling doesn't get the credit it deserves. It's fairly hard. A lot of people come to try it out and only last two or three sessions, because it's just so grueling."
And this physical turmoil can sometimes ultimately lead to problems of an emotional nature.
The Oscar-nominated 2008 movie The Wrestler encapsulates the issues that many athletes in the business must face up to as they get older and more injury prone.
Moreover, on a related note, the premature deaths of several wrestlers, such as Eddie Guerrero and Davey Boy Smith (better known as 'The British Bulldog') have been linked to drug abuse and the toil that comes with the lifestyle which the business demands.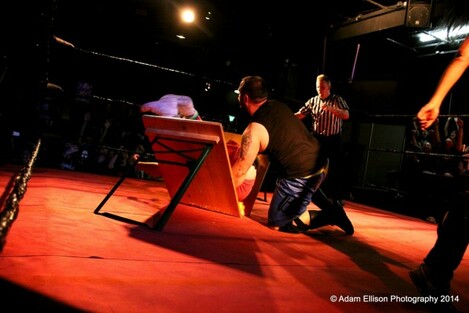 Source: Picasa
(The popularity of wrestling in Ireland has increased substantially in recent years)
To address these issues, in recent years, the WWE have developed a much-publicised Wellness Talent Program to look after athletes' various problems, while Cabray believes wrestlers are now better placed than ever to prevent similar issues from occurring in the future.
"I think back in the 80s and early 90s, there were a lot of guys who just didn't plan for the future," he says. "They were on a high for so long and never thought it was going to end. I have come across those former WWE guys and unfortunately, they are kind of sad. They're a picture of the movie The Wrestler. They're broken down. They're still trying to hustle and it's not nice to see some of your heroes in such a bad way. But I think these days, there's much more education.
"It's kind of like young kids saying 'I want to play for Manchester United'. The chances of it are very slim, so people these days are employing a back-up plan. The good thing about WWE is they tell you that it isn't going to last forever, even for people who make it to TV.
"They were offering scholarships while I was there. It's their MO to stop wrestlers dying young, to try to say 'look, wrestling's drying up now, so maybe I should go back to that degree I have from college'. I don't envision too much tragedy [in the future]. Once guys get fired these days, they start looking at the bigger picture."
One of the other perpetual problems with wrestling, and perhaps one of the reasons its level of popularity is constantly changing, is the sense of embarrassment or shame many older fans feel when watching something that detractors label as 'fake'. The promotional video for Over the Top Wrestling (which can be seen below) alludes to its somewhat taboo nature, and Cabray admits relating to it.
"I've been a wrestling fan since I was a kid. I'm now 32. I grew up with wrestling through the highs and the lows of popularity. I remember the time the Attitude era started to kick in in the late 90s and early 00s, and it became popular to wear wrestling shirts. Walking around town, you'd see somebody wearing an Austin 3:16 t-shirt.
"It's become popular again, but over the last two or three years, they've drifted back into that PG, kids-aimed style of product. There would be times when I'd be watching the current WWE product and I'd be a bit embarrassed sitting there with my friends.
"That's the one thing about our shows — we've made a promise that there won't be anything that you're embarrassed about. Everything is going to be hard-hitting wrestling action, and good, hard storylines. In this day and age, it's like somebody watching kids cartoons. [Watching it] is not something you're going to shout about from the hilltops. But every time Wrestlemania is on, the pubs fill up. So there are people out there still watching it."
Source: Over The Top Wrestling/YouTube
'Outer Space Odyssey' takes place in the Tivoli Theatre on 15 November. Tickets can be purchased here. You can also follow Over the Top Wrestling on Facebook here.