FIVE DAYS AND 300 frigid, frigid miles later, Irishman Gavan Hennigan has finished second in the 'world's toughest adventure race', setting the third fastest time in history doing so.
The Galway native finished the course in just over 123 hours, about six hours behind Jan Kriska who set a new record for the race in 117 hours, 26 minutes.
It wasn't easy for Hennigan, who had just six hours sleep over the course of the five days, but he had a very good reason to get to the finishing line despite the -30°C temperatures and hallucinations.
He was running to raise funds for his friends Breeda (from Galway) and Bjorn (from Sweden) Jacobsen, who needed to raise €85,000 for their son Johan who required an operation known as Selective Dorsal Rhizotomy (SDR) which permanently removes most, if not all, of the spasticity that comes with cerebral palsy, a condition the toddler was born with.
"Johan actually had his operation yesterday (Thursday) and everything was successful," Hennigan told The42 from his hotel room in Canada where he's recovering from his grueling week.
"It's still too early to tell if it'll work but the hope is that it has and they're confident that he will be able to walk after his physiotherapy and that."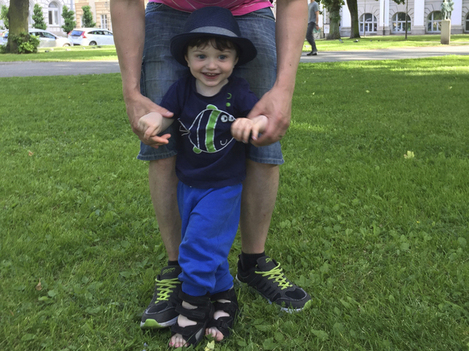 Johan had his, hopefully, life-changing operation this week. Source: For Johan
And the youngster — for whom Hennigan raised over €6,000 by taking part in the Yukon — was definitely on his mind as he struggled through some of the tougher sections of the course.
"It was definitely a help to me if I was starting to feel sorry for myself. I mean, it was tough out there but I always have to remind myself that I paid to be out there, this is my holiday and was something I was doing for fun. It's not life-changing like what Johan has been through.
"He's got a lot tougher challenge on his hands and that certainly puts things in perspective."
As for the race itself, Hennigan admits the racers were lucky temperatures didn't drop as low as the -45°C they have some years. The 'milder' weather didn't stop some athletes having to drop out and others getting frostbite, however.
"Just to finish the race, that was a massive goal and I didn't really want to jeopardise my chances of doing that by going too hard for the win. There's a very fine balance, especially in those conditions, between looking after yourself and pushing yourself.
"If you put too much energy into racing somebody, that's time and effort that has to come from planning your rest or nutrition, so you have to be really careful out there over such a long race.
"Thankfully the weather didn't drop as low as it has done historically but it did get into the minus thirties a couple of nights. The worst part though was that it actually snowed the first day and that made it really tough to move.
"Even though it got really hard at night time, there was still a lot of beauty in it as we had the Northern Lights on a couple of nights so things like that make the conditions a bit easier."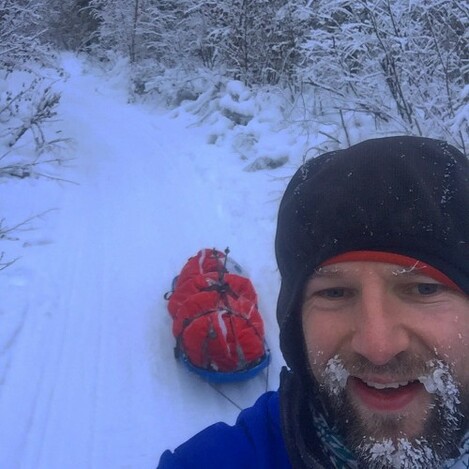 Source: Gav Hennigan
Because the race is non-stop, competitors need to manage their own sleeping arrangements rather than relying on checkpoints to let them know where and when they should sleep.
"From the second you start, the clock is always ticking so when you choose to rest, the clock doesn't sleep with you so you really need to be focused. And the race is so long — there are still people finishing this morning and I finished three days ago — it's very hard to keep on top of that.
Be part
of the team
Access exclusive podcasts, interviews and analysis with a monthly or annual membership.
Become a Member
"My plan was to get to the 100 mile checkpoint without any sleep and I actually went beyond that, which probably wasn't the best idea, but I had certain ideas in mind of where I wanted to be at certain times and I largely met them.
"What did kind of throw me was that I kept seeing the guy in first place at checkpoints. He'd be just finishing up a break and leaving as I'd be arriving. It was weird seeing someone else because you're so alone in one of the most sparsely populated places on the planet and all of a sudden you see this guy, who you're technically racing, agonisingly close to you."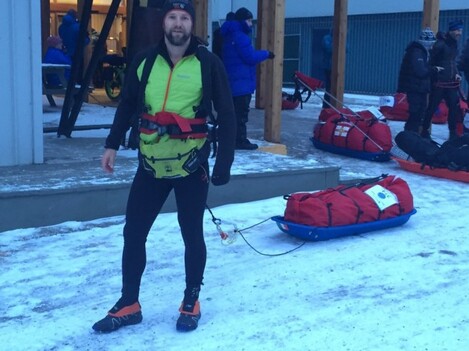 Before the race got under way. Source: Gavan Henningan.
However, it was the other people Hennigan saw, those that were not there, that worried him the most. It was just one of the side-effects from the lack of sleep.
"I did have some very hard times, hallucinating from lack of sleep, and whatever aspirations I had to win didn't matter at all from then, it was just about finishing the race.
"The actual trail we were on is just going through wilderness but it does go through really dense forest so you can imagine you're going down this six-feet wide path and there are trees all around you and I was seeing all sorts of shapes and figures in the trees.
"Once that starts, it's really hard to snap out of until you go for a sleep so just trying to stay 'with it' became my biggest challenge.
"The longest sleep I had over the five days was two hours, but the other ones were just like 20 minutes at a time where I wouldn't even bother getting into the Bivouac (a survival shelter), instead I'd just pull the sled over and close my eyes.
"Usually, it was only just enough of a nap to keep the sleep monster at bay."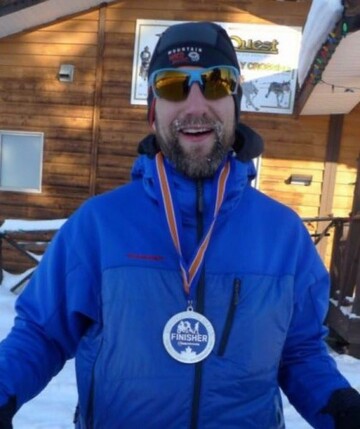 Source: Gavan Hennigan
Unsurprisingly, Hennigan has spent most of the three days since completing the race trying to catch up on sleep.
However, he doesn't plan on resting for too long. First up there's a series of talks he's doing with schoolchildren and others about his adventures and the small matter of an expedition along Lake Baikal in Siberia in March.
At 636km long, it is the oldest and deepest lake in the world but for Hennigan, it's just another opportunity to push himself.
While his operation was, hopefully, a success, donations are still needed to help raise funds for the physiotherapy Johan Jacobsen will need if he hopes for walk. You can find out more information and donate here.
The42 is on Snapchat! Tap the button below on your phone to add!