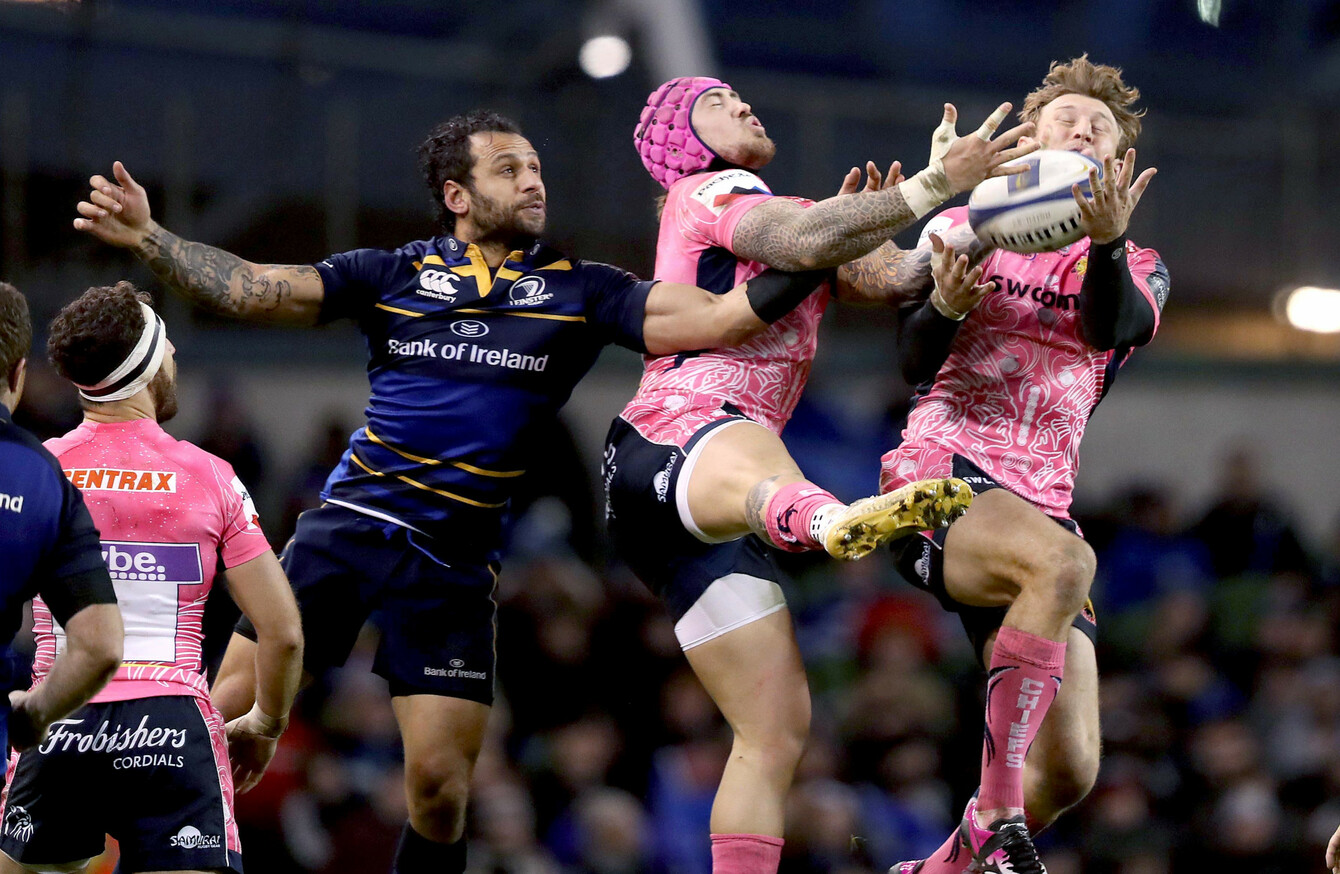 Image: Tommy Dickson/INPHO
Image: Tommy Dickson/INPHO
Sean Farrell reports from the Aviva Stadium
A MAN FOR all seasons, all positions and any scenario when Leinster need a steadying presence.
Isa Nacewa's influence on Leinster during today's Champions Cup win over Exeter Chiefs was much greater than his just his flawless six-from-six goal-kicking.
When Ross Byrne suffered his injury in the seventh minute and his participation was in doubt as he headed off for a HIA, Nacewa stood within a tight blue circle of Leinster player and seemed to be jabbing individual instructions into every last man.
"He's a remarkable individual, Isa," says Nacewa's former team-mate and now head coach Leo Cullen.
"To think he retired from the game five years ago! It's pretty incredible what the guy is able to do.
He's stepped up, kicked the goals, led the team. He's pretty much doing it all. Off the back of the six-day turnaround and he's had (ankle) surgery not long ago. Incredible."
31 was always too young for Nacewa's talents to be taken out of rugby. However, his two years as mental skills coach in Auckland have undoubtedly freshened his body and mind up to allow him compete four and a half years on in punishing encounters against a team as tough as the Exeter Chiefs.
Not only to compete, but to step in and take the reins at out-half without a blink of hesitation – albeit for just six minutes – and to convert all six of his chances off the tee.
Some of his strikes may have been unconventional, but every last one was a pressure kick.
"It was brilliant for us that Isa showed such composure," says Garry Ringrose.
"Going in at half time with those three points – that he just about got over – that was really good for the group.
"We try and learn from scenarios like Clermont last year. When we go behind that we trust the people on the pitch, trust system and what we've done in training.
"When you've guys like Isa amongst the team leading us, he raises that intensity and we get those messages at half time.
I find myself incredibly lucky to be on teams with somebody like Isa. The intensity he brings, as well as a relaxed calmness he brings, when times are tough."
As an 18-year-old, the centre must have thought he and Nacewa would remain firmly in different Leinster eras when the Aucklander retired first time around. Already mature beyond his years, Ringrose is hoovering up information from his skipper.
"It's not the ideal start, but Leo always pushes it in meetings that situations arise like that and there are injuries in games, you have to be prepared to react.
"We're a group of brothers out there and with somebody like Isa there leading us we follow his example."
The example has played a massive part in keeping Leinster with a perfect record through four games in what, from the outset, looked like the toughest pool in the tournament.
A six-point advantage at the start of the week looked in serious danger when the hosts were 14 points and a Jonathan Sexton down in the Aviva, but the composed comeback keeps Montpellier at a five-point arm's length despite their bonus point win over Glasgow. So Cullen could go away satisfied… well, reasonably satisfied.
"We weren't really in the game for the first 30 minutes. Exeter were by far the better team at that stage.
"When Scott (Fardy is) in the bin we managed to control possession that little bit better. We eked out a couple of penalties and showed reasonable composure to get our way back into the game, those two penalties just before half-time were important for us to stay in touch.
He added: "mixed feelings, thought we could have been better. But also very proud of the players the way they were able to dig themselves out of trouble.
"If we want to progress in this competition, we need to get a lot better."