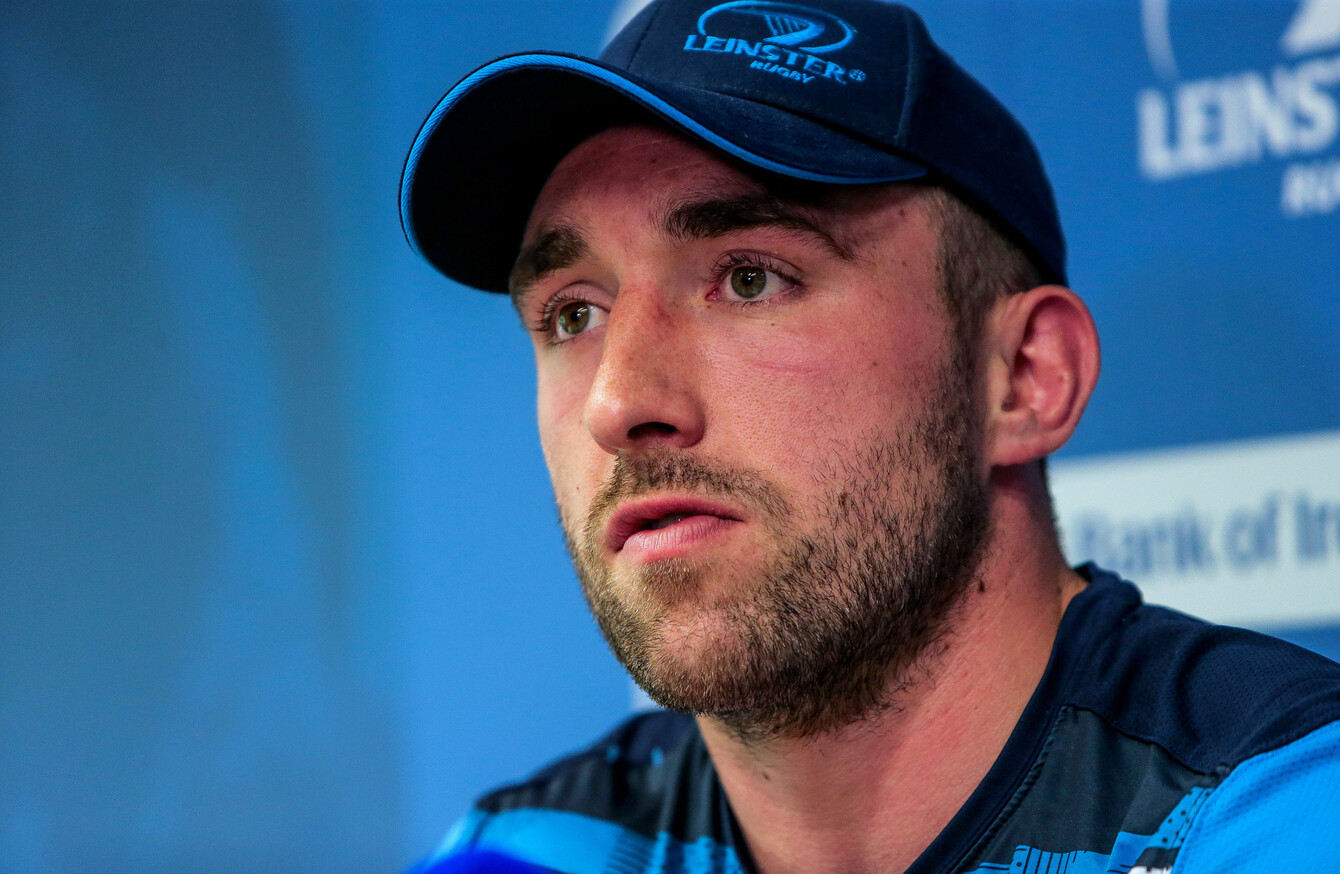 Conan speaking at Leinster HQ earlier this week.
Image: Gary Carr/INPHO
Conan speaking at Leinster HQ earlier this week.
Image: Gary Carr/INPHO
TWICE LEINSTER HAVE been in this position previously, and twice a post-European hangover has scuppered hopes of a first Champions Cup-Pro14 double, but Jack Conan admits it's easier to focus on the job when Munster are coming to town.
Leinster have had little time to dwell on a fourth European crown, with all eyes now on securing a first double having lost Pro12 finals to Munster and Ospreys in 2011 and 2012 after reigning supreme on the continent.
There are also lessons to be learned from recent experiences, too, with the province's Pro14 form falling away over the last few weeks, albeit after they had all but secured top spot in Conference B.
Leinster's last game at the RDS was the shock defeat to Benetton and in between their Champions Cup semi-final and final victories came that thrashing at the hands of Connacht in Galway. There are more than a few rights to wrong in that regard, particularly for the players who were involved in those games.
"It is and it isn't, to be honest with you," Conan said, when asked if it would be easy to turn the page this week. "It's easy to turn the page when it's Munster you're playing against.
"In previous weeks we'd massive games and then the next week we probably didn't have as much on the line, and went in and underperformed against teams which were up for it more than we were, which is never an acceptable standard for us.
"It is tough because it [last Saturday] was such a massive day in this club's history, and fantastic to be a part of, but from the past few weeks nobody wants to sit in the dressing room feeling the same way after losing to a Munster side. We won't be dwelling on it for too long."
Conan is set to come back into the Leinster team for the weekend's Guinness Pro14 semi-final after replacing Jordi Murphy in Bilbao, with the number eight admitting his form hasn't been good enough in recent weeks after a knee injury disrupted his season.
The 25-year-old spoke with refreshing honesty on Monday, conceding his own high standards have plunged in recent weeks, even if he made a big impact off the bench against Racing, most notably forcing Teddy Thomas into touch during the final, tension-laden minutes.
"I was a bit disappointed not to start last week but I hadn't been performing to the point where I probably deserved to do so," he continued.
"I'd obviously had an injury in the last few weeks. That gave me a short window to get back and play and the only game that I did get to play, or start in, was the Connacht game which obviously wasn't a glowing audition for myself.
"I was disappointed considering how much I had played in the group stages and leading up to that.
"But I think you have to swallow your pride and get on with it. It's all about the collective and the team, you can't be sitting around, sulking and feeling bad for yourself."
Despite missing out himself, Conan's personal disappointment was tempered by delighted for the departing Murphy.
"For him to get the start on such a big day, I couldn't have been happier for him, for such a great bloke. I think it was a touch of class from Johnny and Isa to get him upfront to hold the trophy. He's added so much to this club, and he'll definitely be sorely missed."
Leinster are hungry to experience that winning feeling again, and victory over their southern rivals this Saturday would be a major step towards achieving that. One trophy in the bag, but there is another to play for.
"It is tough because it was such a massive day in this club's history and something that was fantastic to be a part of," Conan adds.
"But from what has happened in the past few weeks, nobody wants to sit in the dressing room in that stadium feeling the same way after losing to a Munster side.
"So we won't be dwelling on it for too long. We were very slowly turning the page for two days. There's always added emotion, added pressure when you're playing in a derby game — Munster in the RDS for the first time in a good few years as well. I think that makes it even more special.
"Every time you're playing another province, you know you're playing against someone who is potentially a step ahead of you when it comes to getting a green jersey so there's massive pressure. It's something we relish."
A tilt at a historic double awaits, and Leinster will settle for nothing less.
"Obviously it's been fantastic, winning at the weekend. But when you're looking back in two or three months' time, you'd be reflecting on it in a different manner.
"'Yeah, that was a great day'. But, if we don't finish on a high it's definitely going to be tarnished in some small way."
The42 is on Instagram! Tap the button below on your phone to follow us!