THE 2015 SEASON may not have gone too well for St. Patrick's Athletic but for James Chambers, there were plenty of positives.
The Saints' supporters voted him their Player of the Year while he was included in the PFAI Team of the Year too.
And then, just like that, in his prime, he was gone.
In January, he signed a two-year deal with Bethlehem Steel, a new club based in Pennsylvania who ply their trade in the United Soccer League (USL) – the third tier of North American soccer.
Like many other USL teams, the Steel are affiliated to their local Major League Soccer side – in their case, the Philadelphia Union.
The league boasts an incredible 29 clubs, split between an East and West Conference and there's the usual play-off structure at the end of the season to determine the championship winner.
It's all very different but that's what excites Chambers and it's one of the reasons he agreed to the move.
"I just fancied a change", he says.
"A different type of football, a change in culture. I played in the League of Ireland for ten years and just wanted to try something different.
America was definitely in the back of my mind. I had heard that the game was growing and when the opportunity came up, I just said I'd be silly not to give it a go."
It's full-time football and contracts are for 52 weeks of the year.
The Steel play in a 16,000 capacity stadium and train at the Union's 18,000 all-seater home.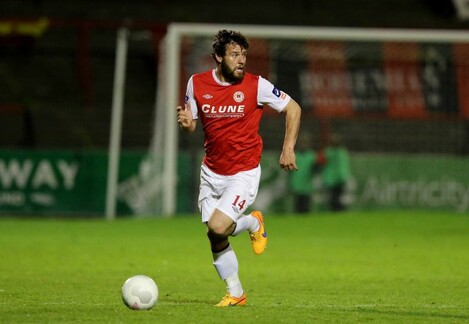 Source: Ryan Byrne/INPHO
In about twenty-five minutes, Chambers is in downtown Philly. He can take the New Jersey Turnpike and I-95 and be in New York City in just over two hours. He can be in Washington DC in about three.
There's a support network of sorts. On the other side of the country, his former St. Pat's team-mate Derek Foran is with the USL side in Sacramento, as is Tommy Stewart, formerly of Derry City and Shamrock Rovers.
In the tier directly above – the North American Soccer League – former Sligo Rovers' midfielder Richie Ryan is captain of the Jacksonville Armada while Colin Falvey is the skipper at Indy Eleven, with Eamon Zayed one of his team-mates.
When Chambers outlined his ambitious plans to Pat's coach Liam Buckley, he received nothing but support.
Throughout his own playing career, Buckley traveled extensively. He turned out for teams in Switzerland and Spain while he also had a short stint with Vancouver Whitecaps during John Giles' time in charge of the Canadian club.
Chambers sought the counsel of Ryan and Foran too and after their glowing reports, his mind was made up.
There were a number of teams interested but the Steel were top of the queue. And Chambers was impressed by the confidence the club showed in him.
"I spoke to the coach who's here and they were the first ones to put the offer in. But they were taking a chance on me. They had done their research and spoke to people they would've known but they probably wouldn't have seen me live. They showed a lot of faith."
Chambers played for five teams between 2008 and 2014 – Shelbourne, Drogheda, Shamrock Rovers, Hamilton Academical in Scotland and Pats. He was used to change. But nothing like this.
At Dublin Airport in late January, he said a final farewell to family. It was hard.
"I'm extremely close to them – there's only four of us – so saying goodbye to them and close friends was the most difficult part. But I knew what I was getting myself in for and had prepared for it. But when I landed and touched down, the realisation hit that this was actually happening.
To be honest, I was overwhelmed by the well wishes that I got from people who I wouldn't have spoken to in a long, long time, who just wanted to see me do well. That was extremely nice."
Within days, he was on a training pitch with his new team-mates. The first fortnight was difficult as he sized everything up but there have been noticeable differences between USL and the league back home.
"I hadn't experienced cold quite like it until I got here", he admits.
"We were training indoors on astro for the guts of five or six weeks so it was a bit difficult to get used to.
We're a brand new team so everyone is out to prove a point. First impressions were that it's little bit quicker. The technical level varies an awful lot. 90% of the players are way more athletic than they would be back in the League of Ireland. Especially for me, who wouldn't be the quickest, I have to be a little bit sharper in my head. The athleticism is a big difference for me. But I've only played three games."
It would've been four but for a pithy red card he picked up in a 4-0 drubbing at the hands of the New York Red Bulls' reserve side.
"I knew you'd bring that up! I'm still getting used to the referees over here!", he says.
"There was thirty seconds left in the game so even if the ref thinks it's a yellow card, you would've thought the officials would've had a bit more cop-on. I paid for that now by missing the game last week. It really annoyed me, to be honest. I thought I had decent performances in the games that I've played in so I'm just looking to get back as quickly as possible and play as much as I can."
The 29-year-old hasn't even been in the country for three months yet but he's learned a lot about the potential opportunities available to young Irish footballers in the US.
"Since I've been here, it's opened my eyes an awful lot", Chambers says.
"When I was younger, it was always about going to play in England. I got offered a scholarship to go and play in the States when I was in sixth year. But it wasn't that big back then. It wasn't the right time for me, for family reasons. I wasn't prepared to move away for four years at the time.
But seeing it now, young players can come here straight from their Leaving Cert, get an education, come out with a degree in their back pocket and if they're good enough they'll go directly into the draft. That entitles them to be selected by MLS clubs and if you come out of there as one of the top-six, your first professional contract is the guts of 62 grand a year. Straight out of college, that's pretty impressive when you have a degree too. It's a no-brainer for me. If I could do it all over again, I'd be on the first plane to come over and get an education from it."
Chambers has spoken openly about his battle with depression but he's doing well and looking forward to the future – whether that means a long-term stint in the US or not.
"Once I'm in a good place and I'm happy with me as an individual, then the football takes care of itself. I think most footballers would feel the same – once you're happy off the pitch, you're happy on it.
I'm just focused on impressing people here. By all accounts, before the sending-off, all impressions were good. I can't say what I'm going to do long-term because you don't know what's around the corner in life, never mind in football. Depending on what opportunities arise down the line, then I'd be prepared to sit down and see what happens."
One final thing. The Rocky steps. Has he paid a visit yet?
"I haven't been down them yet but I might need to do that because I missed a game last weekend."
The42 is on Snapchat! Tap the button below on your phone to add!