CROSSFIT IS A word that is being thrown around more and more these days.
For most people, it's just a form of training. But for Jamie Headon, it's his life.
Now in the elite group of just three Irish men to have qualified for the Crossfit Regionals — Dominic Munnelly and William Walshe competed in 2011 — and recently crowned 'Ireland's Fittest Man' for the third year running, his days and weeks revolve round Crossfit.
Training, nutrition, and everything in between.
Being the best he can be.
Crossfit is a fitness craze which has come to the fore over the past few years. Headon tells The42 that it's 'constantly varied functional movement performed at high intensity,' but in his own words, it's much simpler than that.
"What I think it is is a test of overall fitness," he explains.  "It's that, and can you be prepared for anything — whether that be sprinting, jumping on the bike, getting on the rower, lifting as heavy as you can, doing handstand walks, doing rope climbs.
"They can throw anything at you. You don't know the workout until you show up on the day of the competition. You've no idea what's coming.
"It really is just a test of fitness and using your body. There's very little machines, it's all putting you upside down or making you lift weights yourself, making you do pull-ups, muscle-ups.
"It's a test of fitness to see how far you can go."
Intense is just one word that springs to mind when he speaks about his day-to-day life.
The majority of his days are spent in his gym, Chapter2Fitness in Sandyford. At the minute, he's training up on three times a day, five days a week, and for up to two hours at a time.
Headon trains under the guidance of New Zealand native Andy Ewington, mainly on his own, but sometimes alongside a partner.
"I get so hung up on sessions," he smiles. "I'm always trying to do the very best I can — whether it's my morning session, my evening session, a competition, I take it all the same. Every week I'm out to be fitter than the last."
Having taken a small step back from coaching to focus on his own commitments in the run up to the Meridian Regionals — which kick off this weekend in Madrid — he's hoping that his insane efforts over the past few months, and years, will pay dividends.
In terms of training, it's a heavy load.
Ewington sends over programmes every morning, generally one which he'll follow for the morning session and one for the evening.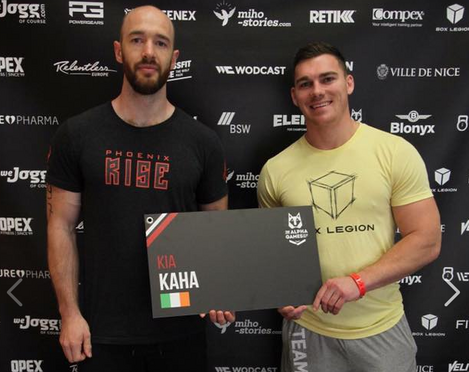 Headon with his coach, Andy Ewington. Source: Chapter2Fitness Facebook
"I always cover the bottom and only see the morning one, otherwise I'll be stressing out over the amount of work I have to do that day."
The first session of the day  kicks off with roughly 90 minutes of aerobic work. The skier, the rower and the bike are just some of the machines he uses, and sometimes there could be running involved. "Basically straight fitness and building your fitness levels," as he puts it.
Then it's onto another 30 minutes of 'accessory work.' It could be anything from handstand walks to rope climbs, sit-ups to L-sits. Essentially a lot of gymnastics training.
"Not too taxing, but it's skill work," he continues.
In between sessions, it's all about refueling and recovery. Lunch, possibly see some clients, and sometimes a flying visit to his partner in crime at the gym and physiotherapist, Gary Burns.
Burns runs the gym alongside him, and he's a strength coach as well as a physio. Headon utilises his services once or twice a week, just to keep in shape in terms of injury prevention.
Then, it's back to the grind. Another two-hour long session beckons.
This one is centred mainly on strength training — weights, weights and more weights.
"Pressing, squatting, dead lifts and basic movements. Then we go into Olympic lifting, snatch with a clean and jerk. Either go as heavy as you can or lots of volume, lots of reps."
Considering how he's feeling, there could be a third session.
Be part
of the team
Access exclusive podcasts, interviews and analysis with a monthly or annual membership.
Become a Member
"It depends on how taxing the sessions are and how much rest I need to attack them properly. Every day has aerobic work, skill work, heavy work, heavy Olympic work, and then low Crossfit work.
"I spend my whole day here [the gym], I spend way too much time…"
He knows that's what it takes though.
When it comes to his diet, he laughs that he eats a crazy amount. Fuelling his body accordingly to match his training load is hugely important though.
"I don't need to be too strict, but I'm still probably having around 4000 calories a day, it's a lot.
"The whole Crossfit world is completely different to bodybuilding. Bodybuilding guys aren't based on strength and fitness, just physique and how they look. Mine would be the opposite.
"Obviously when you're training you want to look well but that's not at all the focus for me right now. The only focus is performance. It doesn't matter what calories I'm taking in as long as I'm constantly eating. I need to eat enough to fuel my training.
"That also comes to the side where I don't really need to focus on that good of food because I'm always burning it off."
Source: Chapter2Fitness CrossFit C2F/YouTube
In the morning, it's oats with blueberries, honey and almond milk before his first session of the day. A coffee and a protein shake are also part of the pre-morning workout checklist, and he's set for the day.
"After my session, I will have a protein shake again. I'll have a BattleOats bar so it's more carbohydrates — it's just like an oats bar.
"Then there's a place we go for breakfast, and have these eight-egg omelettes. It's handy because there's like 10 gyms in the area and they know we're all freaks, so they make eight-egg omelettes that are perfect for us.
"At lunchtime, I'll usually have chicken and bacon, either in a sandwich or in a salad.  Then, I'll train and have protein again. After, I'll have a snack and then my dinner and a snack again.
"A snack could be another sandwich. I'm just trying to get fast carbohydrates into me. I have like 12 chocolate digestives a day. I'll have three sets of four of digestives with Nutella — just because it's really fast, easy and I like it.
"All of my food is based around meats and carbs. It's always going to be chicken and bacon, or steak and bacon, or mince."
As he stresses, the Dubliner isn't over-strict with himself. Once something doesn't hinder his performance, he allows it.
"I'm always getting takeaways just because I like them and it doesn't affect me so far. I was in Bunsen last night. As long as it doesn't effect my performance I don't mind. I'm constantly eating, nothing too heavy.
"People say my diet isn't really healthy — that won't affect my performance though.
"Going out drinking has taken a hit. If I find drinking slows down my recovery and makes me sloppy the next day, that needs to be pulled."
It's hard to take his mind off training. Headon takes Thursdays and Sundays off. That said, they're active recovery days.
"On Thursday, I'd go swimming. It's skill work, I'd spend an hour and a half in the pool with a coach. Every year they bring new stuff into Crossfit.
"Last year swimming started to come up a lot more so I needed to get a swimming coach. I always have to be active."
He grins that his girlfriend is always trying t0mkeep him away from his 'training cave' in his free time.
"She's always trying to pull me out of here to go for dinner, go to the cinema, take the dogs for a walk. Getting away for a weekend down the country or even abroad, little things like that.
"I do loads of sporty stuff and active things, and try stay away from the drinking side of things.
"Sundays are a day off but I take the dogs for a big walk or something like that. I just try to stay away from the gym, I'm made stay away."
You can follow Jamie's progress to the Regionals and Crossfit Games through his Instagram and the Chapter2Fitness Facebook page and Youtube channel.
The42 is on Instagram! Tap the button below on your phone to follow us!