LEADING LEINSTER IS not a new concept for Jamie Heaslip, but there is increased responsibility on his shoulders in his first season as the province's official captain.
The fact that the No. 8 is among the most laid-back individuals in the professional game is certainly helpful, as is his experience of captaining Ireland in the 2012/13 season.
Having worked under the captaincy of Paul O'Connell, Leo Cullen, Brian O'Driscoll, Sam Warburton and others, Heaslip is hopeful of bringing together the various elements that made each of those men strong leaders.
"There are qualities in different people, you know?" begins Heaslip. "Leo is great – you might only hear one thing out of him during a whole week, but when he speaks people listen. It's a real good nugget of information.
He had a calm demeanour, with logical thinking, quite process-focused. Some people like that and others wouldn't; he took no bullshit either.
"Someone like Brian, if ever there was a guy who epitomised putting your body on the line, there's your guy. I'm quite lucky that I had those two in the club for so long, but
there's other guys like Rob [Kearney], like Sean [O'Brien] and younger guys like Rhys Ruddock and Jack McGrath – there are plenty of guys you admire."
Heaslip admits that there is "lots of shit I don't know" about captaincy, but at the age of 30 and with a solid leadership group around him, is confident that he can be a successful leader for Leinster.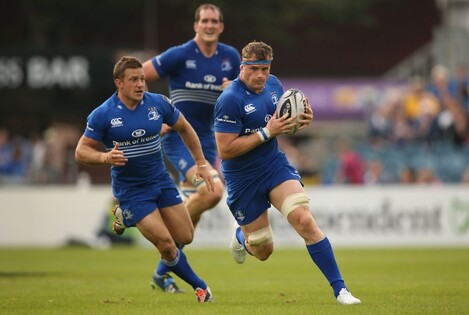 Heaslip was in superb form against the Scarlets last weekend. Source: Inpho/Billy Stickland
Taking over from Cullen is no mean feat, given the retired lock's track record. Heaslip acknowledges that success, before stating his intention to do things his own way.
"I am not Leo Cullen, you know what I mean? I am very different to Leo, I would have a different style; some guys like that, others don't but one thing that I don't think people can hold against me is they can't say I'm not a good professional.
That's what I want to be about and want others to be about; you try and back it up on the day if you can."
Heaslip has long been a process-driven rugby player, focusing on training and preparing to the highest possible standards as a means to producing excellent performances on game day.
That same philosophy will be the core of his captaincy, with the hope that his work rate and appetite for improving every day will prove infectious within the group.
"I'm quite lucky because we've got a lot of different leaders that I can lean on for different things and there are lads in the squad who are not shy about voicing their opinion.
Be part
of the team
Access exclusive podcasts, interviews and analysis with a monthly or annual membership.
Become a Member
"I just try, I suppose, to set a good example on how to go about your business, how to be a pro on and off the field, more in a holistic way because I'm not a scream-and-shout kind of guy 24/7.
Heaslip's leadership will be different to that of Leo Cullen. Source: Ryan Byrne/INPHO
"It might be a bit different in the changing room on the day of a game but I'm more during the week trying to speak with actions rather than words the whole time. We've got lots of talkers anyway so we don't have to worry about that."
The former Newbridge student is famously cavalier in his relationship with rugby, having suggested that he doesn't watch a lot of the sport outside his analysis work. Is his personality not at odds with the image of the rugby-obsessed captain?
I don't know, I can't watch a lot of games. That's not to say I don't watch games every so often. There very much is [a cutting-off point], yeah. But I have to do that for myself, just to keep myself fresh, to be honest."
There is something fitting in the fact that Heaslip was offered the Leinster captaincy by head coach Matt O'Connor in between two pre-season training sessions. A sweat-drenched Heaslip had no hesitation in responding positively.
"Matty just came around to me and caught me just after a training session and said, 'I'd like you to be captain', and I was, like, 'Yeah, deadly'. That was it, I had to go off to another training session and do some fitness."
Heaslip gets on with the hard work.
********************
Jamie Heaslip was speaking at Bear restaurant for the launch of the new MaxiNutrition online shop in Ireland. The online store will allow Irish customers to buy MaxiNutrition products directly, with free delivery on all orders over €40.