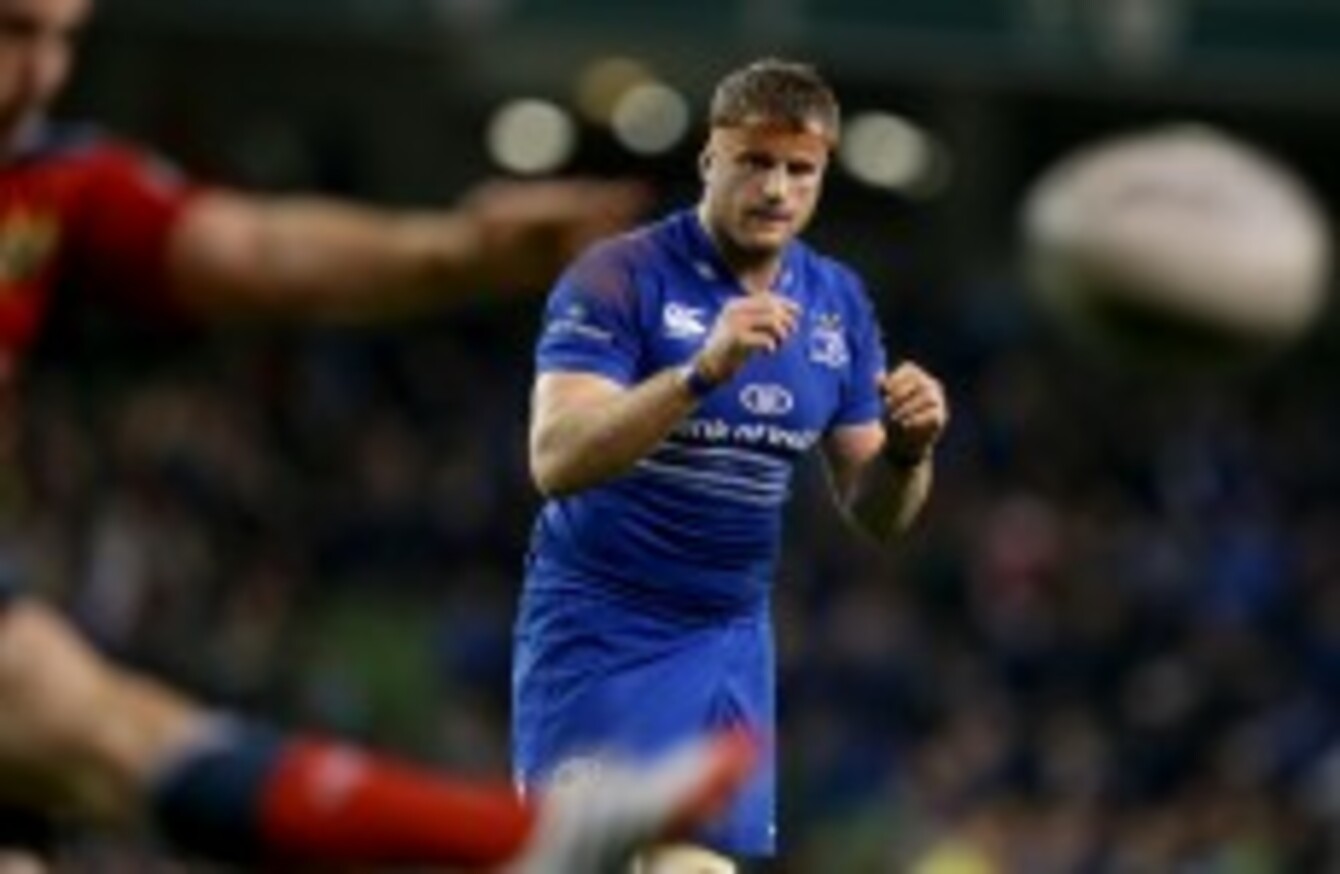 Heaslip watches Munster boot the ball out of play at the end of Saturday's clash.
Image: Dan Sheridan/INPHO
Heaslip watches Munster boot the ball out of play at the end of Saturday's clash.
Image: Dan Sheridan/INPHO
"THE GAMES THAT keep me awake at night are the ones where you feel the team has let down what's gone into the jersey."
Jamie Heaslip begins with a clear indication that Leinster are not accepting Saturday's home defeat to Munster with any degree of comfort.
Over the course of a whistle-stop conversation at the EPCR launch in Dublin, the Ireland No. 8 repeatedly highlights the need for his side to "wear" their loss as they move through the season, reminding themselves of a feeling they don't want repeated.
"You've got to be methodical in reviewing the game and preparing for the next, but in the back of your mind you've got to keep that feeling from the changing room afterwards," says Heaslip.
"It wasn't a nice place to be in and you can't let guys forget about it too much."
Minutes 15 to 40 of Saturday's meeting carry particularly bad memories, as Leinster went from having a 6-3 lead to trailing by 28-9 at the break, having been utterly blitzed by Munster.
That 25-minute period in the first half wasn't the best piece of football that we've played," admits Heaslip.
"We were defending for most of it, but it wasn't good enough – physically, mentally, emotionally, it just wasn't good enough. We'll have to dust ourselves off and go again, but it was a difficult pill to swallow and you've just got to wear it, man."
It all means Leinster have won two of their opening five Pro12 fixtures, after defeats to Glasgow and Connacht earlier in the season.
There is no sense of panic from within, however, as Heaslip insists that Leinster have the quality to drive themselves up the league table in the coming months. Smarter use of possession looks to be the key.
"We are two out of five, which obviously isn't great. It's in our hands, these are things we can control.
"We've shown that when we hold onto the ball, we can break teams down very well, I don't think anyone can disagree with that. Just at times, we haven't been clinical with the ball and we've given some very easy entry point to teams into the game."
Heaslip admits that Leinster's breakdown work simply hasn't been up to scratch at times early on in this campaign, a failing that was more apparent than ever against Munster. Heaslip says that sorting that problem, and others, is a mental issue.
"Breakdown is 40 per cent skill and 60 per cent just mentality," outlines Heaslip. "When we've been good, even in the second-half part of that game [against Munster] when we caused them some problems, is when we went after the breakdown.
We blew bodies out of it, we didn't let them lie on the ball, didn't let them get up on our side of the ball. The guy carrying the ball fought hard to get back, the ball placement was right, the barrels were right and it was quick ball.
"It looks simple when you do that, but you've got to be in the head space to want to ruck."
Heaslip believes Leinster's soft defence at the Aviva played into Munster's hands, allowing them easy gainlines wins. Again, he sees it as a rectifiable problem.
"Munster didn't do anything extravagant whatsoever. Their first two tries were pick and gos, you see that in the AIL. I'm not taking away from them, but that's all they did. It wasn't an extravagant move, it wasn't something really clever.
"It was pick and go, latchers on them and we accepted it. We were too high in the tackle, didn't go low, and these are things we've got to wear.
"The beauty of sport is that there's always another game and lads can hopefully rectify that."