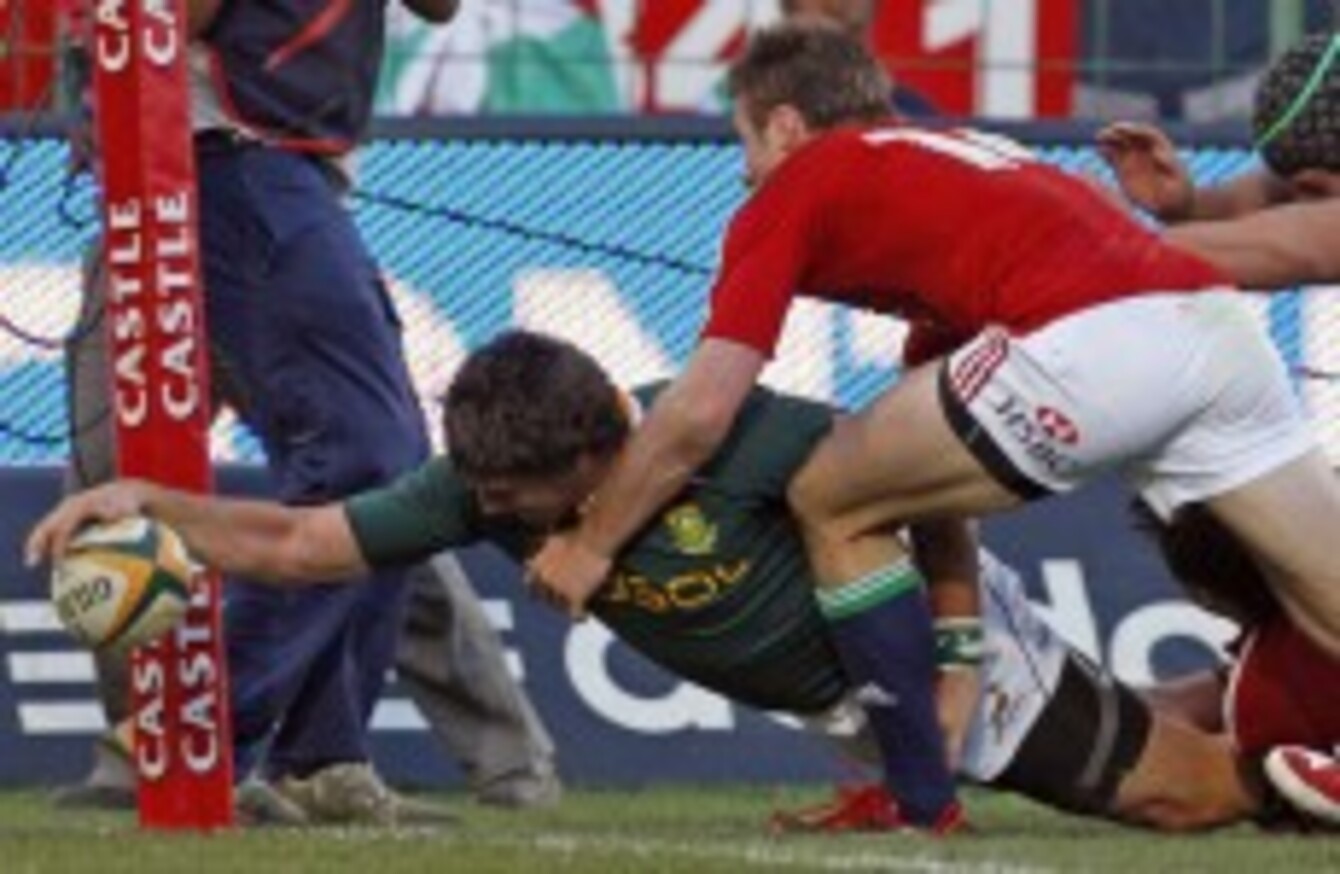 One of Fourie's most famous tries came against the Lions in 2009.
Image: AP/Press Association Images
One of Fourie's most famous tries came against the Lions in 2009.
Image: AP/Press Association Images
SOUTH AFRICA'S CENTRE options look like improving in time for the World Cup with the news that Jaque Fourie is set to come out international retirement.
The 32-year-old centre, who has 32 tries in 72 caps for the Springboks, will make himself available for Heyneke Meyer this autumn, after previously announcing his international retirement in November 2014.
Injury meant that the 2007 World Cup winner hadn't played for the Boks since the end of 2013, and at the time he said he was planning to focus his attention on his new Japanese club, the Kobe Kobelco Steelers.
News of his impending international return was revealed by outgoing Stormers coach Allister Coetzee, who is due to begin coaching Fourie's current Japanese side.
Coetzee told South African TV network Super Sport that while another former Sourth African international, Andries Bekker, whon't be released for the tournament, Fourie will be made availeble to Meyer for selection.
"We have decided as a club that Andries Bekker will not be available for the World Cup, but when it comes to Jaque, we have granted him permission.
"He does want to play in another World Cup and be part of the Bok challenge," he said.
Fourie, at 6ft 3 and 16-and-a-half stone, is a real physical presence in the centre, with his crucial try in the second test between the Lions and South Africa in 2009 remembered famously for bouncing Ronan O'Gara over en route to the line.
Source: tightfive upfront/YouTube
Elsewhere, a good morning for the Boks was made better with the news that captain Jean De Villiers is set to return in two weeks, following his horrific cruciate ligament injury sustained against Wales in November.
De Villiers had been listed as a doubt for the World Cup after the surgery to repair his anterior and posterior cruciate ligaments, but is expected to play a few minutes in the Boks' exhibition game against a World XV on July 11.