COURTSIDE AT A basketball game is a dangerous place.
In pretty much every other sport there are barriers or at the very least hoardings to buffer the nearby fans when a 113 kg superathlete decides to throw his body after a loose ball.
Last night, LeBron James showed just how dangerous it can be when he accidentally crashed into Ellie Day, the wife of Australia's constant Major contender Jason Day.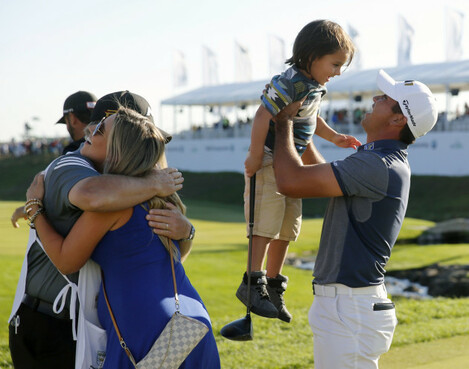 More comfortable: Ellie and Jason (right) celebrate the golfer's BMW Championship win in September. Source: AP/Press Association Images
The incident happened in the fourth quarter of Cleveland Cavaliers' 104 to 100 win over Oklahoma City Thunder in James' home state of Ohio last night.
https://vine.co/v/imE1TL556wg
Play was stopped and James stood by while Day was tended to by the courtside medics.
https://vine.co/v/imEMK7X5jWg
Day, who gave birth to her second child last month, was stretchered out of the Quicken Loans arena in a neck brace, but was reported to be alert. Post-match James told reporters he had been informed she is 'doing great' and Ellie Day has now been discharged from hospital.
"It wasn't anything out of the usual besides the injury," James added
"I was going for a loose ball. Just trying to keep a possession going and I hate that was the end result of it."