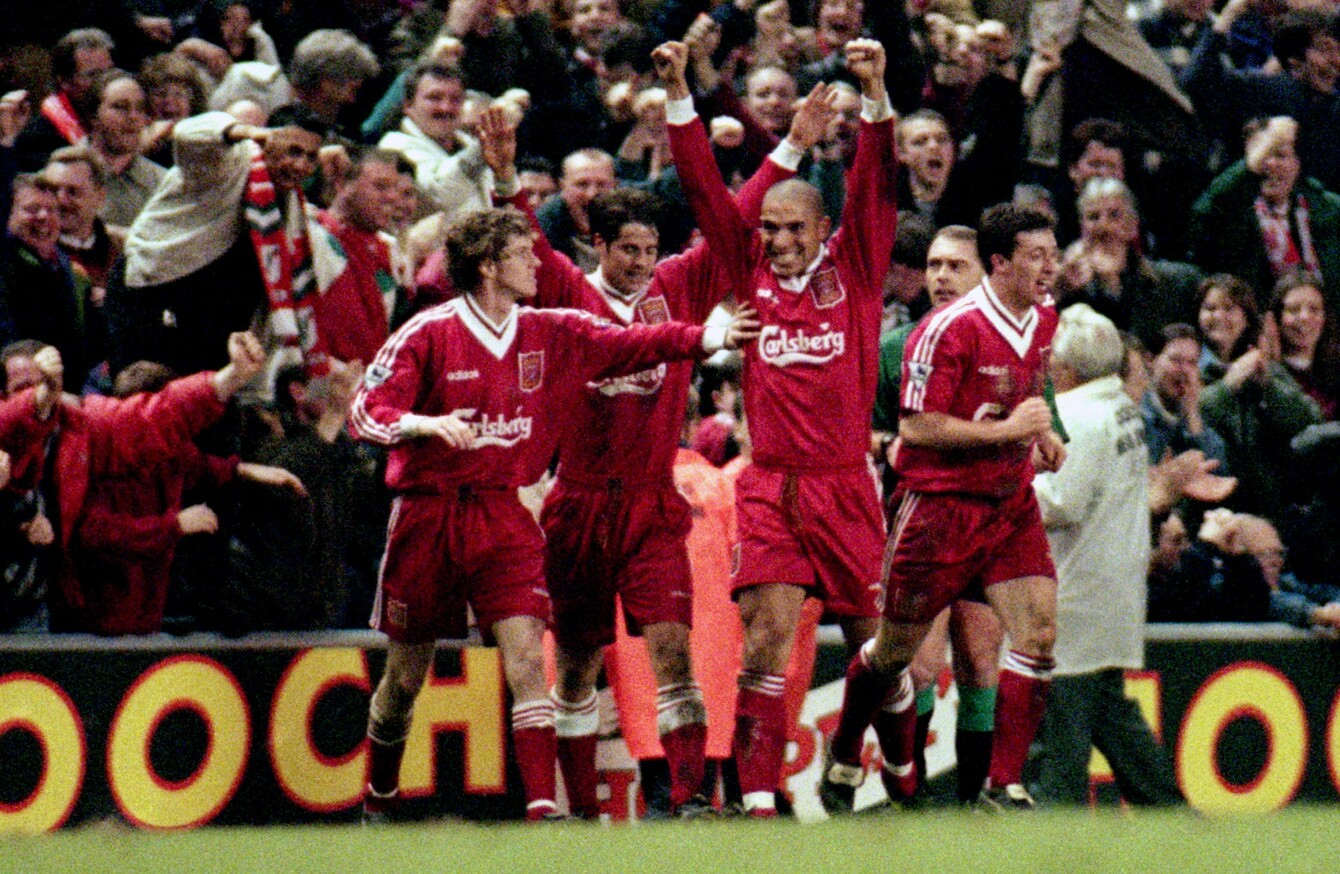 Liverpool's Stan Collymore celebrates the winning goal against Newcastle United in the famous 4-3 game.
Image: EMPICS Sport
Liverpool's Stan Collymore celebrates the winning goal against Newcastle United in the famous 4-3 game.
Image: EMPICS Sport
JASON MCATEER BELIEVES the 1995-96 Liverpool team he played in were "better" than the Man United side of that era but lacked their "mental toughness".
The Liverpool side featured a number of excellent players at the time, including Robbie Fowler, Stan Collymore, John Barnes, Jamie Redknapp and Steve McManaman, though they were up against a United team featuring Eric Cantona, Roy Keane, Ryan Giggs, Denis Irwin, Andy Cole and a young David Beckham.
"We kind of faded away in March and April, we finished third… The following year, we threw it away — the Coventry game (where they were beaten 2-1 at Anfield). We should have won it those two seasons, to be honest.
"I remember signing for Liverpool, we beat Man United at home and drew away, we were by far the better team but it was just that mental toughness that we lacked.
"People say it's the second or third one that's hardest to win but I think it's the first, once you have done it you know what's coming, you know what's in store, you know when it's not going well and how to adapt but the first is the hardest to win."
Source: mdsevers/YouTube
And while the 1995-96 campaign was ultimately a disappointing one for Liverpool, culminating in a narrow 1-0 FA Cup final loss to Man United, the famous 4-3 victory over fellow title hopefuls Newcastle (the 20th anniversary of which is coming up shortly) was another unquestionable highlight. McAteer remembers the day fondly.
"I won a bike, man-of-the-match award in the lounge afterwards and I gave it to the club doctor.
It was just brilliant, the best game ever, it was like that to play in, 100-miles-an hour, two easy-on-the-eye teams, expansive, both teams defensively weak.
"Both teams got punished for their defensive weaknesses but the football on display that night was sensational. And there's no better feeling in footy than to score a last-minute winner."
And McAteer sees parallels between that campaign and current one. He suspects that, like his Liverpool team, the Leicester side currently top of the league may buckle under the pressure.
It would be the biggest achievement, bigger than Blackburn's. I don't feel they'll do it to be honest. My experience, '95/96 when they expected us to win the title, up against Man United, we got to around April time…Now you're playing full of confidence, you haven't really got one hand on it although you're sitting top of the table and although everyone's talking about it, saying 'can they? can they?'
"I think when it comes to April and you actually have one hand on it, if you're sitting second or top, that's when the nerves really kick in. The games then become a bit tetchy, you don't take as many chances. (Leicester) are playing great football at the moment, it's refreshing the way they play on the break, they're expansive. Vardy, everything he hits is going in, Mahrez, nearly everything he does is coming off. It's just ticking over nicely.
But once they get to late March into April, when teams are fighting for their lives — they've got Southampton, Swansea, Villa I think, in that month as well. They're all going to be fighting for the lives, whether it's for European football or trying to stay up, so the games will be a lot tougher. And they'll feel the pressure. And there's not many players in there that have been there and done it.
"And that's why I'm going to go for an Arsenal or Man City to win the league."