THE MEMORIES ROLL back for Jim McGuinness.
In 2011 he dipped his toes into senior championship waters for the first time with Donegal, an Ulster opener against Antrim.
They got out of Ballybofey that afternoon with a win and criticism ringing in their ears after a dour game.
Six years on Donegal return to the same venue to face the same opposition on their first step on the 2017 championship road next Sunday.
The county stand on a different tier now.
"The pressure to win that game was the interesting thing about it," recalls McGuinness.
"We hadn't won in our province in a number of years. We were beaten in the first round every year.
"Expectations were low and the pressure was high on the players.
"So it's interesting now going into this game, there's an expectation that Donegal will go into the game (as favourites).
"I don't know what the handicap will be, ten points maybe and that's what we've created if you like. People have gone on and developed and grown and become top players.
"So we live in a different space now, it's like a bygone era to be honest with you."
McGuinness is in a different sporting era himself. It was November 2012 when he first linked up with Celtic and he is still immersed in the Glasgow club now.
This summer he takes another significant step forward in his soccer coaching career.
"I'm just looking to do the (coaching) badges at the moment. I'll see where it takes me. I've got the A starting in July and I'll finish it the following July.
"At that stage I'll see where I'm at in terms of maybe taking one of the younger teams or getting more experience. I'm (U20) assistant manager now.
"It'll be nice in the process of developing my own philosophy to get an opportunity to work with your own group at some stage down the line. Where that takes you, you don't know.
"I'm coming from a Gaelic culture, everything i did in my life was in that environment. So you could go into another environment and hit the wall, or you could develop and keep on growing. So that's half of the fascination if you like."
Observing closely the work of Brendan Rodgers this season has been a rewarding experience for McGuinness.
"It's going great, thank God. I suppose from my own point of view, it's been really good to see the manager to come in on day one with a blank canvas and how he's gone about his business, developing a culture, developing the game-plan, tactically getting the message across and getting the players to do on the pitch what he wants them to do.
"From my own development it's been very interesting to see that and develop myself and work with the U20's. It's been a really good year."
He keeps a close eye on the fortunes at home of Donegal football. The collection of an Ulster U21 crown this year was an example of the health of the game throughout the county.
"It's a good place for us to be now, and we've just won the U21 championship in Ulster again which is great.
"I think that's what the GAA needs. Tyrone made the breakthrough and they're still there and they've continued to develop that and build that and we've done something similar.
"Laois were very successful a number of years ago but you'd have to say they've been on the slip the last number of years. How you retain that traction and sort of keep the consistency going is the key.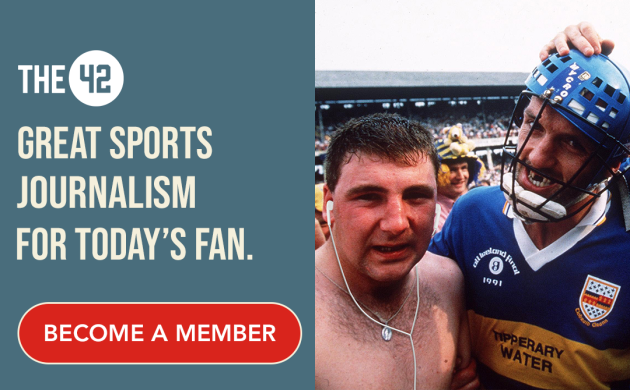 "That's why I reference our U21 provincial victory and our own U21 breakthrough (in 2011) before we had the seniors. I think that's really important.
"What's disappointing I think is Roscommon and Cavan have been very successful at U21 level but haven't made the transition. Dublin have just won the 21's and there's hardly been a word about it.
"They've some conveyor belt, they've won four All-Ireland U21's in eight seasons. It's an incredible level of young players."
Watching the young players develop will enthuse supporters but it was a winter of upheaval for Donegal.
Six pillars of the Donegal setup – Colm McFadden, Eamonn McGee, David Walsh, Christy Toye, Rory Kavanagh and Neil Gallagher – all called time on their careers.
The wave of retirements compelled McGuinness to pause and reflect on the journey he had travelled with them.
"All those players that as a manager, you were working with almost on a daily basis. You're seeing them grow, you're seeing them develop, you're seeing them getting older, you're seeing them getting married, you're seeing them having kids.
"It's a big part of your life for a long period. When one of them retires you stop and you think what they brought to the table.
"You think about how they trained and how they were within the group and the footballer that they were and how important they were to certain results and performances.
"So it's a lovely thing, we've shared that period in our life together. Obviously you wish them well then when they (are) transitioning out and then they leave the fight to the lads who are still part of it."
The42 is on Instagram! Tap the button below on your phone to follow us!