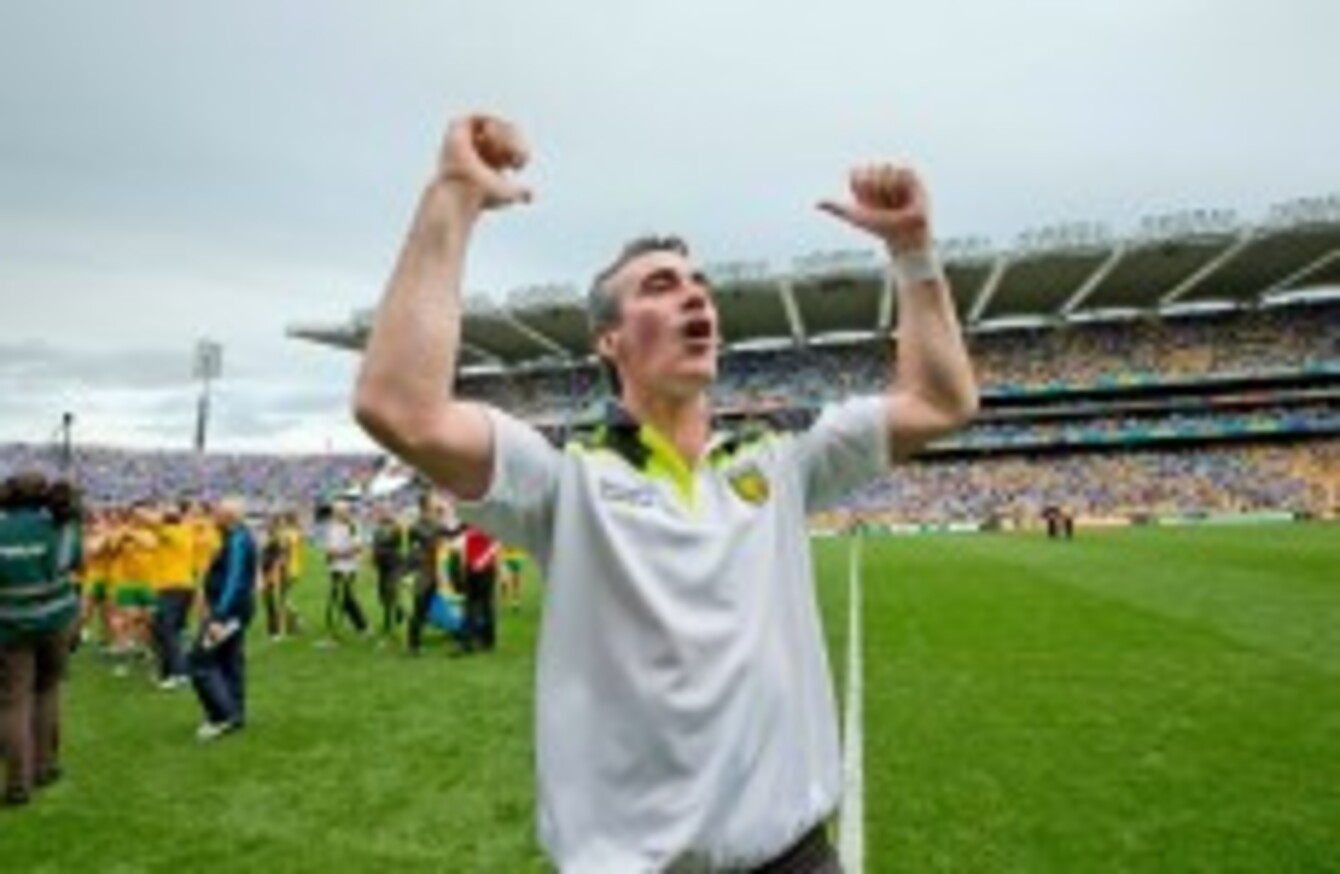 Jim McGuinness celebrates the final whistle.
Image: Morgan Treacy/INPHO
Jim McGuinness celebrates the final whistle.
Image: Morgan Treacy/INPHO
DONEGAL MANAGER JIM MCGUINNESS was understandably elated after guiding his side to a second All-Ireland final in three years thanks to a six point win over heavy favourites Dublin in Croke Park.
However, while it will take some time to reflect on the achievement, McGuinness says the chance to play Kerry in the final is a "dream" for his panel.
"It hasn't sunk in yet but it's going to be a lovely journey home. To have the minor and senior team in the final is special moment," he told RTÉ after today's game.
"We know all about Kerry and their tradition and what they're going to bring and it's a dream final for us in many respects."
"We're delighted, we came with a game plan and, in fairness to the lads, they executed it to the letter of the law.
"I'm just very, very proud of them as I have been for the last four years regardless of the result today. Everything you ask of them they give to you.
"We spoke about honesty in the build up and at half time and that's what we got and they married that with the execution of the game plan so we're delighted."
The elation is a far cry from the pain of last year's heavy quarter-final defeat at the hands of Mayo but Donegal and McGuiness were able to use that loss as a motivational tool for this year's campaign.
"There was a lot of soul-searching to be honest with you and it was a tough situation to be in but one thing you can't fault is these lads' character and I suppose we had a few very tough and serious meetings at the beginning of the year and the question was asked what do you want to be remembered for' and I don't think anyone wants to be remembered for a 16-point loss to Mayo.
"They turned that around very, very well."