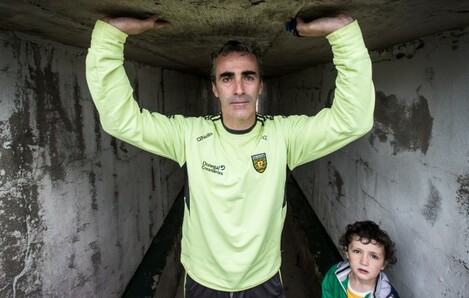 Source: Cathal Noonan/INPHO
THE NIGHT DONEGAL took Sam Maguire back to the Diamond in Donegal Town two years ago the team and management were joined on stage by Daniel O'Donnell.
"Somebody told me that Jim McGuinness does a rare version of 'Destination Donegal'," the popular singer said in front of an estimated 20,000 as the raindrops crackled off the green and gold umbrellas. Although initially a touch reluctant, the Donegal manager made his way to the front of the stage. "Holy mother of God," he replied as he grasped the microphone.
Daniel and Jim's duet was considered by the wider world was merely a proud expressionism of where they were from. But as is common with McGuinness, who proved he could hold a note, there was more substance than seems to be apparent from the superficial. In many ways, despite the song being exclusively a Donegal one, it reminded him of his time in Kerry.
Source: Irish TV/YouTube
McGuinness first joined the Donegal senior panel in 1992, having impressed in a challenge game at a frosty Fr Tierney Park in Ballyshannon the previous Christmas. As a scraggly-haired 19-year-old he never actually played in the All-Ireland winning run, only making his debut in 1993.
At his tender age, McGuinness looked up to Anthony Molloy, who had accepted Sam Maguire from President Mary Robinson on the Lower Hogan in 1992 and was famed for his renditions of 'Destination Donegal' on the long bus journeys home. McGuinness adopted the song.
On the night IT Tralee retained the Sigerson Cup in February 1998, McGuinness, who kicked the two late points in the 0-10 to 0-8 defeat of UUJ in the final at Stack Park, landed to the Blasket Bar with his brother Mark and friend Brendan 'Bradas' O'Donnell, who had made the trip from Glenties.
"The place was packed," O'Donnell, who actually shot the recording on stage two years ago in Donegal Town, recalled. "Jim loved the song and that night when he started, you could hear a pin drop. I sang along a bit and Mark helped out with the backing vocals.
"It went down really well with the Kerry people and I always joke to this day that we got a standing ovation when we finished. Well, we got an ovation really as there were actually no seats in the bar but you know what I mean!"
When the children of Ard Patrick in Glenties were growing up, they used to play football on the front green and taught themselves the skills of the game whilst emulating their heroes.
"Jim was Jack O'Shea and I was the 'Bomber' Liston," O'Donnell added. "It was always Kerry players we wanted to be."
Source: Billy Stickland/INPHO
Six months after that Sigerson Cup success, McGuinness, who was in the car at the time, tragically lost his brother Mark in a fatal crash in Lisnaskea, Co Fermanagh.
See Sport
Differently
Get closer to the stories that matter with exclusive analysis, insight and debate in The42 Membership
Become a Member
The Donegal team bus stops at the roadside shrine that now exists there every single time they pass it and McGuinness exits alone for his private prayer; just as he had done a few short hours before taking the stage in Donegal Town in 2012.
McGuinness returned to IT Tralee in September 1998 to continue his studies in Health and Leisure and captained the side to another victory in the Sigerson Cup in 1999.
He freely credits those in the Kerry, the masters of football tradition, for forming an intricate part of his current being; both as a manager and a man.
'Fantastic'
"The Kerry people were fantastic – really good people, really good to me on a personal level," McGuinness said ahead of Sunday's All-Ireland final. "It is a lovely final for myself. Kerry are looking for their 37th All-Ireland. We are looking for our third. So it is the team you want to play. It's a dream final."
It was a place where his passion for football was infused with professionalism. In a perverse sort of way, the former student, on Sunday, will be trying to give his old teachers a lesson.
Back in 2012, McGuinness shared what was his underlying priority as the manager of Donegal's footballers. Silverware was and is always welcome, with another currency McGuinness refers to – putting smiles on people's faces – nearing the top of the value chain.
McGuinness, then days out from Donegal's first ever championship clash with Kerry, the All-Ireland quarter-final at Croke Park, stressed his ultimate ambition.
"Having lived in Kerry, where football is held in such high regard, it's very easy to see just how they have won so many All-Irelands," McGuinness said a few days before Donegal's 1-12 to 1-10 win. "Every physical and human resource is put into it. They're very passionate and professional about it.
Jim McGuinness celebrates Donegal's win over Kerry in 2012 Source: Lorraine O'Sullivan/INPHO
"We want to develop a synergy in Donegal. A successful county team can energise the club scene and encourage more young players to get out on the pitch and play the sport. Then you might be able to get another Michael Murphy or Colm McFadden, a Karl Lacey or a Ryan Bradley coming out of it.
"That will see a new generation coming through and if that cycle continues that's where tradition comes from. We're only working towards that here at the minute. "
That "synergy" has since developed. Two years later after that remark, Donegal are facing Kerry in both the senior and minor All-Ireland finals.
Synergy, it is said, combines the sum of the parts to make a greater force. McGuinness, in his four years in charge of Donegal, is certainly achieving that.
Sunday's finals could provide further impetus, whilst come Monday, those in the north-west would love to see a trophy or two on stage at the Diamond when it's destination Donegal.